Day 3
Saturday, June 30, 2007
Start: Great Bend, KS, 8:15 am
End: Monarch, CO, 7:00 pm
Mileage: 523

The route for Day 3: Great Bend, KS to Monarch, CO. Entering the Rocky Mountains.
We were officially done with slab yesterday, but we still had around 350 miles of state highways through Kansas and Colorado before hitting the Rocky Mountains. One of the reasons we chose to ride through Kansas' state highways was the ability to cruise at high speeds. There's very little enforcement and traffic, which allowed us to cruise in the triple digits. We got up and rode to Garden City, where we had a good country breakfast. I had the biscuits and gravy. Mmm mmm good, but not really ideal for riding...
Steven doing a little electrical maintenance on the bike. I think the battery terminal was loose.
Yes, we would finally be entering the heavenly state of Colorado. All though it would be another 150 miles or so till we hit the Rockies. And I think the sign could really use a bit of color… (Picture by Aileen)
Once we hit Pueblo, the original plan was to ride down CO-78 and climb this twisting looking bit into the mountains. Alas, our hopes were dashed 20 miles later when we saw a sign for "Gravel, Next 9 miles" including switchbacks. We had to turn around to Pueblo and enter the Rockies on CO-96, which wasn't bad at all.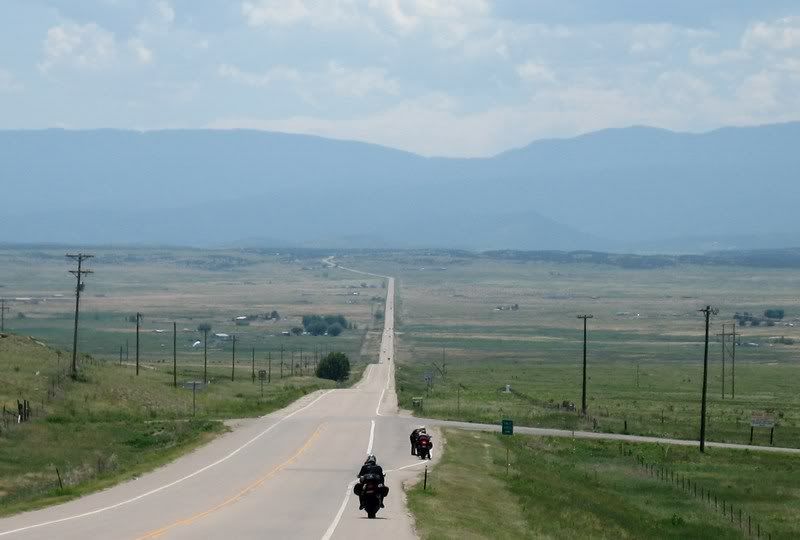 On CO-78, the supposedly last bit of straight road before hitting the twisties in dem dar hills outside Pueblo.
But alas, it was all gravel twisties climbing up the mountain. (Picture by Andy)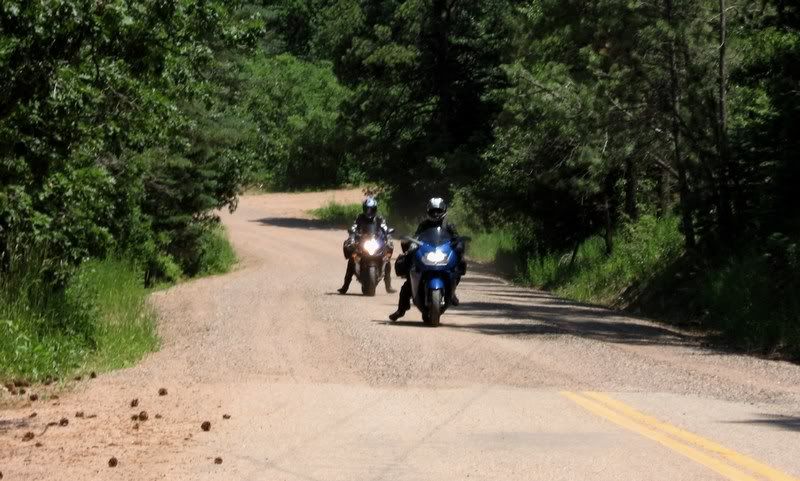 Heading back to the pavement with Andy who missed the sign that said "Gravel, next 9 miles". We rode back to Pueblo to try another entry into the Rockies. (Picture by Aileen)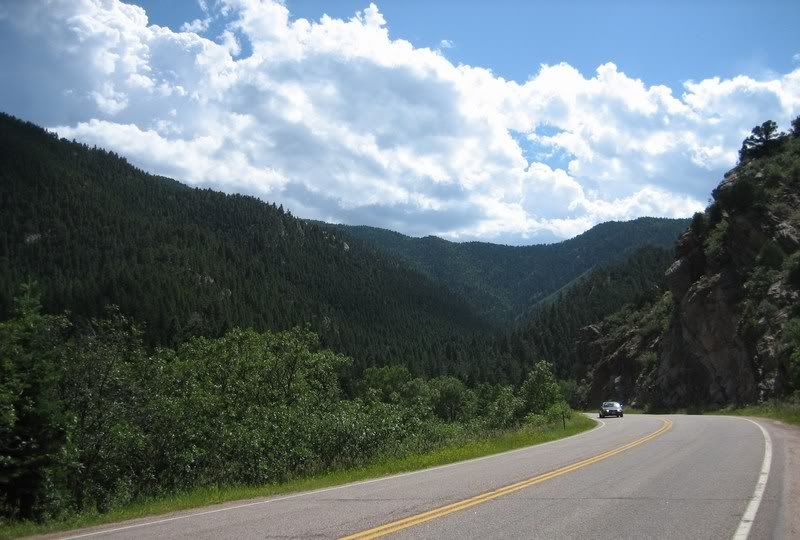 Now this is more like it. CO-96 had some decent twisties with some nice scenery. Pleasing. (Picture by Andy)
Yes, that's a storm brewing right behind me in Silver Cliff. We tried to outrun it but ended up getting nailed for a few minutes. Huge water drops. (Picture by Andy)
US-50 is a nice road, but there's too much through traffic on that road. It did make for a nice passing fest. We stopped in Salida to buy some beers for the campground at Monarch, which was about 10 miles from town. This would be our first night of camping and most of us would be using our camping gear for the first time and also preparing our own dinner for real. The change in altitude (8000 ft) was noticed when we had to walk up to the shower house, losing our breath pretty quickly. And I was hoping none of us would suffer from Altitude Sickness.
Our camp site at Monarch Spur Campground (around 8500 ft). We were nicely isolated from the rest of the RVs.
Rick, unloading his house that he packed in his hard luggage. Talk about traveling light.
Andy unpacking a matress pad and Rick setting up an individual tent, which we all had as it takes less space on the bike.
Motorcycle Art… Steven's boots being aired by the stream running by our campsite.
Makeshift Fridge - using the cold icy water to chill the brew. Nope, we didn't lose any bottles.
My tent under the tree.
Tent city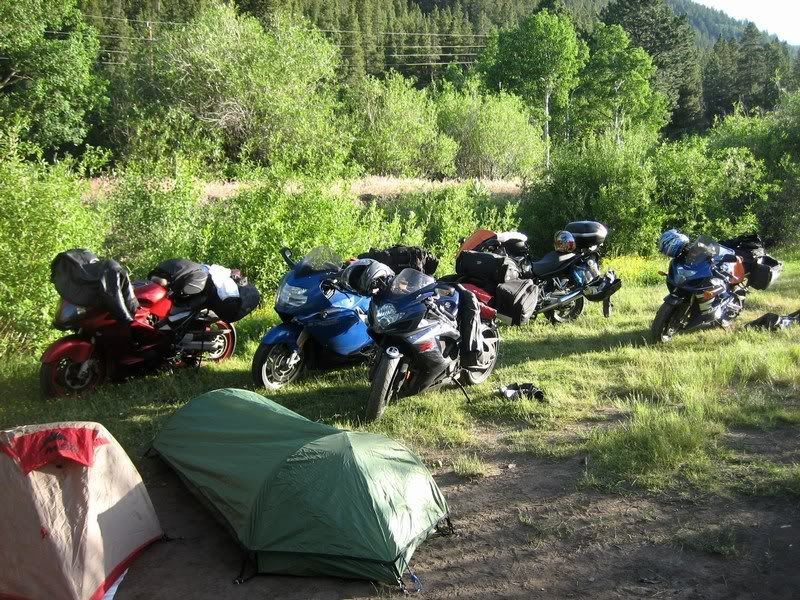 Nice to think that we rode here with everything that's setup here.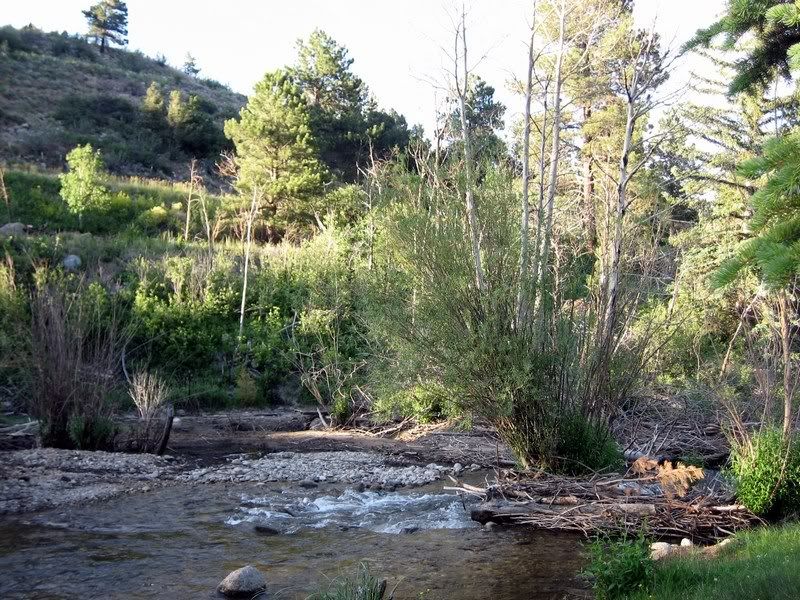 What a beautiful campsite…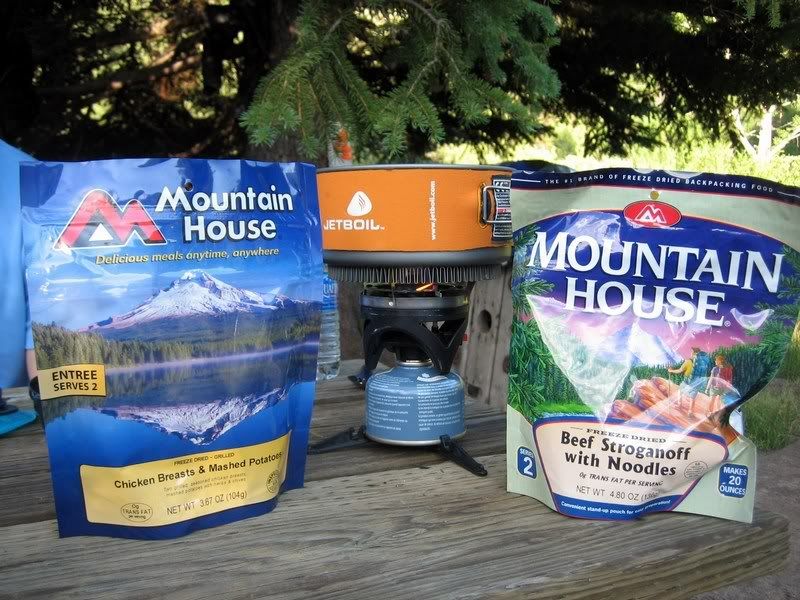 Dinner time! Andy and Aileen got freeze-dried food which just needs hot water to rehydrate some tasty dinners.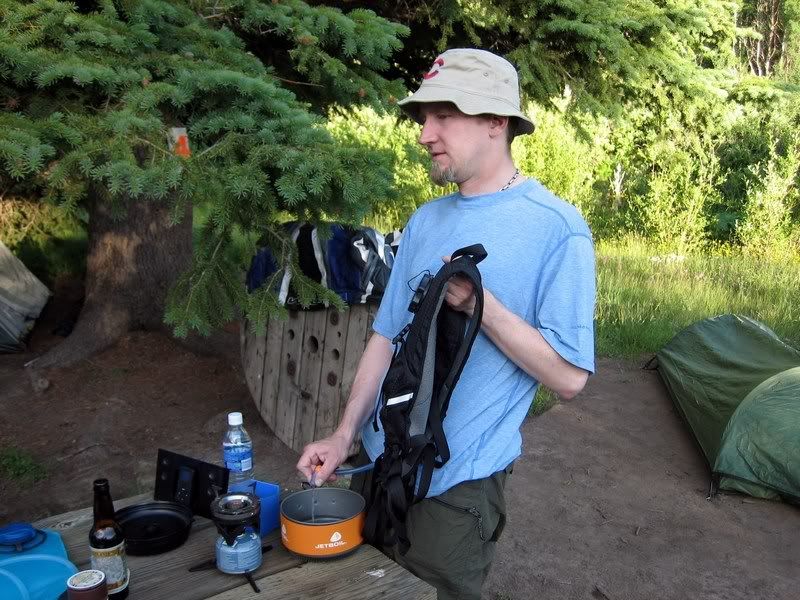 Andy taking a piss, I mean filling water from his bladder into the JetBoil, which boils water very quickly.
Aileen preparing the origami dinner-ware (plastic, foldable bowls and cups) and that's a Spork (spoon with a fork).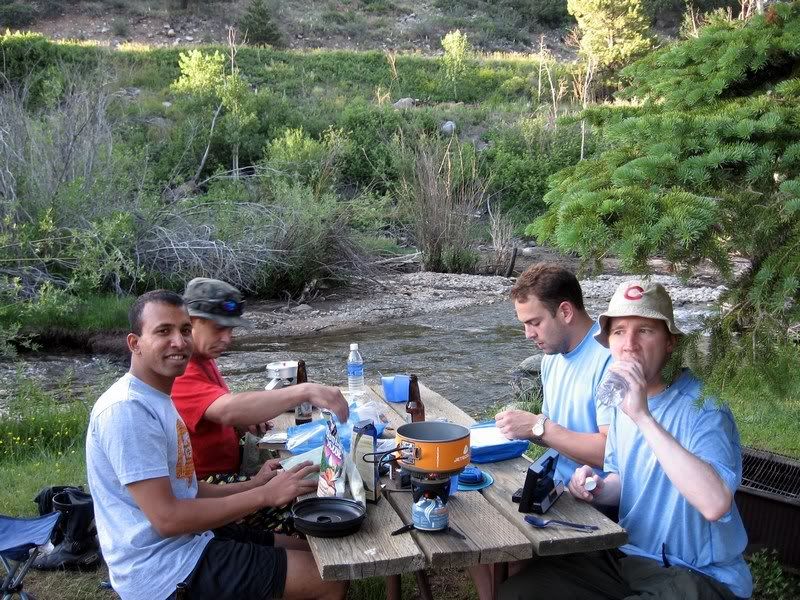 The dinner table. Rick, Steven and I brought MREs, which Rick got a from a military surplus store. (Picture by Aileen)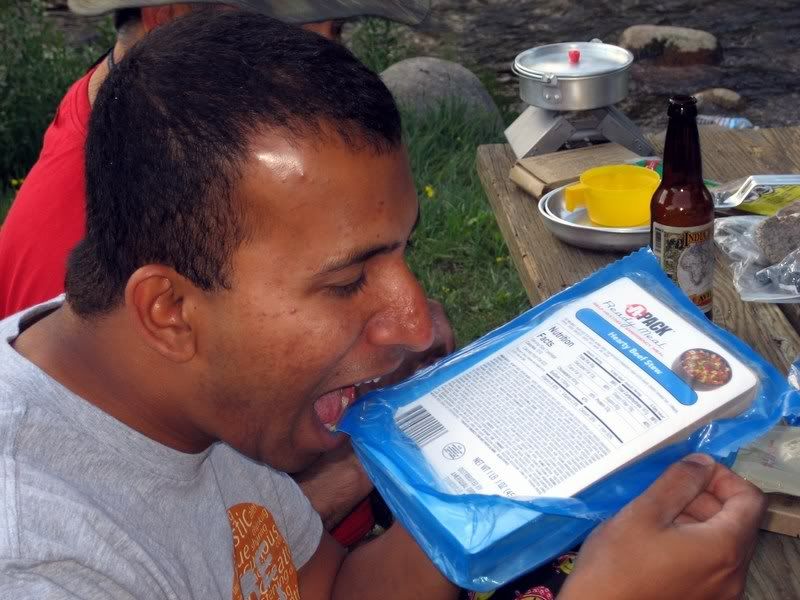 I thought it was a Meal Ready to Eat. Liars, looks like it needs some preparation.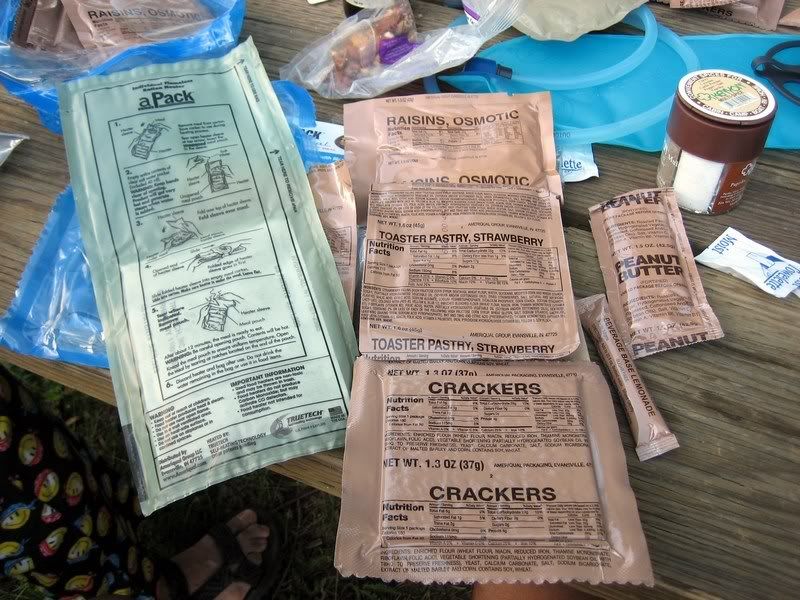 All the items that come with one MRE: main meal, heating packet, crackers, raisins, pop-tart, peanut butter and lemonade powder. The residual heat from the heating packet was great for sore muscles.
It become quite messy with all the packaging material.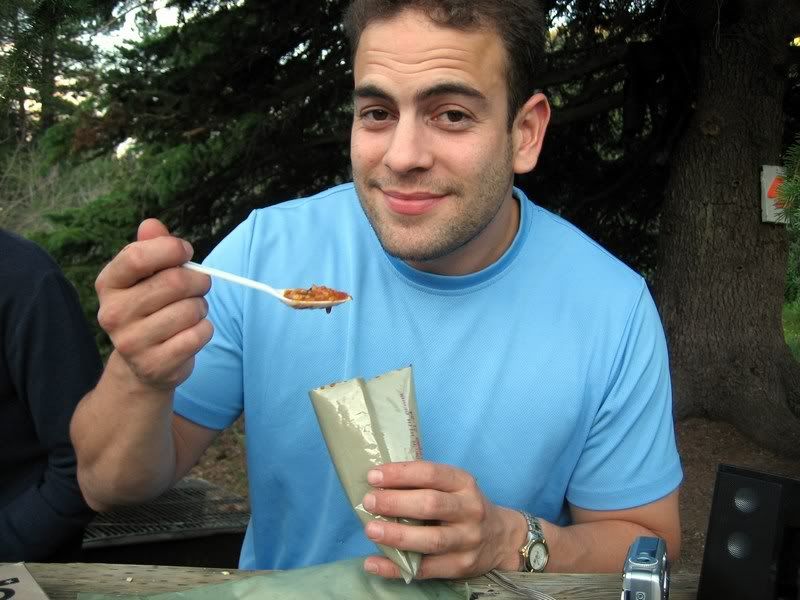 Steven enjoying his Beef Stew. The food actually tasted pretty good.
Rick, trying to find gold with his cookware, like they probably did in these mountains back in the day.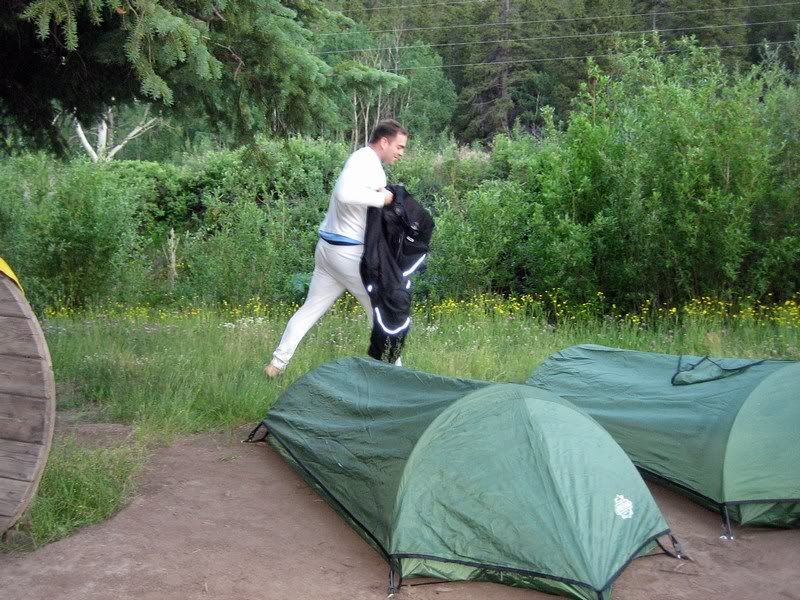 The Abominable Snowman running around camp.
Sorting through laundry (done in the shower house) by a nice big fire. Mmmm, I love campfires.
Next:
Day 4, Million Dollar Highway & Ouray, CO
Ride Report Index