(ESTN Meet & Greet in Clearfield, PA)
With this being one of the longest winters in recent memory, my riding buddies and I were aching for the first real twisty ride of the season. In previous years, we were out of hibernation in February and touring by March. However this year, end of April would be our first out of town trip.
We were headed for the Eastern STN (Sport-Touring.net) Meet and Greet in Clearfield, PA, about 550 miles on the highway from Chicago. An annual meet has grown around having lunch at
Denny's Beer Barrel Pub
in Clearfield. This is a famous little restaurant for making ginormous burgers, like 15 lbs burgers. I went two years ago and there were about a 100 or more bikers there (many from the Pittsburgh area) and a few guys ordered the 15 pounder and shared it. If you eat their 2 pounder in like 20 minutes or so, it's free and so on for the other burgers. In our eyes, the burger is just a good excuse to go for a nice ride. Yes, it's a lot of highway slab to get there, but the twisties in south-western Pennsylvania and nearby West Virginia are worth the ride.
Six of us were going: Anna, Mike, Rick, Alex, Dan and I. To break up the monotony of the slab, the first four were going to do this trip over 4 days and Dan and I would just be making a weekend of it.
Instead of using the same slab, I-80 to Clearfield and back, I made a loop out of the route with us heading down to Indy and taking I-70 across Ohio and then to circle around Pittsburgh, we would be riding some twisties through West Virginia before heading up to Clearfield. Sunday morning, we would do some twisties before the lunch meet and then slab home on I-80. Many thanks to Garry (STN) from Pittsburgh who provided good info on the roads through OH, WV and PA. Always wise to contact the locals regarding their favorite roads.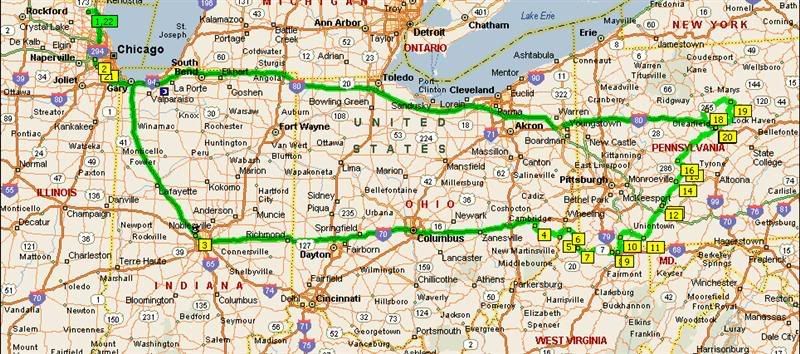 Overall Route Map
_______________________________________
Day 1, Friday, April 18, 2008
Start: Libertyville, IL, 4:00 pm CDT
End: Indianapolis, IN, 10:00 pm EDT
Mileage: 220
We left Friday after work and were surprised how quickly we got through Chicago traffic. It seemed like no one was on I-294 near I-80. I was bracing for much worse, especially on a Friday afternoon. Once we got on I-65, it was good to get back in the rhythm of sport-touring. No matter how much everyone hates the slab, I actually enjoy it a bit, just a bit. It's an awesome way to cover ground fast and I enjoy listening to music while riding; there's something about it. And I-65 is actually not that bad of a highway, especially around dusk.
One incident worth mentioning: we pulled into a rest stop to put on another layer for the chill and in the good mood that I was, I quickly sped up past the century mark to get back in the flow of traffic, which was moving at a good clip. Just then I noticed some christmas lights from a police cruiser go by in the opposite direction and looked down at my radar detector and realized my earphones weren't plugged in to it! Fearing that the christmas lights were for us, I quickly exited the highway with Dan in tow and we stopped on the side of a dark exit ramp. When Dan realized why we had exited, he was like, "Oh, so we're running from the cops? Cool." Noooo, we were just letting things cool down a bit, hehe. It was all good and we were back on our way to Indy.
_______________________________________
Day 2, Saturday, April 19, 2008
Start: Indianapolis, IN, 6:30 am
End: Clearfield, PA, 9:30 pm
Mileage: 600
The next morning we got an early start and just as an observation, both Dan and I noted that the Indy skyline is really quite small. We went right through downtown and it was over before it even began. I'm sure Indy's a great city, but we're spoiled with the awesome Chicago skyline.
Leaving Indy at O'Dark Thirty.
A good thing about slabbing through Indiana is its 70 mph speed limit compared to all its neighboring states at 65. Go Indiana for being progressive. The previous night at dinner, my friend in Indy told Dan about my theory of safely speeding on the highway, which everyone else thinks is skewed (so do I). In my experience, generally speaking, depending on traffic, if you're doing 14 or below above the speed limit, you have a pretty good chance of not getting popped by the speed enforcers. And to give some more margin, 12 above the speed limit seems safe (this didn't work in Montana two years ago where I got popped for 12 over in a 75 zone). Anyways, we were comfortably cruising on I-70 at about 14 over and we even passed by a few hidden speed enforcers hiding under overpasses and no one batted an eyelid. We enter Ohio, back down to 65 mph and for a short spell we were cruising at 18 over the limit and promptly were asked by a cruiser to pull over, with no blips on the radar detector. He informed us that police aircraft nabbed us a few miles back and we were getting nice $85 tickets. See, if we had been doing 14 or less, I'm sure we would've been fine. Actually maybe not. Ohio is notorious for giving out tickets and we've been warned by locals not to go 5 over. The worst thing about that ticket was that we were only a few miles to the end of the slab before the twisties started.
Not letting that ticket dampen our weekend, after 300 miles of slab in the morning, we were ready for 300 miles of twisties through Ohio, West Virginia and Pennsylvania in the afternoon. It was raining on and off all afternoon, so I couldn't take that much video, but the 3 videos below are a good representative of the roads we rode.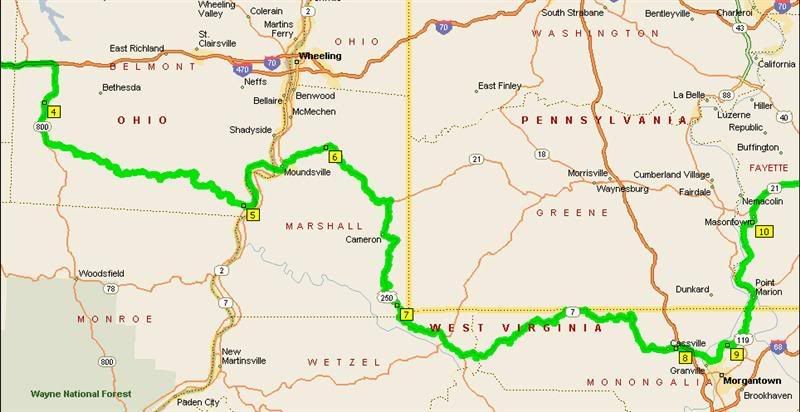 The twisties of south-eastern OH and northern WV.
OH-148 to the Ohio River was a great road to begin the twisties, but we encountered some traffic and realized we would have to be turning it down a few notches. The eastern side of the US definitely has some great roads, but generally being more crowded than the West, it's not as much fun to rail, because we have to be a lot more cautious of turning vehicles and other hazards. I guess those trips out West spoilt us. Also in general, the roads out East have a lot more blind corners with the vegetation growing right up to the road, not allowing us to see through the corner ahead of time. Oh well, they're still enjoyable to ride as you can see in the videos.
Dan and a long long slow coal train sneaking through the south-western Ohio hills.
Welcome to West Virginia, crossing the Ohio River.
I love bridges, they're a mix of engineering and art.
US-250 is another great road out here because it goes on for so long. It is twisty for more than 100 miles through northern West Virginia and has a nice rhythm to it, but there were many blind corners as noted above. Also, for being a US highway, there were a lot of driveways right on the highway with locals turning on and off constantly.
US 250, Part 1 - Panhandle of West Virginia [4:30]
Musik: Dire Straits - Money for Nothing
My Rating > Road: 4/5, Scenery: 3/5 US 250, Part 2 - Panhandle of West Virginia [7:04]
Musik: The Doors - Light My Fire
My Rating > Road: 4/5, Scenery: 3/5
A good representative of the roads we had in WV and PA - tight and winding with undulating road surfaces.
US 250 in Northern West Virginia.
Heading into the town of Hundred, WV.
Heading through Morgantown, WV into south-western PA was a nice pleasant ride. It was actually getting warm at this late in the afternoon and was probably the first 80 F temp we felt this year. It felt great. But with rain coming on and off, we were stopping often to put on rain gear and take it off. This was good for taking small breaks, as we were certainly aching a bit, but all these breaks were delaying our arrival into Clearfield.
Taking a shortcut through Morgantown, WV.
We also experienced quite a few blind crests.
Heading north on PA-166 along the Monongahela River.
PA-166
PA-166
PA-166
PA-166
The twisties of south-western PA near Pittsburgh. Heading north on PA-381, PA-711 and PA-403.
First time seeing a Smart Car on the highway, near Uniontown, PA. It's about half a highway lane wide.
Look at the nice sun we have here on the highway, US-40 and the dark ominous rain clouds that we would be riding through just up ahead.
Dan, sport-touring on his Honda CBR1000RR. Yes, it might be called a torture machine by some, but Dan loves it in the twisties.
Me, taking a picture of Dan taking a picture of me. Ghey. Haha.
At the crest of US-40 near Farmington looking back towards the Uniontown valley.
After going around Uniontown, we had to escape from a fast moving front of rain and picked up the pace through some twisty country roads as we headed north to Clearfield. PA-381 was a nice small country lane kind of road for a while and being on a narrow winding road definitely increases that sense of speed. While taking a quick break at a gas station in Seward, the attendant had a look at my directions on my tank bag and said we were not going the right way to Clearfield. He said our route looked to be twisting here and there and not going in a straight line. Exactly sir, thank you.
Dan, following a Harley on PA-381. Out in the twisties, all bikers and simply just bikers out enjoying the road. We waited until he waved us on.
I love the undulating roads - feels like a roller coaster... if you're going fast enough.
A power plant, probably coal, tucked away in the mountains.
Northern end of PA-381. The video starts from here. PA 381 - Cruising through SW Pennsylvania [4:06]
Musik: Barenaked Ladies - If I Had A Million Dollars
My Rating > Road: 3/5, Scenery: 3/5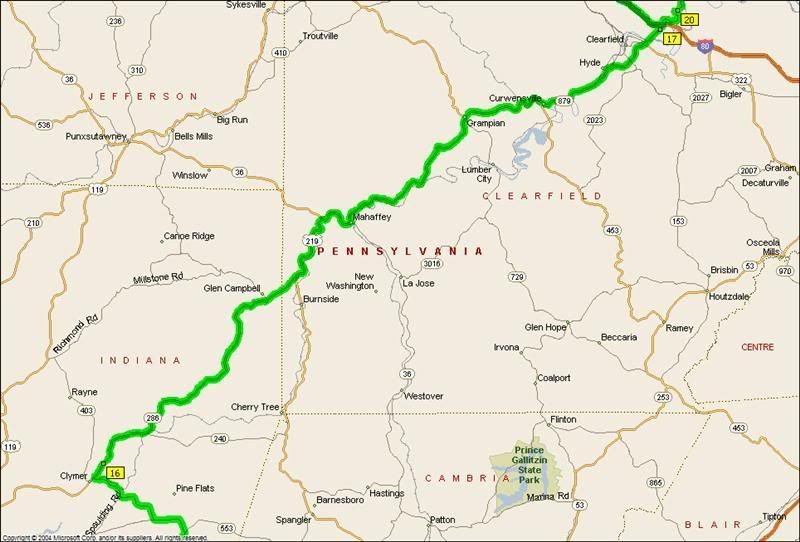 The motorcycle nirvana part of our ride. We did this stretch in the dark and it was a sublime ride.
It was getting dark by now and we still had about 70 miles of twisties left and there was no real big highway nearby to jump on, so we set off to cruise through the dark. We all know we shouldn't be riding twisties in the dark due to the increased danger factor of animals and reduced vision, but there's something sublime about railing through some twisties in the dark. The last bit getting into Clearfield: PA-286 and US-219 were actually the most enjoyable roads of the whole trip.
An enjoyable road to me doesn't necessarily have to be tight twisties or open sweepers; it's the rhythm that I'm looking for, compounded with other factors, such as time of day, traffic and scenery. We weren't railing per se, but moving fast enough that our focus was acute enough to clear any other thoughts from our minds. Railing at night requires a lot more concentration than the daytime, and that added concentration, I find, is close to the essence of motorcycling where nothing else matters at that moment besides being smooth and acting as one with the bike. Motorcycling nirvana.
We rolled into Clearfield at 9:30 pm after setting off this morning at 6:30 am and surprisingly, Dan and I weren't that fatigued and I had only one Red Bull the whole day. Not bad for the first ride of the season. Some stats from the GPS: we were moving for 10:30 hrs and stopped for about 4:30 hrs total. All those little breaks add up fast. We missed chatting with all the other STNers in the parking lot, as they had been there probably since 5 pm. We moved to the motel bar to hang out with everyone and had a good time.
_______________________________________
Day 3, Sunday, April 20, 2008
Start: Clearfield, PA, 1:30 pm EDT
End: Grayslake, IL, 10:30 pm CDT
Mileage: 700
The next morning, as per the forecast, it rained. But since we came here to ride, we rode. All 6 of us from Chicago went for a little loop that Anna mapped out that went through some scenic twisty roads just north of Clearfield. It was raining on and off, but surprisingly the pictures came out pretty decent.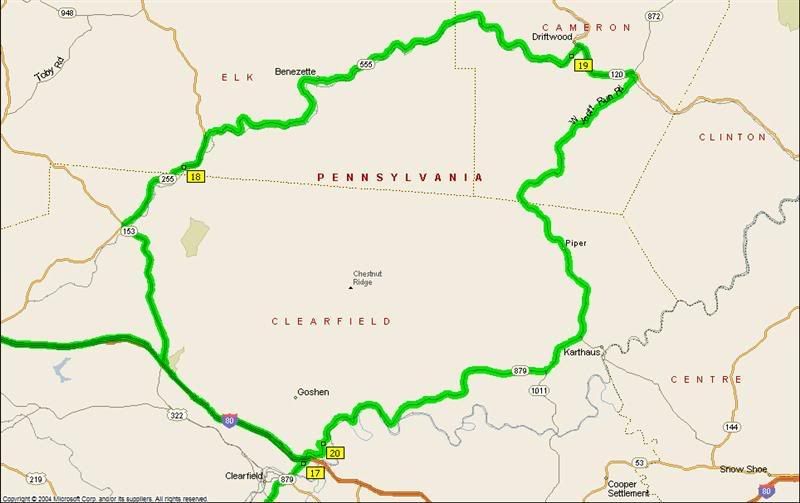 Anna's Sunday morning loop.
Mike (Big Bird) getting suited up in his rain gear for a nice morning rain ride. Anna and Dan behind.
Rick and Alex ready to roll.
Taking a break on PA-555.
Rick and his Ducati ST3. Hmm, for the amount he talks about being bright and visible, he's pretty blacked out...
Dan and his Honduh. Seems like we all like black riding gear.
Mike and his Triumph Tiger.
Mike with Alex, Rick and Dan in front.
Alex in the super bright high-viz vest with Anna, Rick and Dan.
Anna, Rick and Dan.
Anna, Rick and Dan.
Looking back at Alex and Mike.
Anna
Anna
Anna
Anna
Dan and Anna.
Dan and Anna.
Dan and Anna.
Rick, Dan and Anna.
Taking a little break at the start to the Wykoff Run - a tight and twisty 10 mile run that snakes along a river.
Bridge heading into the Wykoff Run. The heavens opened up a few minutes later...
Regrouping back in Clearfield before heading for the lunch meet.
At lunch, the turnout was lower than two years ago, since most of the locals from Pittsburgh probably decided not to head out on such a rainy day. And no one ordered the huge burgers, but there's tonnes of other good food on their menu and I had some Broasted Caribbean Chicken Wings, which were finger-licking good. The wings were cooked in the sauce instead of simply being tossed in them. Since most of the riders present were ones that came from far away, we all had lite lunches so that we wouldn't fall asleep after a heavy lunch on the ride back. They had a raffle during lunch with some gift cards and t-shirt prizes and 3 of us from Chicago won something: Rick, Alex and Mike. Maybe they rigged it since we rode the furthest, hehe.
Dan and I were headed back to Chicago after lunch, while Anna and the rest of the crew were going to make it back over two days, trying to avoid as much slab as possible. We started off in heavy rain, but after crossing into Ohio, we were done with the rain and it was actually quite pleasant for the rest of the ride. The toll through Ohio cost us around $10 for each motorcycle and Dan, being a city boy thought the toll booths would simply take credit cards. I'm surprised actually that they don't take credit cards. Dan pointed out that the rest stops were pretty snazzy along the tollway with plasma screens showing the weather, nice coffee shops, etc and maybe that's why they ticket so heavily - to pay for all this. And now on the Indiana toll road, they finally accept the I-Pass. We just cruised about 5-10 over the whole way back and tried to make our gas stops pretty quick in order to get home at a decent time, but simply filling gas and going to the restroom makes it a 15 min break.
This was my first sport-touring trip with a GPS and all though the route wasn't that complicated, we had fun noting the stats throughout the day: like moving average speed, overall average speed, top speed, etc. The GPS clearly showed the 10% speedometer error on the bikes and even though we went through the century mark a few times on the bike, we only crossed a true speed of 100 mph only once, that too in the dark.
Coming back to why I like to ride the slab, it gives me a chance to listen to audiobooks. For the ride back, I listened through Barack Obama's Audacity of Hope and enjoyed the recording. It's a good insight into Obama's character and his background and really shows that he seems to be a normal person like one of us, who happens to be in politics. I wish him the best.
Over two and half days, we did about 1,500 miles and 400 of those were twisties. It's certainly a high slab to twisty ratio, however the roads were very enjoyable and not like roads we get around here in the Mid-West, so it was definitely worth it.
I hope you enjoyed the pictures and the videos.