Day 1
Thursday, June 28, 2007
Start: Barrington, IL, 6:15 pm
End: Iowa City, IA, 10:30 pm
Mileage: 220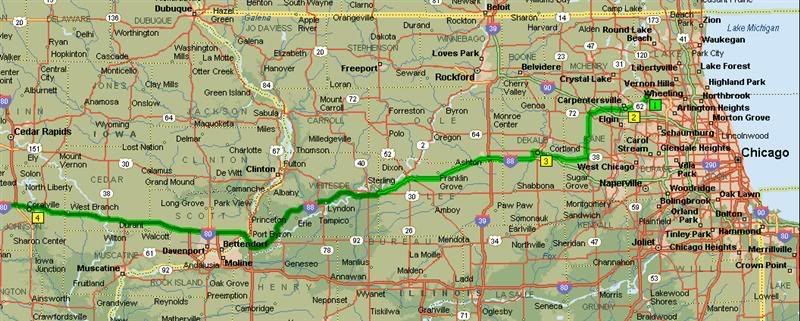 The route for Day 1: Barrington, IL to Iowa City, IA on I-88 and I-80.
Just like last year's trip to Montana where we had around a 1000 miles of Interstate (slab) before the twisties, we decided to leave on a Thursday evening and put away about 200 miles so that we'd only have one full day of slab before hitting the mountains on Day 3. We all met up in Dekalb (west of Chicago) and hit I-88 heading towards Iowa City. I've never actually been on I-88 outside the city and it's actually quite a nice bit of freeway. It was also very empty and the scenery was decent with nice rolling green hills. We also were riding into a very stunning sunset, where it seemed like it took forever to get completely dark.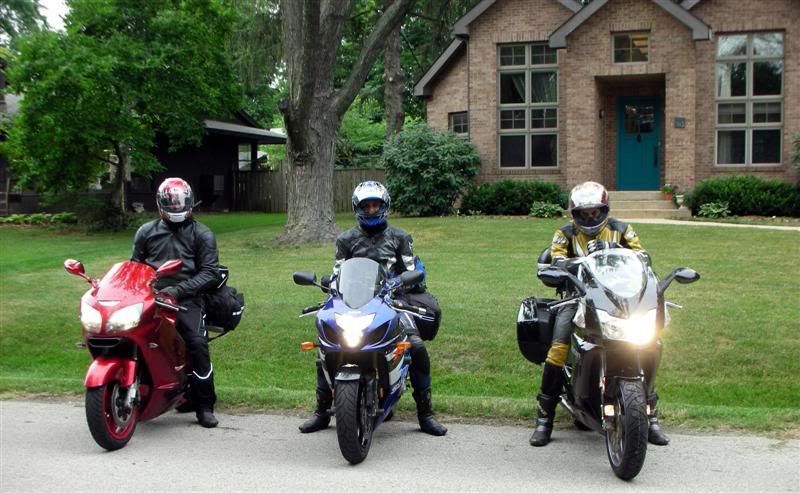 Steven, myself and Rick leaving from Rick's house to Dekalb to meet up with Andy and Aileen.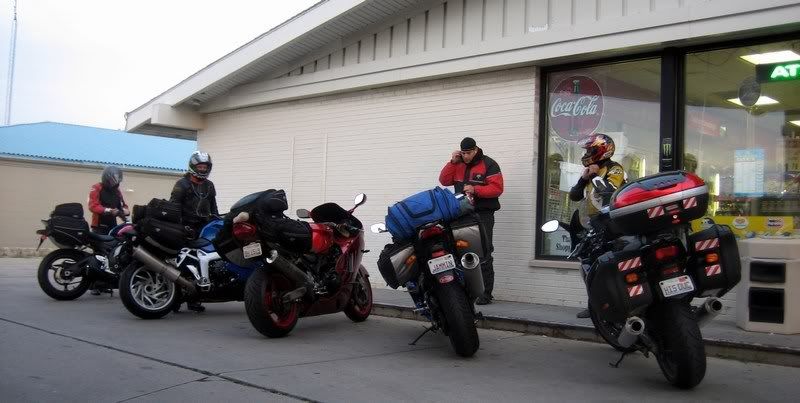 The group ready to roll-out from Dekalb.
Rick using duct tape to seal a hole in Steven's rain suit. There's always some picture of Steven doing something crazy…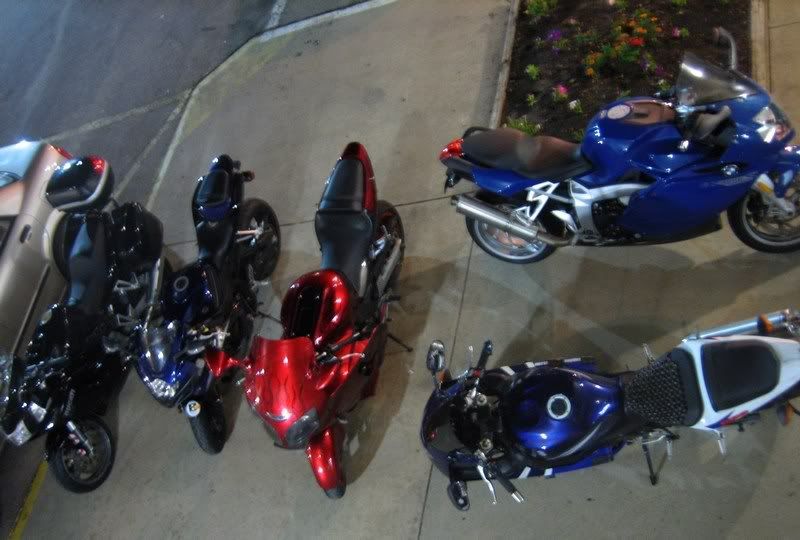 The bikes under flourescent light in the special parking area of our motel (on the sidewalk).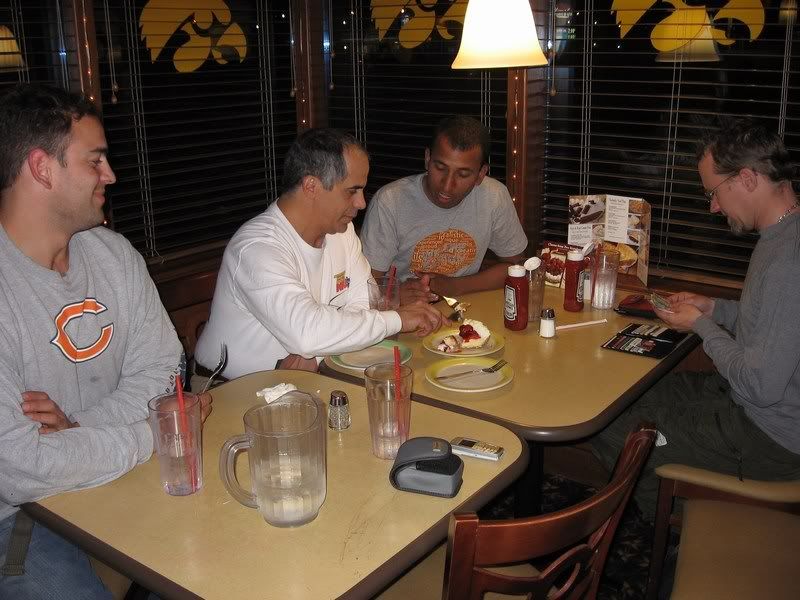 Finishing off dinner with some cheesecake. Steven waiting to get in on the action. (Picture by Aileen)
_______________________________________________________________
Day 2
Friday, June 29, 2007
Start: Iowa City, IA, 8:15 am
End: Great Bend, KS, 7:00 pm
Mileage: 571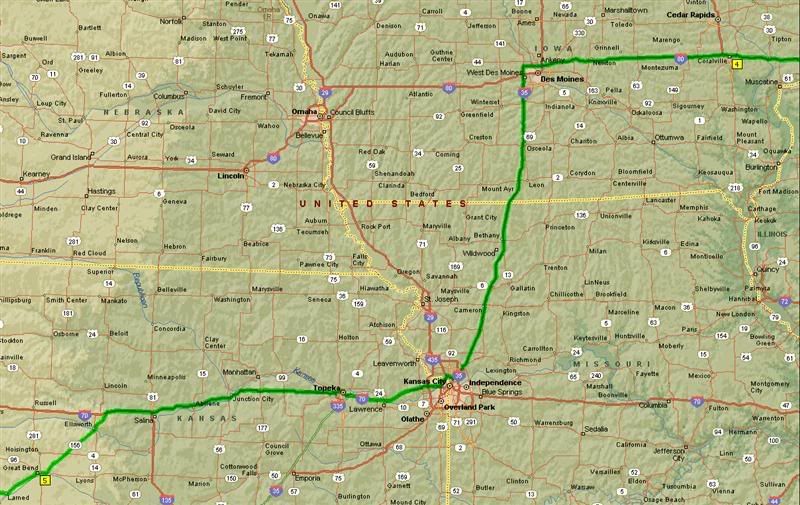 The route for Day 2: Iowa City, IA to Great Bend, KS heading through Kansas City.
Today would be the full day of slab, and everyone was happily plugged in to their music players. We keep saying bike-to-bike communication would be nice on these long trips, but we never get around to it. It was overcast the whole day and that reduced the temps a bit, however that also lead to some rain throughout most of the day. It was just moist the whole day, not too bad. Andy let me ride his K12S for a bit and I got to play around with the Electronic Suspension Adjustment on that bike. It really does make a difference between Sport and Comfort modes, especially on the rough concrete construction patches. The interstate through Kansas City was actually pretty nice with lots of turns and elevation changes compared to the slab in Chicago.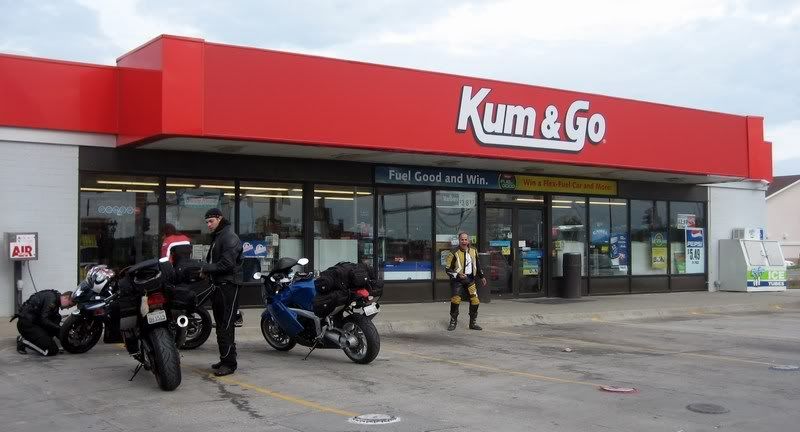 Rick seems overly excited at the name of this gas station. He's truly an ODB.
Just after getting off the slab, this was the first real corner we came upon and we were so excited that we decided to take a picture of it. That's what riding so much slab will do to you.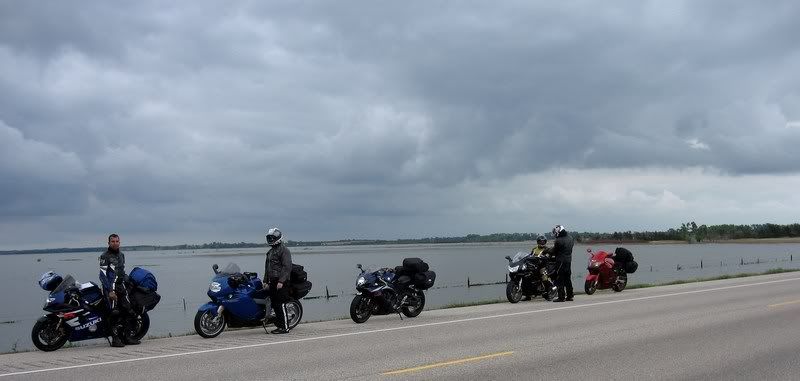 Cheyenne Bottoms near Great Bend, KS. The recent rains in the area must have raised the water level where it was only a foot away from the road. It made for a cool shot with the gray road, gray water surface and overcast clouds. (Picture by Aileen)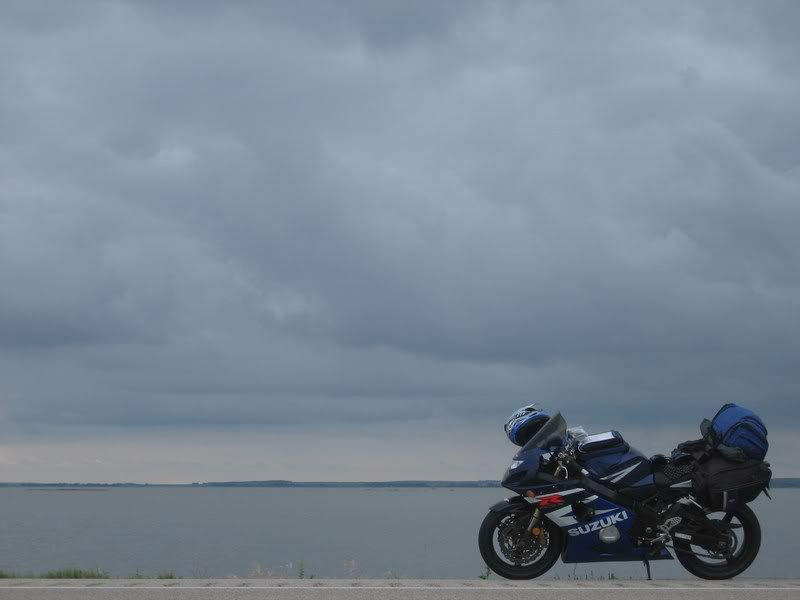 Myra stands clear in the blur between road, water and sky.
The close to 600 miles of slab we did wasn't bad at all. The trick is to be motivated by knowing the heavenly twisties that lie at the end of this slab. We all have read many ride reports from Colorado and expressed envy at those who get to live in that state for their easy access to awesome roads. And now we'd be railing on them soon. Just thinking about stuff like that almost makes the drone of the slab go away.
A key to doing high mileage days is to reduce the length of rest stops and actually end up taking more breaks but making them quicker. We stopped every 100 miles or so for around 20 minutes. And another way to increase riding stamina throughout the day is not to break for a big sit-down lunch. A big meal will slow you down and make you sleepy in the afternoon, which is not good for riding. Instead we kept snacking at the gas stations throughout the day. We try to stay away from junk food and instead snack on trail mix, fruit, etc. A sit-down lunch also robs about an hour or more from the day's riding and instead we have a big breakfast in the morning and then a hearty rewarding dinner. Another thing we did for breakfast throughout the trip was to get up and ride about 50 to 100 miles before sitting down for a nice hearty breakfast. This also helped tide us over into the late afternoon. This routine again worked really well on this trip.
We stayed at the Travelers Budget Inn for $67 for all five of us in one big room with three queen beds. A little research before the trip lead me to finding some golden deals like the one above.
Brain Buckets of the group: Andy's, Aileen's, Steven's, mine and Rick's (Arai is leading).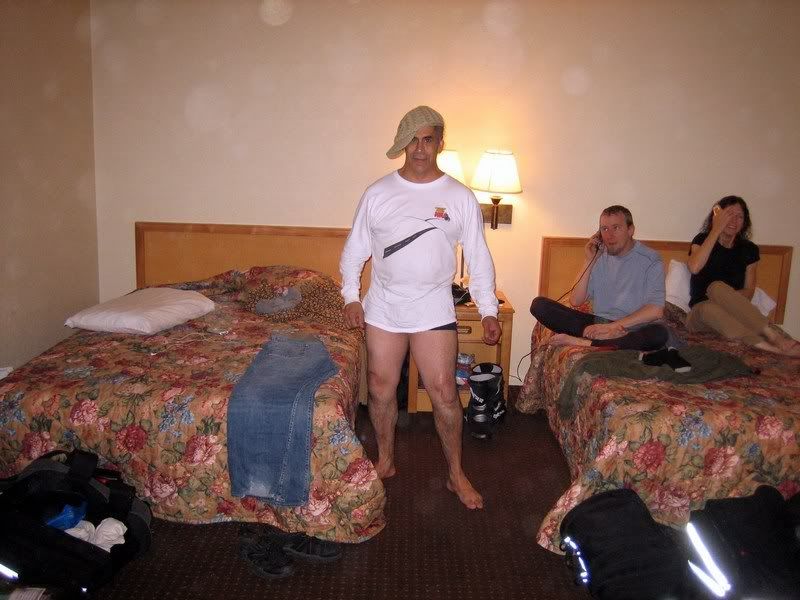 Sorry to hurt your eyes with this picture, but Rick's always goofing off. He was thrilled to find this hat.
Waiting for the Beaver Express to open.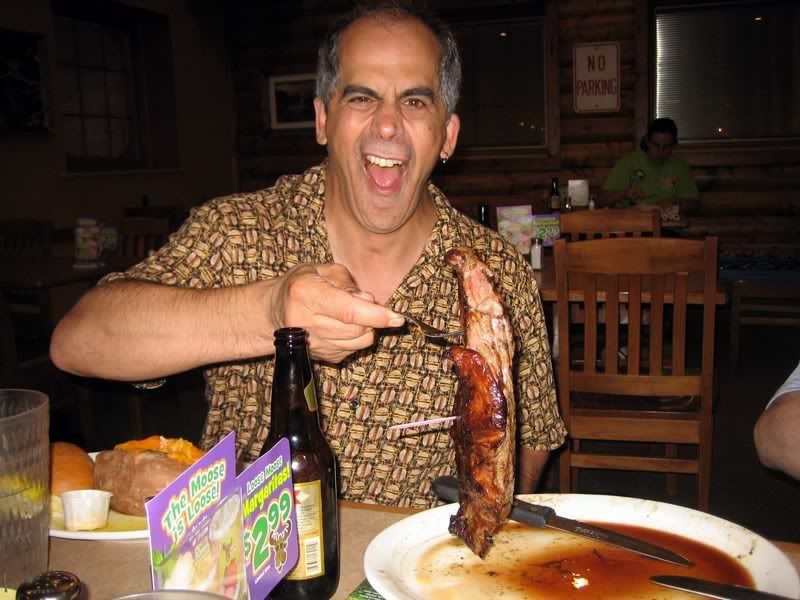 Meat. Corn-fed Kansas Steak. And it was reasonably priced too, almost cheap. Rick's holding half of a $25 meal.
The group with an awesome Kansas Steak dinner at Montana Mike's Steakhouse.
Next:
Day 3, Monarch, CO
Ride Report Index