Day 4
Sunday, July 1, 2007
Start: Monarch, CO, 8:00 am
End: Ouray, CO, 7:00 pm
Mileage: 430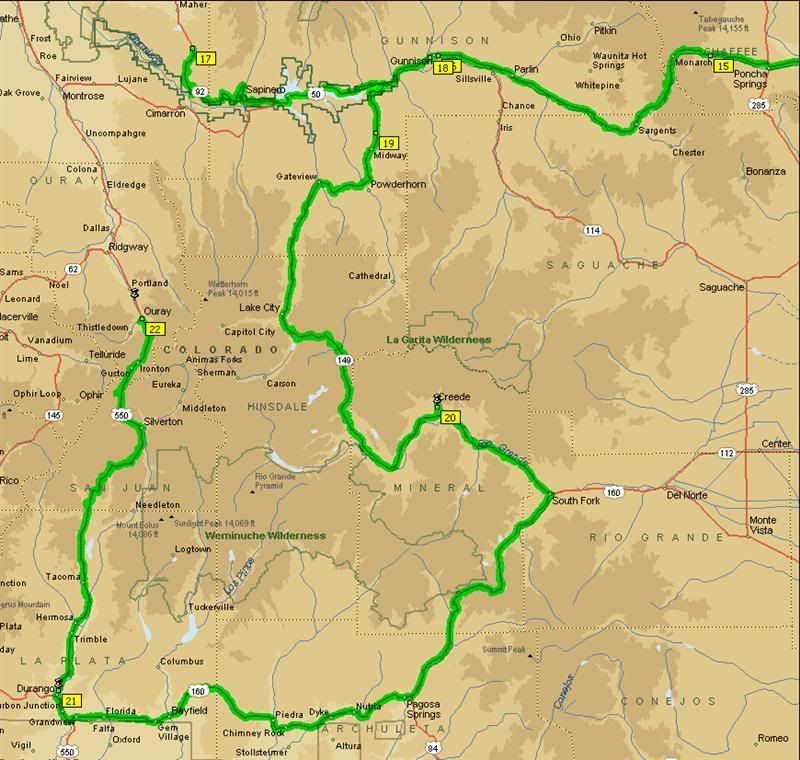 The route for Day 4: Monarch, CO to Ouray, CO. From the Blue Mesa Reservoir to the Million Dollar Highway.
After taking some showers to warm-up from the cold night where temps were around 40 F, we were off to Gunnison for breakfast. Packing up the campsite took a bit longer than we expected and since most of us didn't get very good sleep, we decided to call off camping for the rest of the trip (3 more nights were originally planned). However, Andy and I still wanted to camp at Bryce, since we had been looking forward to that for a long time.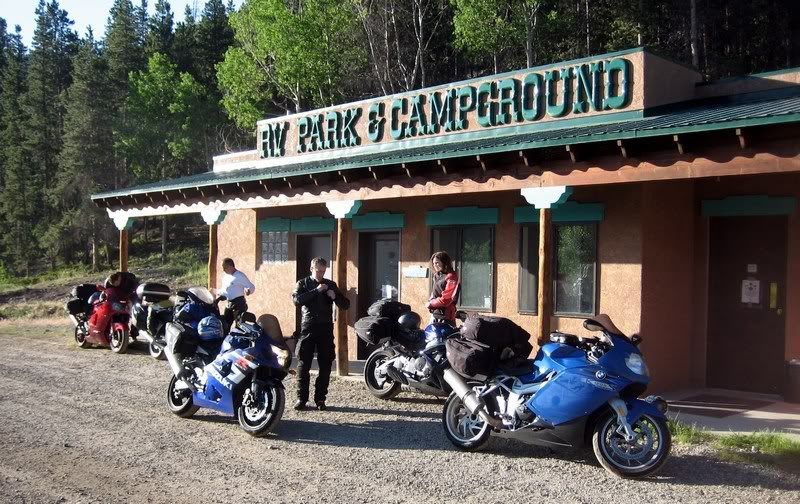 Getting ready to leave after taking some hot showers. It was a very cold night with temps near the low 40s.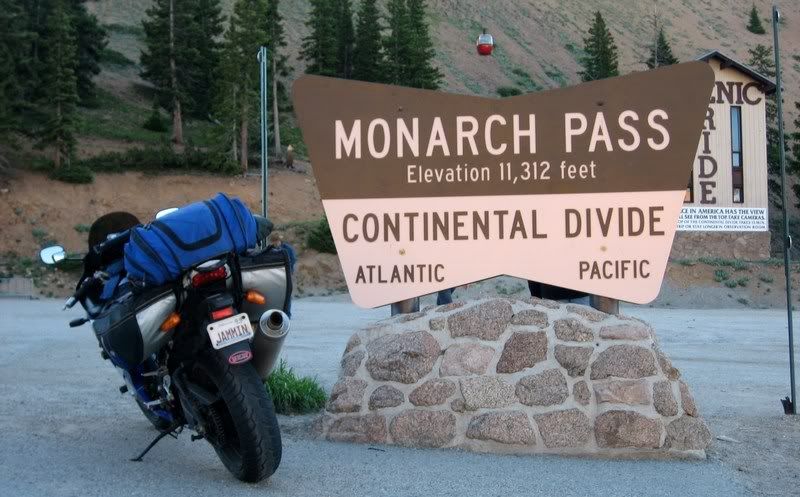 Our first mountain pass of the trip, Monarch Pass near Gunnison, CO at 11,312 ft.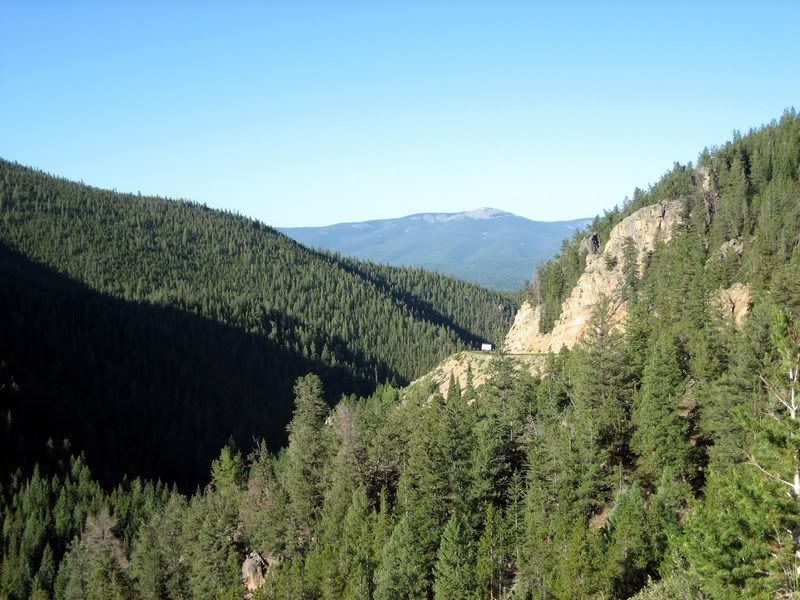 US-50 snaking around the mountain down to Gunnison.
Steven coming around a corner. 1 Monarch Pass, Colorado [7:09]
Riding up and over Monarch Pass in Colorado near Gunnison / Andy, Aileen & Rick
Musik: Nalin & Kane - Beachball
My Rating > Road: 5/5, Scenery: 5/5
In Gunnison, we took a loop around the Blue Mesa Reservoir on CO-92 because it looked very twisty and fun on the maps. This loop also allowed Steven to catch a nap to make up lost sleep and Aileen decided to relax in town, since a long day to Ouray was still ahead. Rick, Andy and I set off and we were not disappointed. I contacted a few riders on Sport-Touring.Net and noted down their advice on which roads were must rides in their state, of which CO-92 was one of them.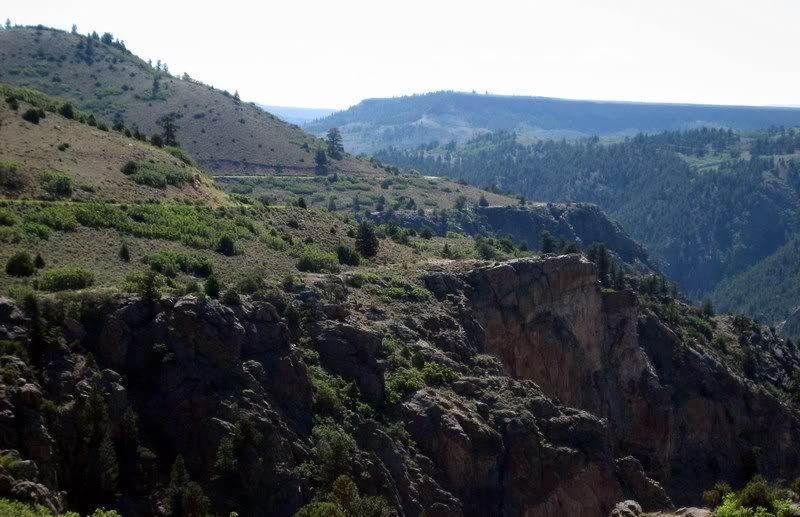 The twisty fun CO-92, which runs up a cliff from the Blue Mesa Reservoir.
Nice empty twisties. 2 Blue Mesa Reservoir Roads, CO-92, US-50 [7:04]
Riding the awesome roads of US-50 and CO-92 around the Blue Mesa Reservoir, near Gunnison, CO / Andy
Musik: Mijangos - Bahia
My Rating > Road: 5/5, Scenery: 3/5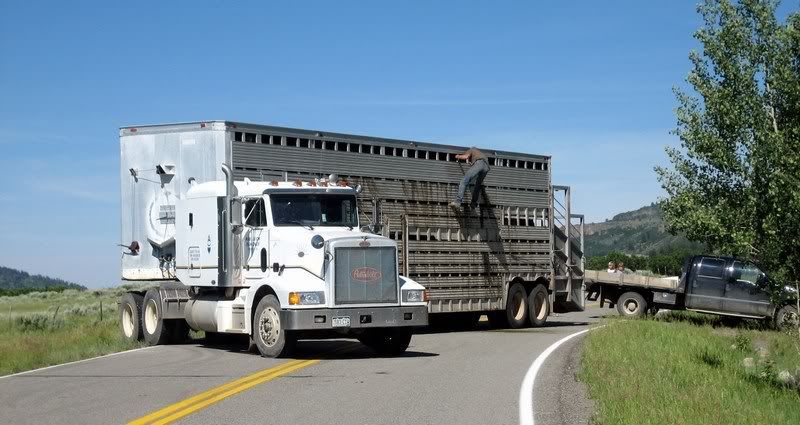 A cattle truck looking like it jack-knifed at the top of the twisty CO-92. The truck is parked in such a way to allow cattle to load directly into the truck from the range gates. A warning sign could've helped…
Rick's ST3 looking towards the end of the road. (Picture by Andy)
Rick taking a picture of his mug, ruining all his picutres. LOL.
Looking down the dam at the Blue Mesa Reservoir.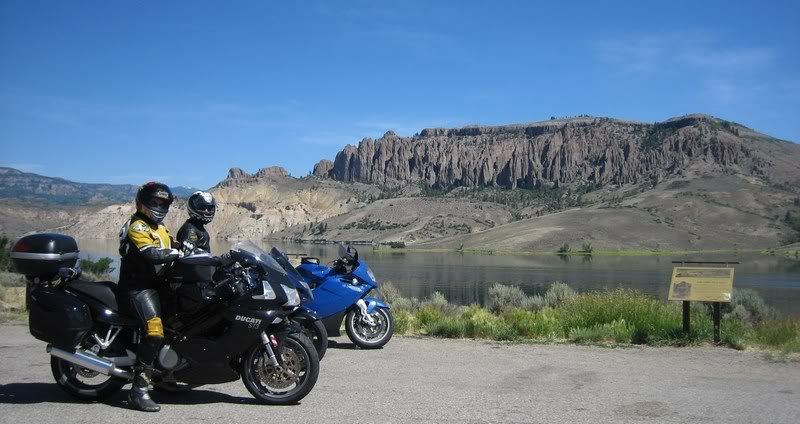 On US-50 heading back to Gunnison to pick up Steven and Aileen.
After the loop, we headed down CO-149 towards Durango and then the Million Dollar Highway to Ouray. The northern part of CO-149 is high-speed sweeper heaven. We're talking triple-digit corner-taking. It's an awesome feeling to be leaned over while doing triple digits. The road was very wide open with little traffic. It started to get a bit crowded near Lake City and after Creede, traffic slowed us down a lot, which continued onto US-160 all the way into Durango. It was another passing fest, but we toned down the double-yellow passing, since cagers are more likely nowadays to call for some enforcement, even the tourists.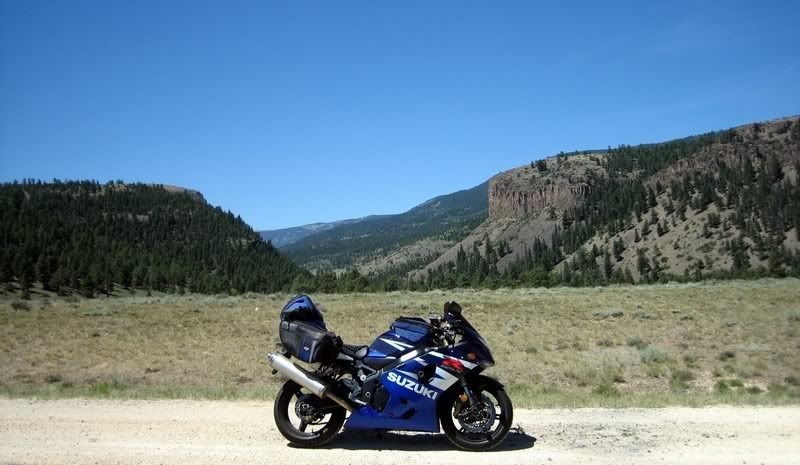 On CO-149, which had massive sweeping sweepers. We're talking triple digit sweepers. 3 CO-149, near Lake City [3:53]
Riding long fast sweepers on CO-149 heading south to Lake City / Andy
Musik: Kylie Minogue - Love at First Sight
My Rating > Road: 4/5, Scenery: 3/5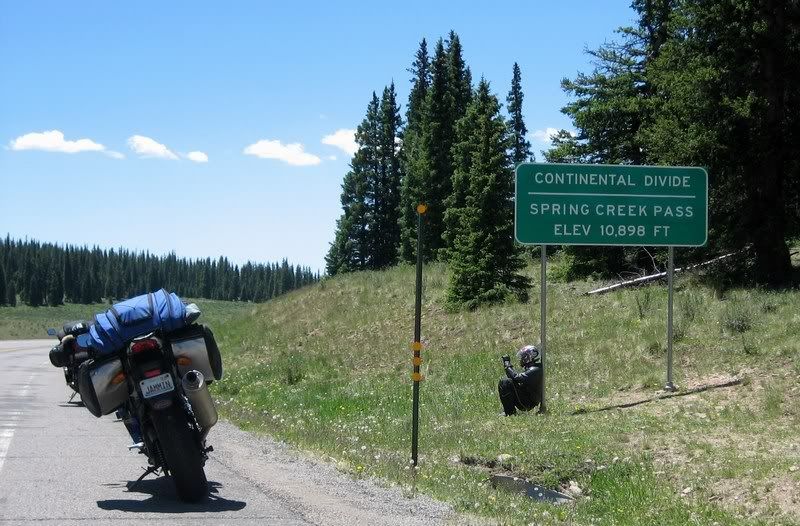 Crossing the Continental Divide at Spring Creek Pass, south of Lake City. 4 Slumgullion Pass on CO-149 [5:43]
Riding through Slumgullion Pass at 11,361 ft on CO-149 near Lake City, CO / solo
Musik: Mozart - Symphony No. 40
My Rating > Road: 4/5, Scenery: 3/5
CO-149 flatenned out around the city of Creede, but still made for good riding.
Looking back at Steven and Rick. I got bored sitting behind traffic and thus FotoMotion (moving photography) was initiated… I slowly perfected taking pictures while riding over the trip and they came out pretty good. Reverse shots are still a little tricky.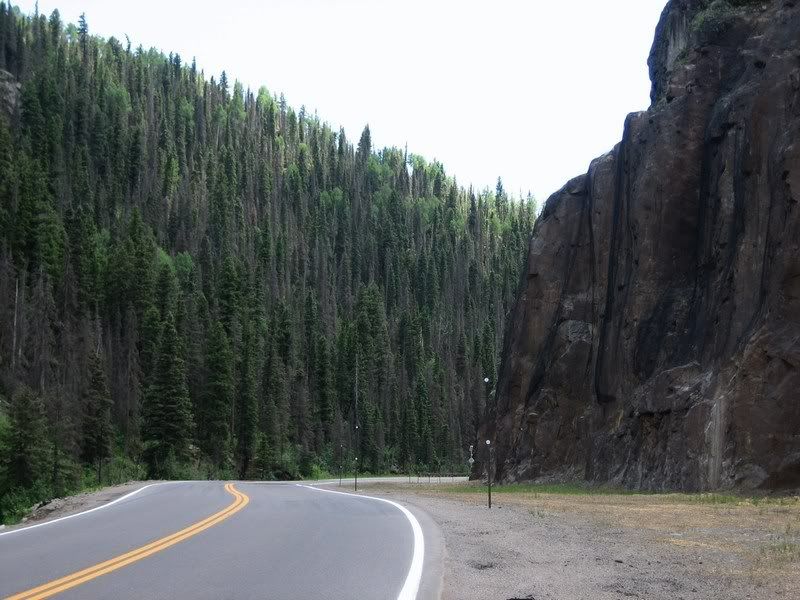 US-160 near Wolf Creek Pass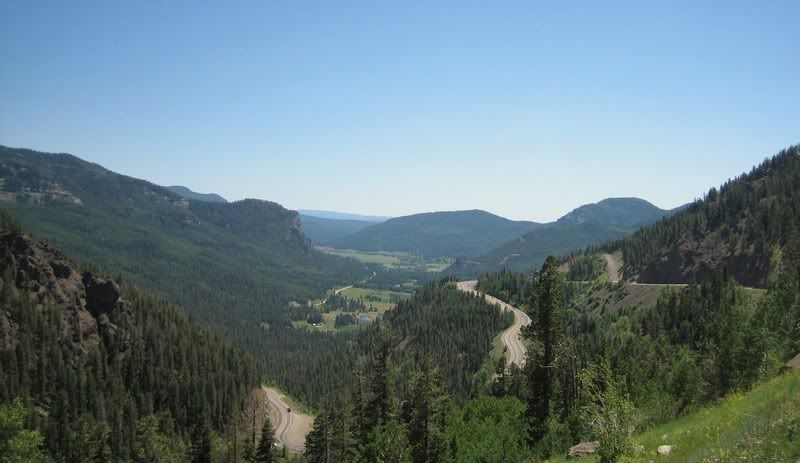 A hairpin section just south of Wolf Creek Pass. However it was plagued with traffic.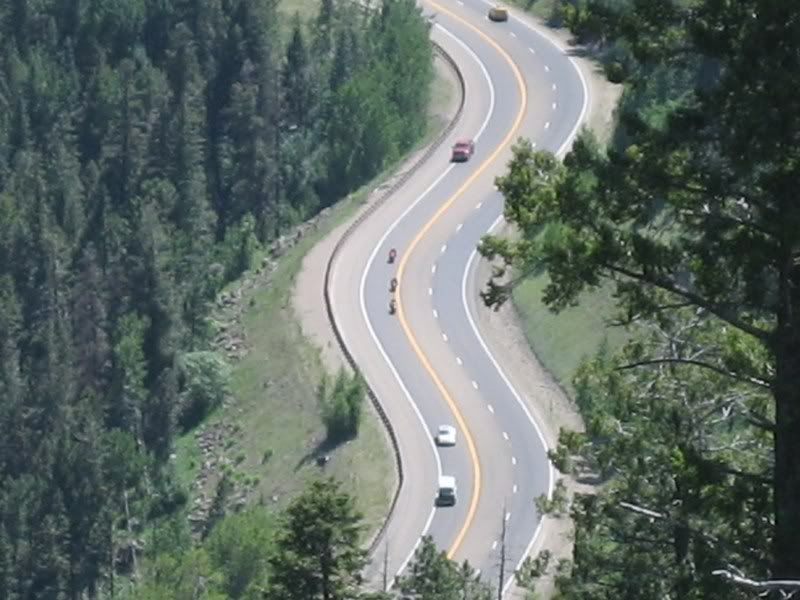 Rick, Andy and Steven weaving down the mountain.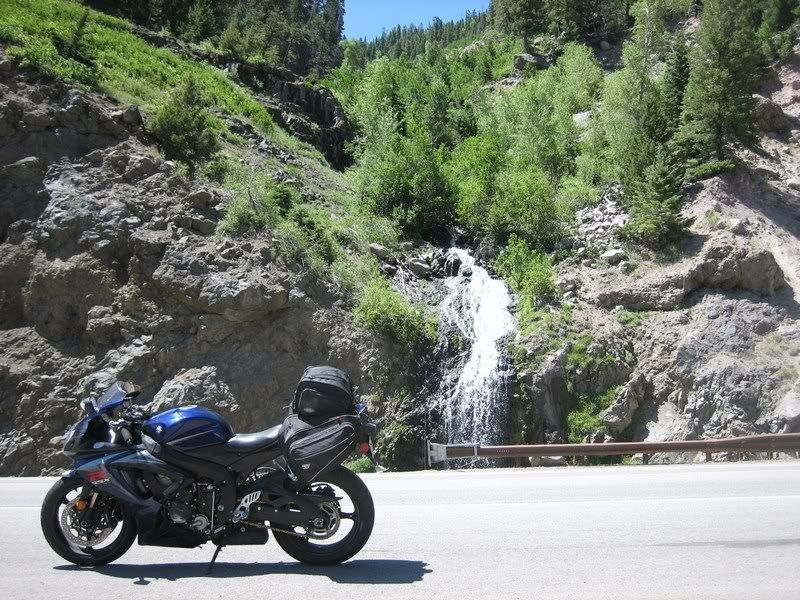 I switched with Aileen for this stint. I had been dying to ride the new GSX-R750, which is an amazing bike.
From Durango, the Million Dollar Highway on US-550 to Ouray was one of the highlights of the trip. The road is famous for steep cliffs and not having any guard rails to protect vehicles. The name of the highway probably came about because the first 12 miles south of Ouray ascends very steeply and it was difficult to build a road through there back in the 1920s and when they finally built it with lots and lots of switchbacks, it cost them a lot of money. These days, it's officially called the San Juan Scenic Byway. The road starts of slow from Durango and then picks up and crosses three high mountain passes: Coal Bank Pass (10,640 ft.), Molas Pass (10,910 ft.) and Red Mountain Pass (11,018 ft.). It was a very entertaining road and very picturesque, as well. The last 15 miles or so into Ouray is the highlight with continuous switchbacks and lots of elevation change. Something happened with my camcorder and it didn't record this section, which would've made for a great video. Steven and I were railing all the way into Ouray.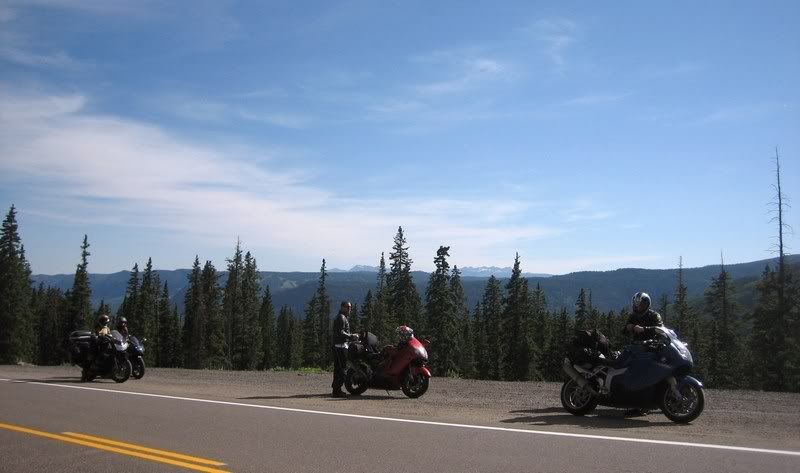 Taking a traffic break on US-550, the Million Dollar highway heading north from Durango to Ouray. The road was too twisty to have a safe passing fest, so we just waited to create a gap.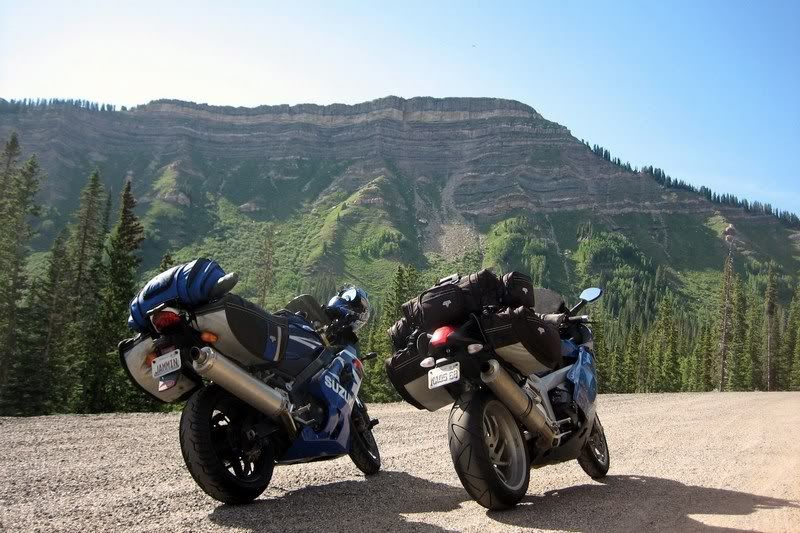 Myra and Eris, soaking up the great view.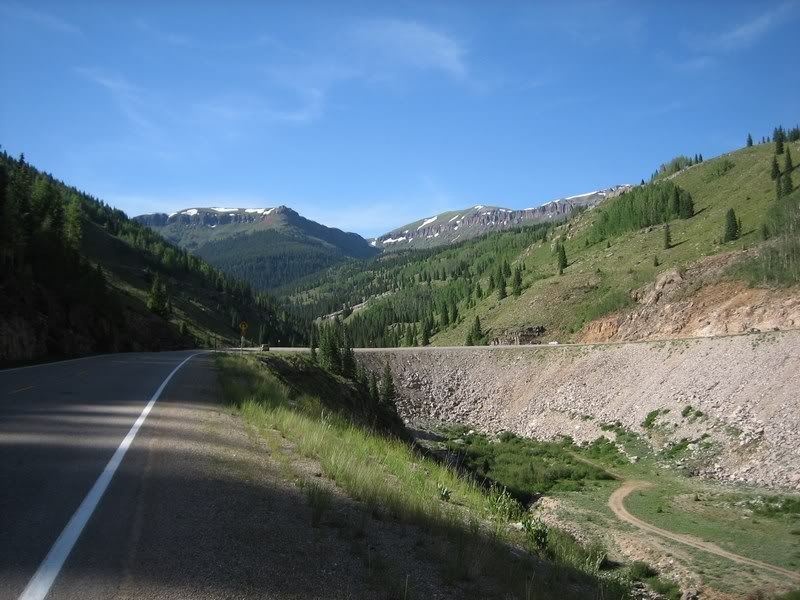 A beautifully set hairpin on US-550.
Aileen, setting up for the above hairpin…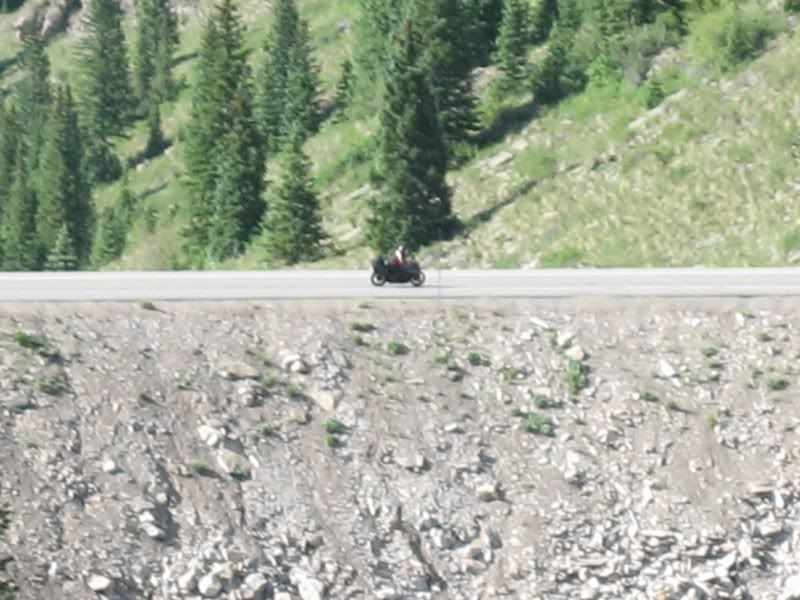 Aileen, riding through the corner. 5 US-550 Million Dollar Highway [9:15]
Riding the famous Million Dollar Highway (US-550) from Durango to Ouray, CO. Note the lack of guard rails and the awesome scenery / Andy
Musik: Dire Straits - Sultans of Swing (Live with Eric Clapton)
My Rating > Road: 5/5, Scenery: 5/5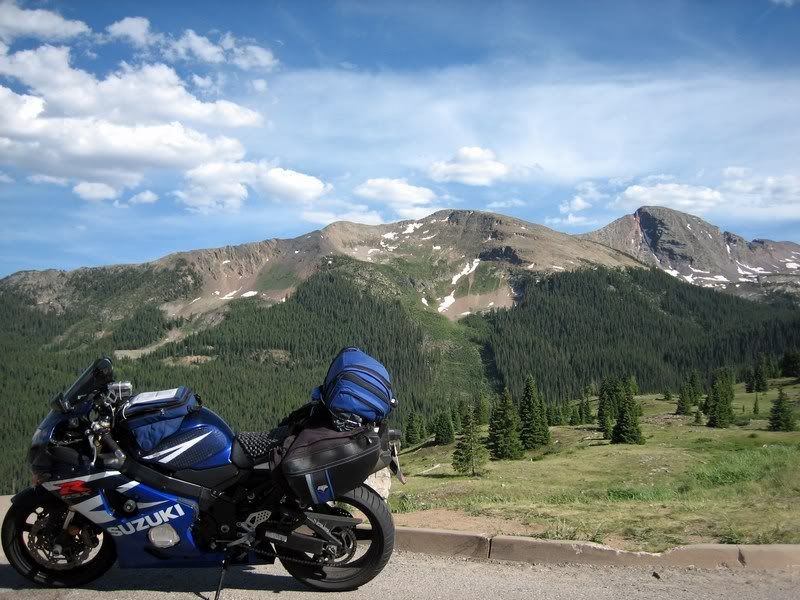 The air was so clear up there, that no touch up was needed for these pictures. Just beautiful.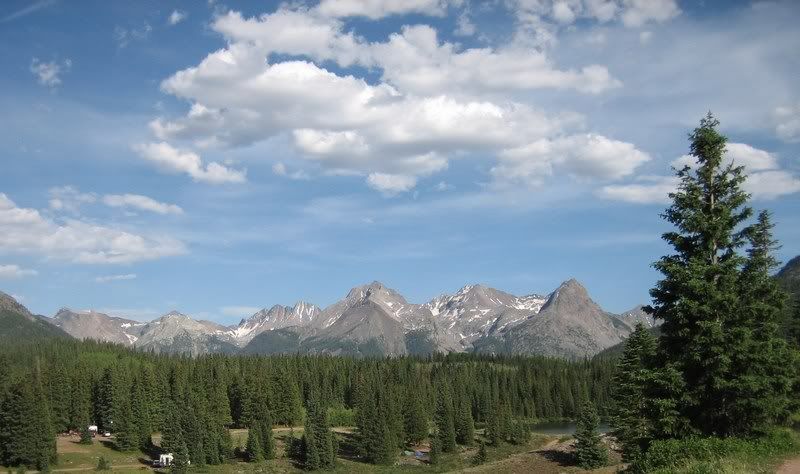 Want to guess what they call this mountain range? (Picture by Andy)
Ouray's a nice little touristy mountain town. The steep cliffs of the mountains seem to be right in the town as they're quite imposing. The area's also known for some hot springs. We stayed at the Ouray Hotel, which was one of the pricier lodgings on the trip at $143 for a suite.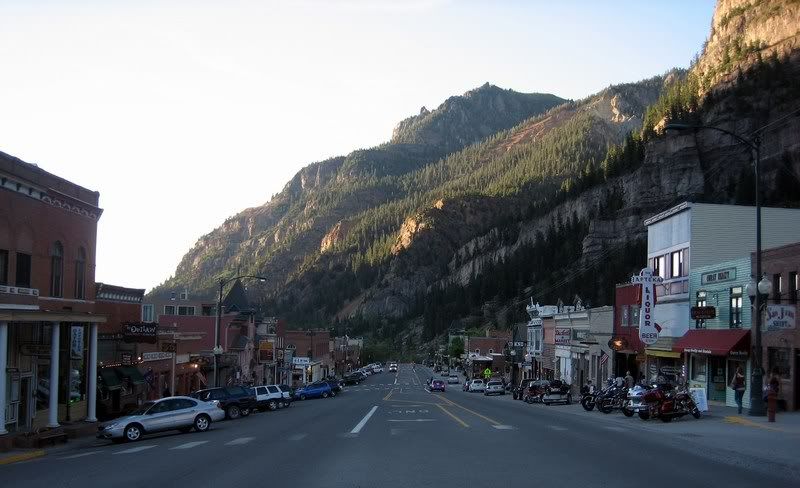 The beautiful town of Ouray, nestled high up in the rocks.
We stayed at the Ouray Hotel. Nice place.
A bunch of outta-towners walking out of The Outlaw bar. Appropriate.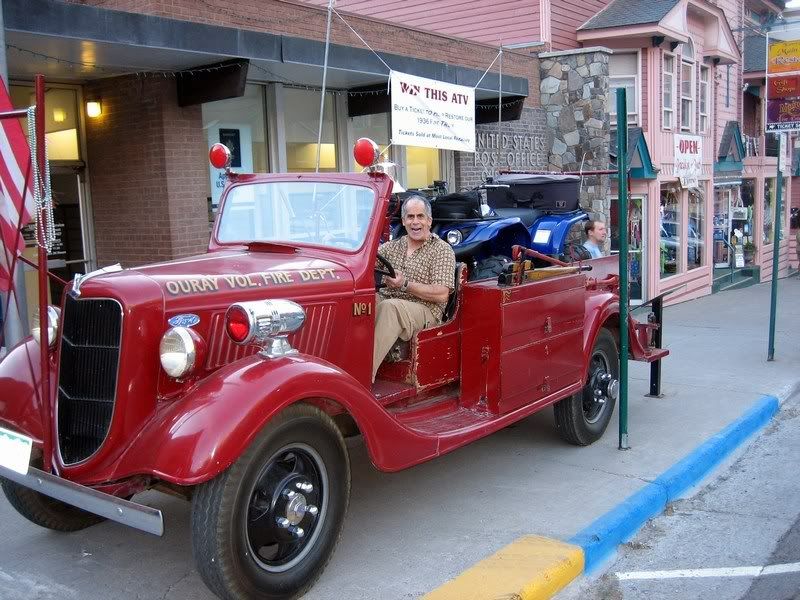 Rick thrilled to see a red fire engine. He was thinking about pushing the clutch in and seeing this thing roll down the whole mountain.
Next:
Day 5, Monument Valley & Grand Canyon North Rim
Ride Report Index