Day 8
Thursday, July 5, 2007
Start: Moab, UT, 8:45 am
End: Leadville, CO, 7:30 pm
Mileage: 432
The route for Day 8: Moab, UT to Leadville, CO, ending with Independence Pass.
Saying goodbye to Utah, we would be riding through central Colorado on various twisting roads today as we headed east towards home. Crossing into Colorado on CO-90, we were stopped for about 15 mins as a massive herd of around 300 cattle made their way down the mountain from grazing up there during the spring. After being amused by the beef, we had to deal with their fresh lethal cow pies that were scattered all over the road ahead of us. We had to put more separation between us to stop getting cow dung flung onto us and our bikes from the bike ahead. A quick wipe down was needed at the next gas stop.
One last twisty in Utah on UT-46, before crossing into Colorado.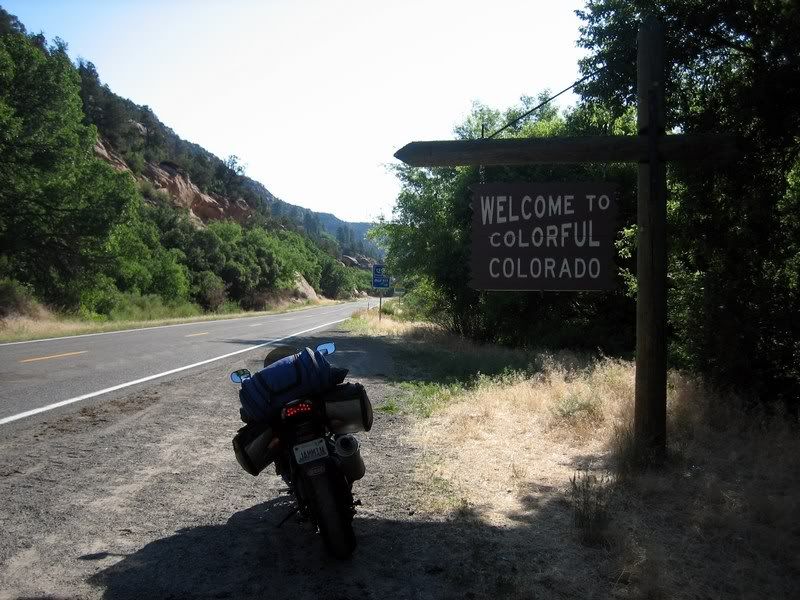 Again, the sign could use a bit more color, I say.
"Cattle Ahead" and not just one or two… (Picture by Rick)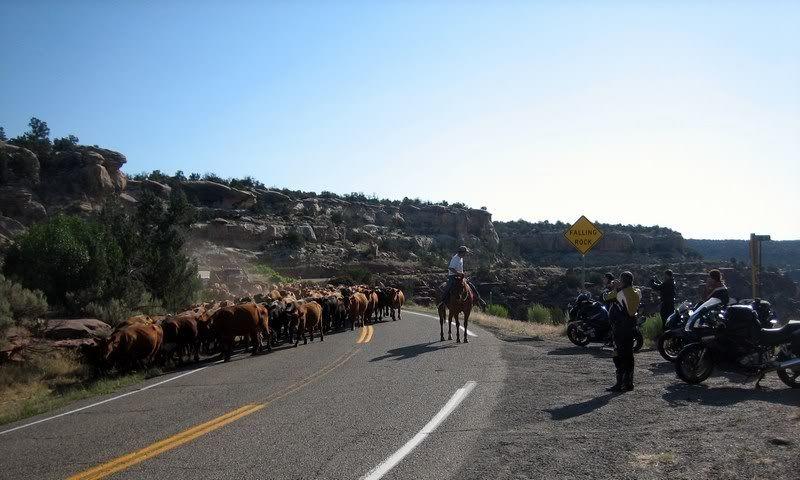 …a whole herd of cattle, about 300 strong. They were coming down the mountain after grazing up there during the spring.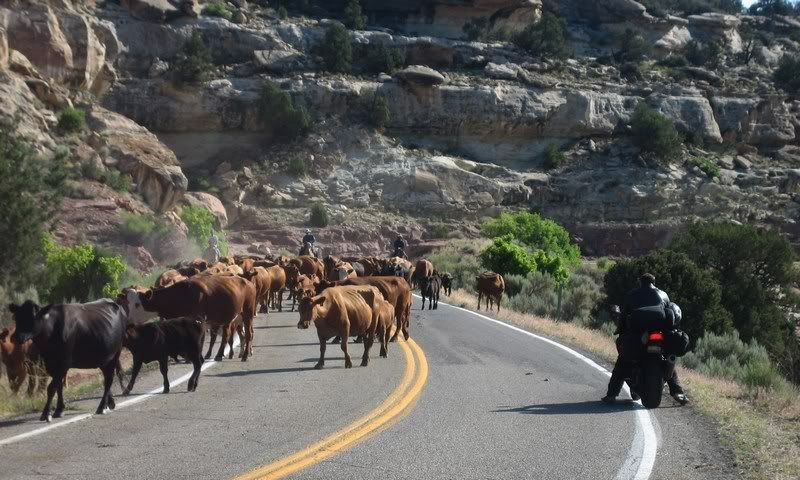 Steven, trying to make his way through the throngs.
The only downside to this was the danger to us riders from all the fresh cowpies that were dropped on these twisties that we'd be riding.
A straight shot into Naturita, CO to gas up. Hopefully this would be the last straight road we'd have to ride until the slab home.
Even though CO-141 looked twisty on the map, I didn't think it would be as much as fun as it really was. The turns were a bit tighter as this area continues the red canyon landscape from nearby Arches National Park. In my mind, riding Colorado was always pictured as tree filled mountainous passes, not canyon riding. What an amazing state.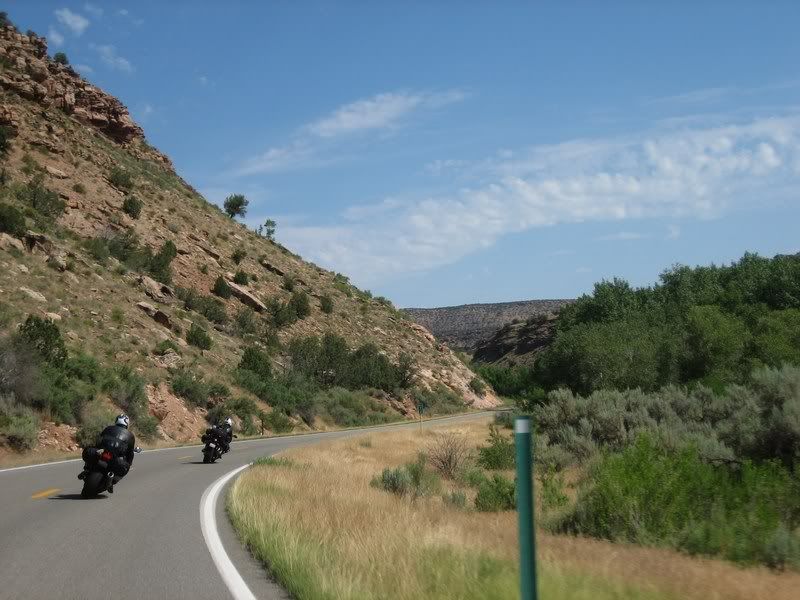 Heading north on the awesome CO-141. Lots of twisties with good scenery. 17 CO-141 [4:48]
Riding CO-141 in the western part of Colorado. No high mountain passes here, but awesome red canyons that carry over from Utah / Andy, Steven
Musik: Led Zeppelin - Stairway to Heaven
My Rating > Road: 4/5, Scenery: 3/5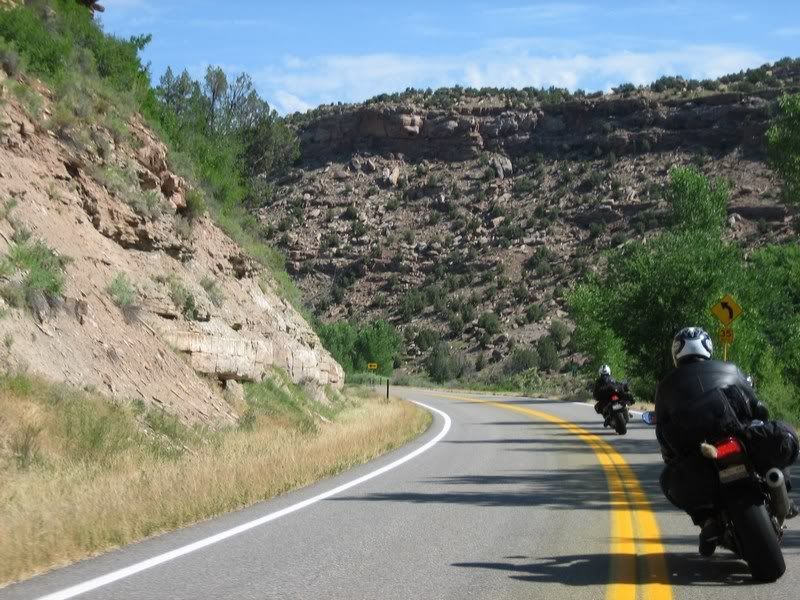 Steven and Andy on CO-141.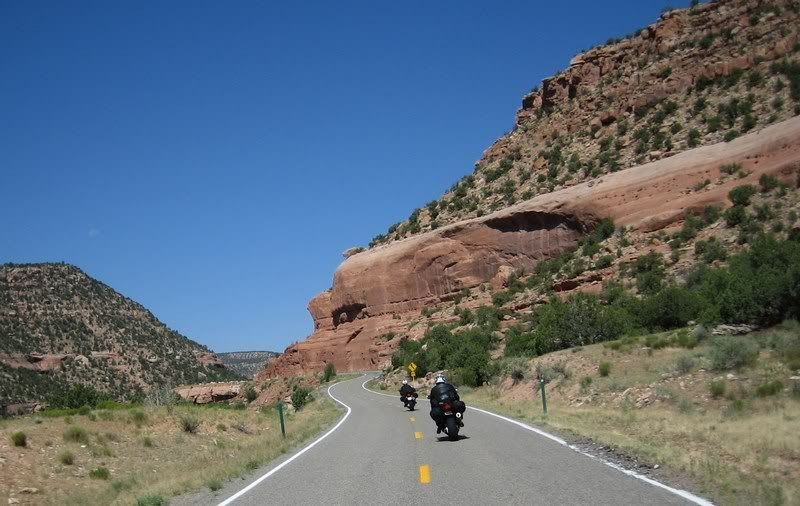 Steven and Andy on CO-141.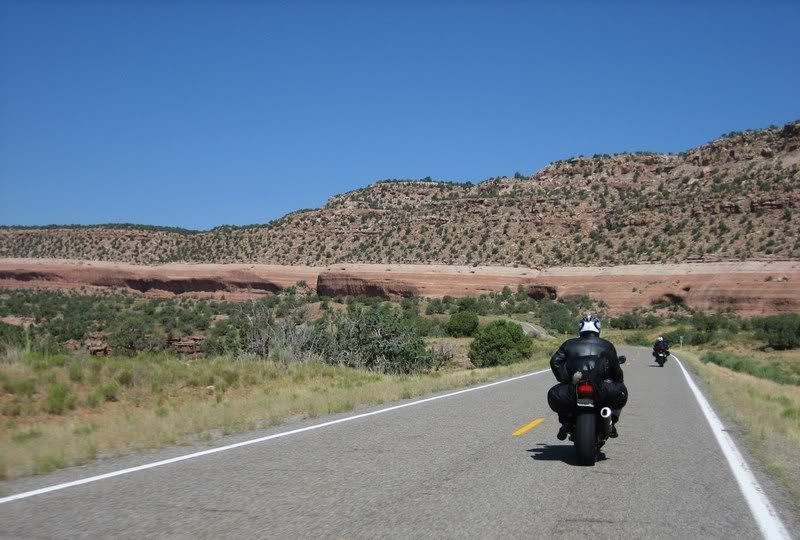 Steven and Andy on CO-141.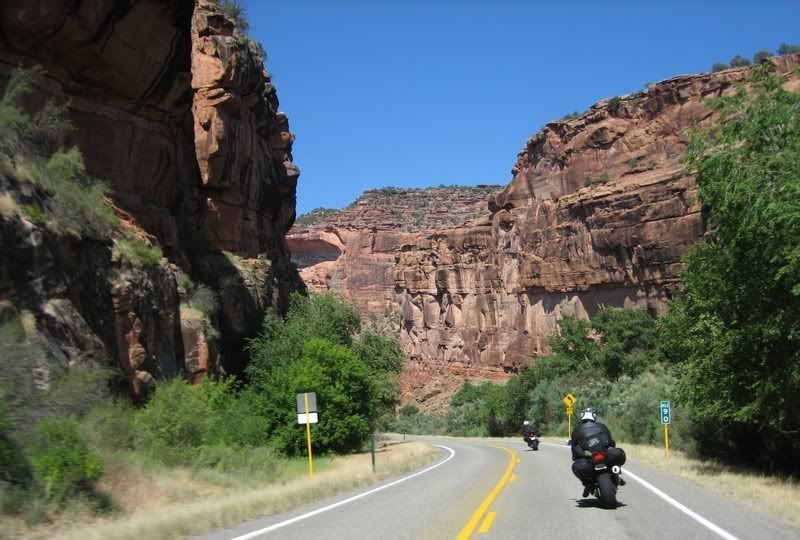 Images of red rock canyons aren't usually associated with Colorado, but being so close to Arches, it's not so surprising.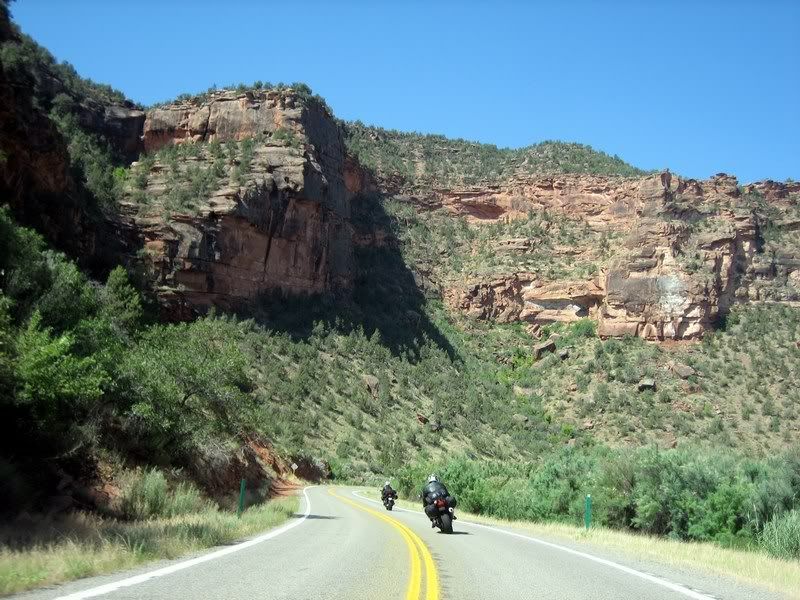 Steven and Andy on CO-141.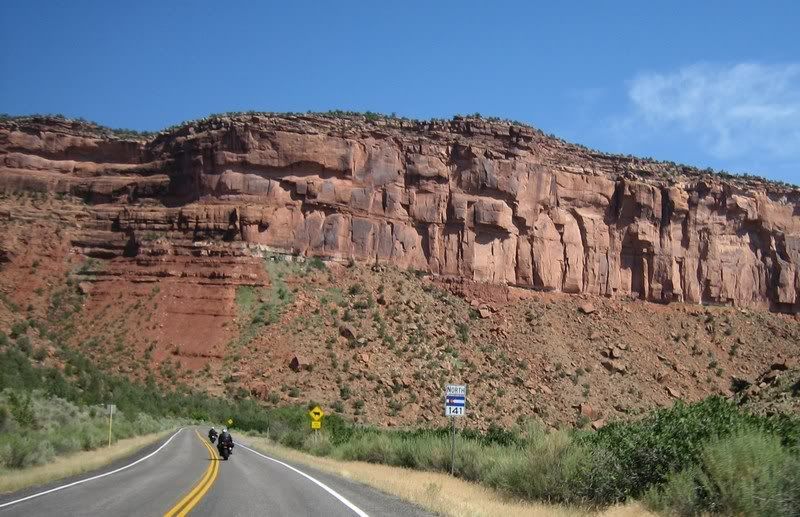 One thing funny about Colorado state highway signs is that the state flag takes up half the sign, leaving less space for the highway number.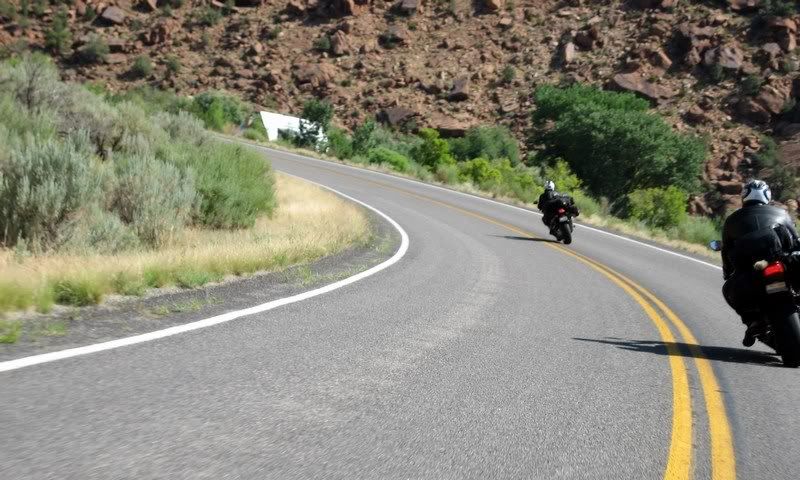 Steven and Andy on CO-141.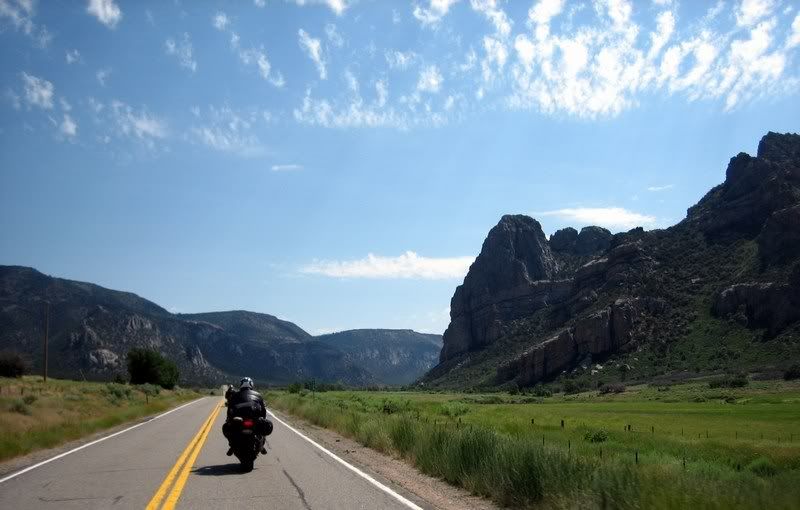 The scenery changed from dry canyons to a semi-lush landscape.
We hopped on I-70 for a bit from Grand Junction to the start of CO-65. This state continues to impress as its interstates are actually enjoyable to ride and scenic and probably don't warrant being called slab. The nice thing about CO-65, the Grand Mesa Scenic Byway is that the fun starts right as soon as you exit the highway. The first part is characteristic of dry canyon railing, then changes to a foresty mountain pass up and over Mesa Lakes.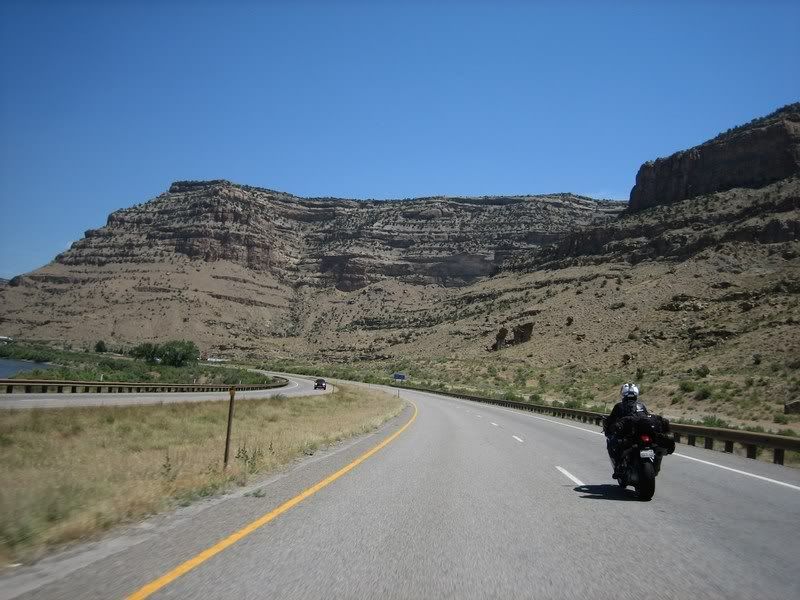 Riding a bit of I-70 from Grand Junction to the start of CO-65. Interstate in this part of the country isn't so bad. 18 CO-65 Canyon Railing, Grand Mesa Scenic Byway [3:56]
Canyon Railing on the first half of CO-65, Grand Mesa Scenic Byway. Heading south towards Grand Mesa / Andy
Musik: The Black Eyed Peas feat. Sergio Mendes - Mas Que Nada
My Rating > Road: 5/5, Scenery: 3/5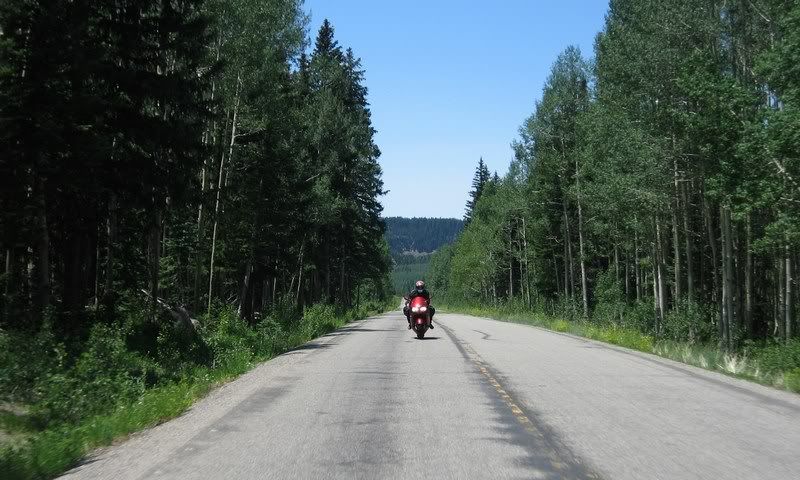 Steven riding to the top on Grand Mesa Scenic and Historic Byway, CO-65, a very fun road.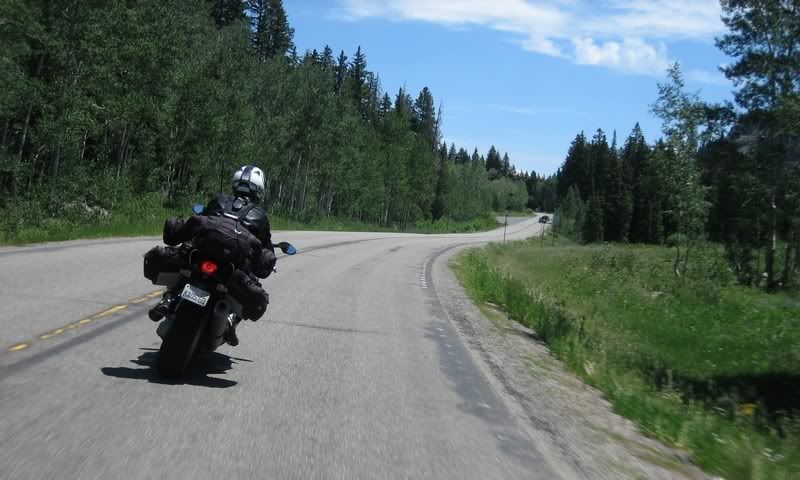 Andy, Grand Mesa Scenic and Historic Byway
Looking down from the peak at Mesa Lakes.
Doing what (male) motorcyclists do best.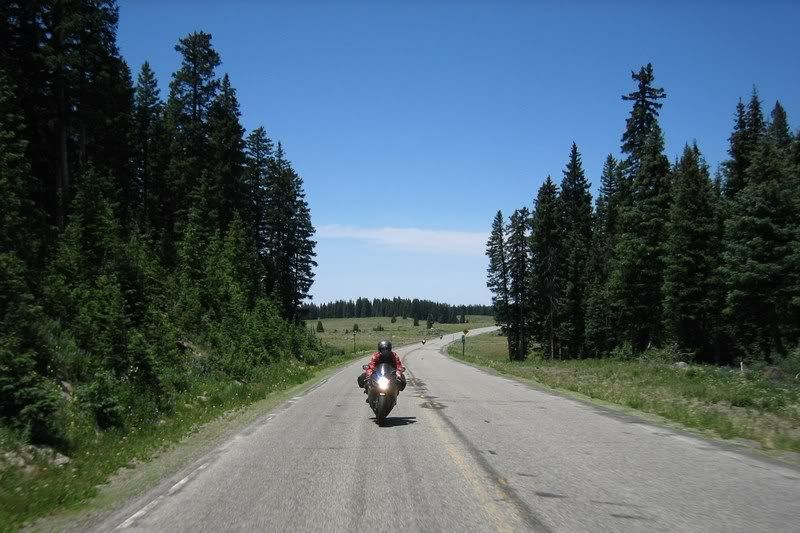 Looking back at Aileen as we ride down into Cedaredge, CO. 19 CO-65 Mountain Pass, Grand Mesa Scenic Byway [5:02]
Riding up and over CO-65 on the Grand Mesa Scenic Byway towards Cedaredge, CO / Andy
Musik: Bob Marley - Could You Be Loved
My Rating > Road: 4/5, Scenery: 4/5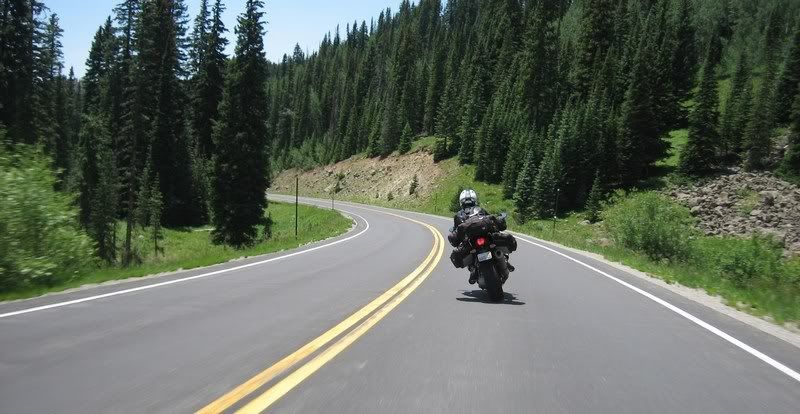 Beautiful road conditions.
After a break in Hotchkiss, we hoped on CO-133 towards the last feature of the day, Independence Pass. Just like on previous trips, the most fun always comes when you're least expecting it. CO-133 around the Paonia Reservoir was my favorite road of the whole trip. It was constant 35 mphs turns with nice smooth pavement with beautiful mountain and lake views. Let me move here, already!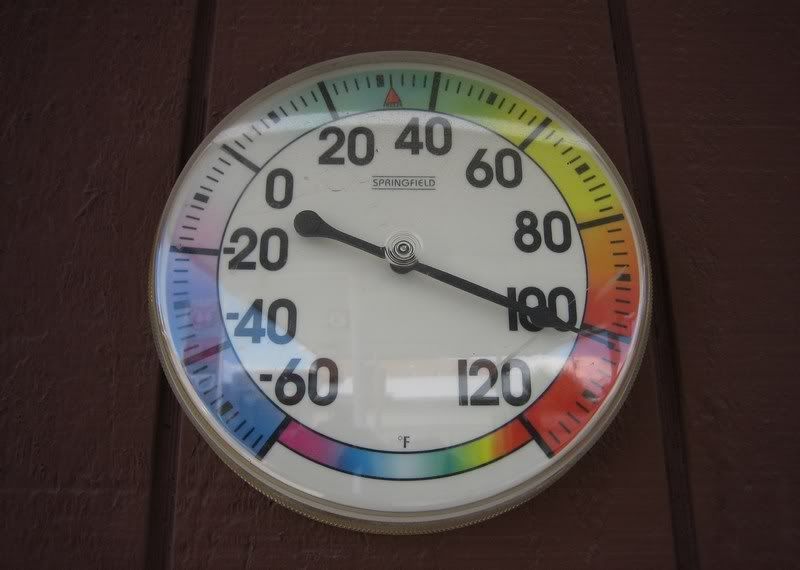 Proof of the temperature at a Hotchkiss gas station. Mind you, this was in the shade.
Riding the awesome CO-133 from Hotchkiss to Carbondale, CO.
This was one of my favorite roads of the whole trip. Constant 35 mph turns. 20 CO-133 Paonia Reservoir [5:07]
Railing on CO-133 around the Paonia Reservoir. This was my favorite road on the whole trip. Constant 35 mph turns allowing for a nice rhythm to be set. And check out the scenery too. I want to move here! / Solo
Musik: Alice DeeJay - Better Off Alone
My Rating > Road: 5/5, Scenery: 5/5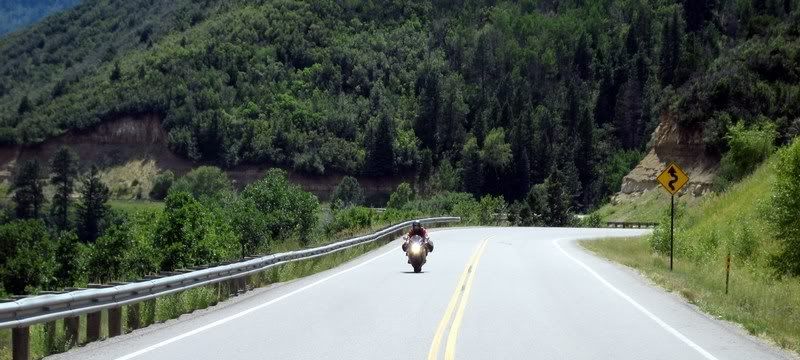 Aileen, coming out of riding some twisties.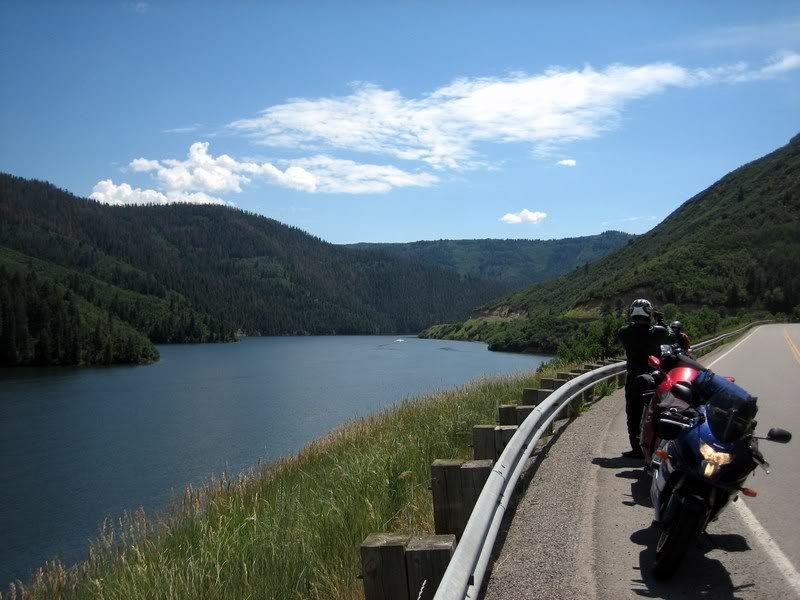 Enjoying the view of the Paonia Reservoir.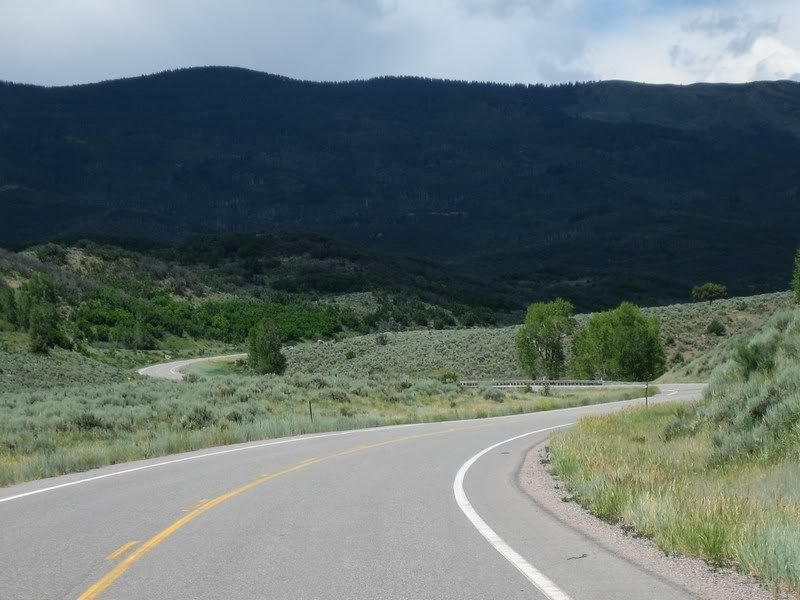 More fun on CO-133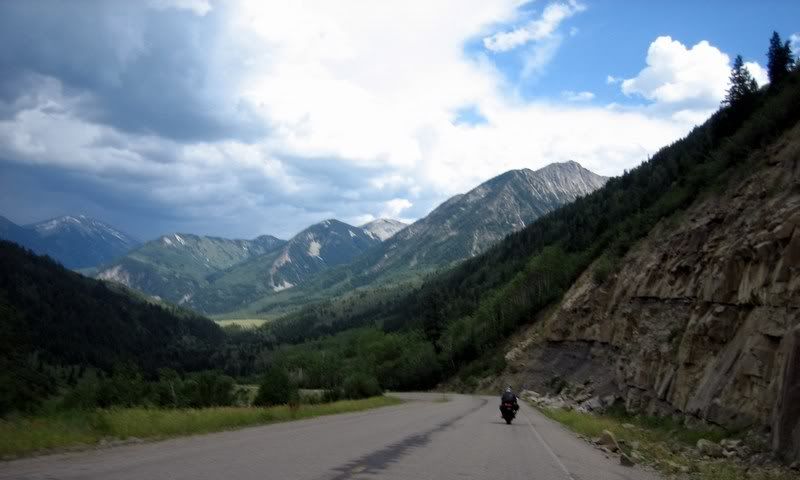 Steven, with some impressive peaks up ahead. 21 CO-133 McClure Pass [3:33]
Riding up and over CO-133's McClure Pass in drizzling rain / Andy, Steven
Musik: Dire Straits - Lady Writer
My Rating > Road: 4/5, Scenery: 5/5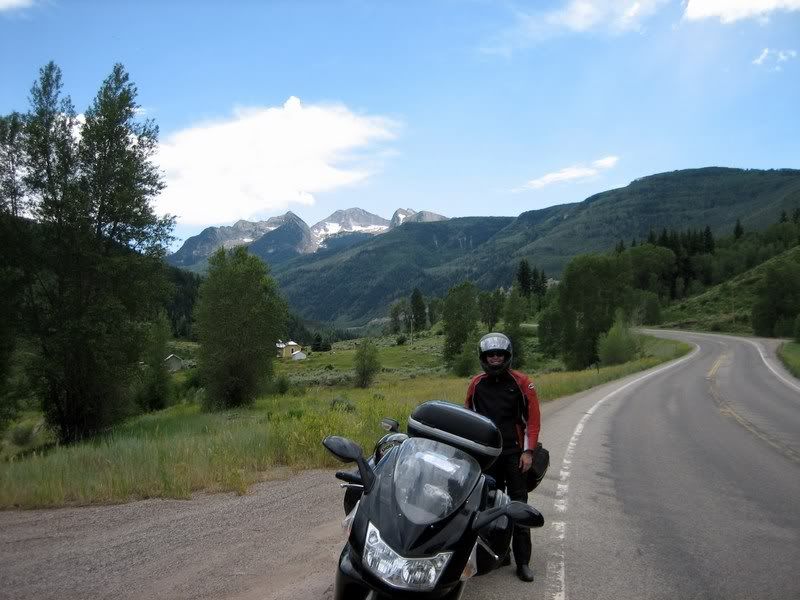 Aileen, clearly happy to be riding this awesome road. (Picture by Andy)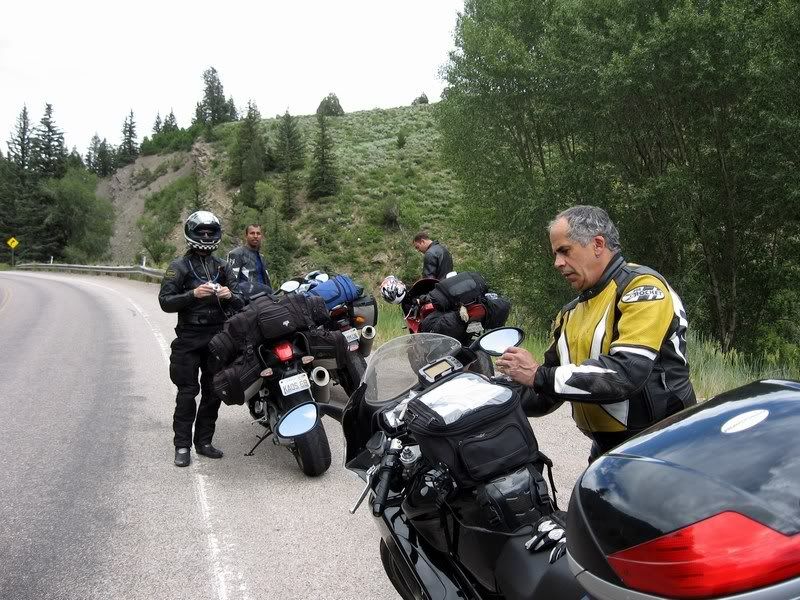 Taking a roadside break (Picture by Aileen)
Rick, on the last stretch of CO-133.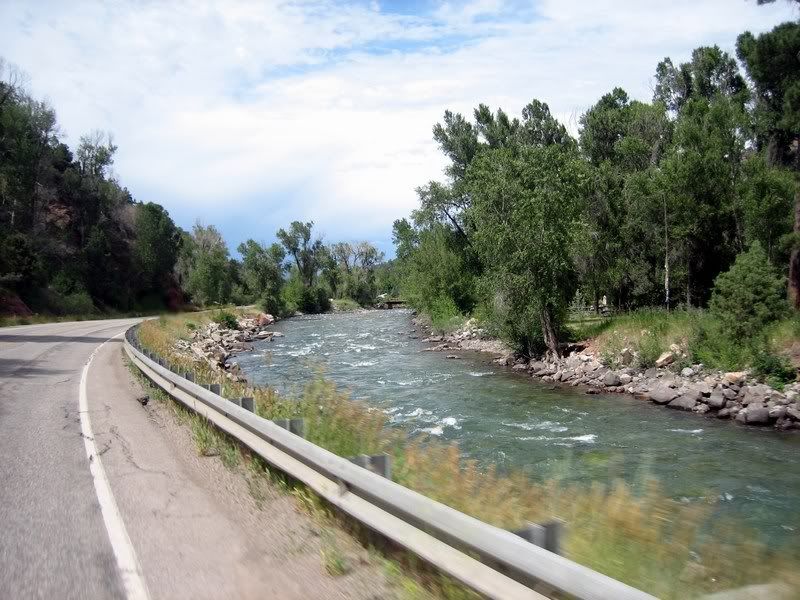 Crystal River, heading into Carbondale.
Crossing 40,000 miles on the odometer in Carbondale, CO. Myra's an awesome bike. Let's see if we can cross a 100K…
We encountered a bit of rain as we pulled into Carbondale, just as I crossed 40,000 miles on my 2004 GSX-R600. I think Suzuki should buy back my bike when I cross 100,000 miles to study reliability of their supersport bike. I could use a new bike by then.
I was hoping we could stop in the beautiful town of Aspen for a late lunch but a big storm was moving through and traffic was crazy mad in town. There's a four-lane highway all the way from the freeway into Aspen and traffic was constant the whole way. We got started on the road up to Independence Pass in a steady downpour, which wasn't too dampening on the spirits since traffic was quite dense on the road. The views and the road resembled the Going-to-the-Sun road in Glacier National Park and it was actually quite beautiful in the rain. The temperatures were in the mid 30s when we passed the summit at 12,095 ft and Aileen, being the smart rider she is was watching out for possible black ice forming on the roads that could slip us over the edge of the mountain. Steven was cold to the bone and just railed down the mountain, wanting to get to a warm hotel room as soon as possible. Coming down on the eastern side, there are no guard rails around the switchbacks and the 10 mph speed limit was duly followed. Just as the rain subsided, we pulled into the town of Leadville, which is the highest town in the US at 10,152 ft.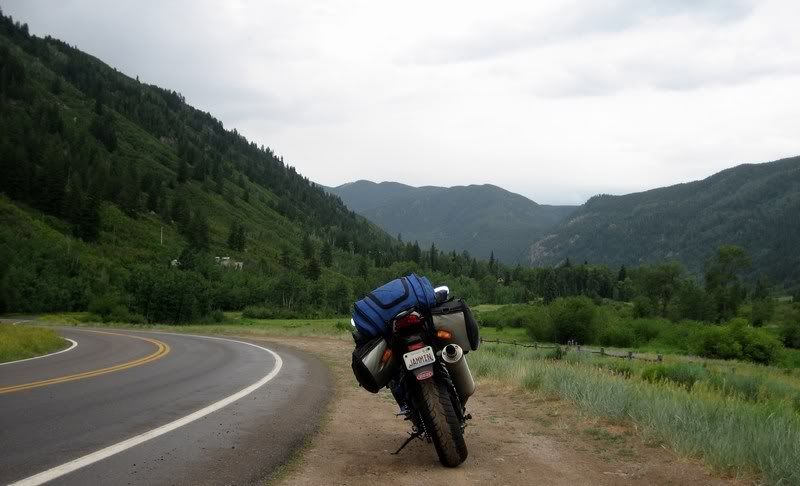 Heading into the rain-soaked mountains of Independence Pass on CO-82, south of Aspen.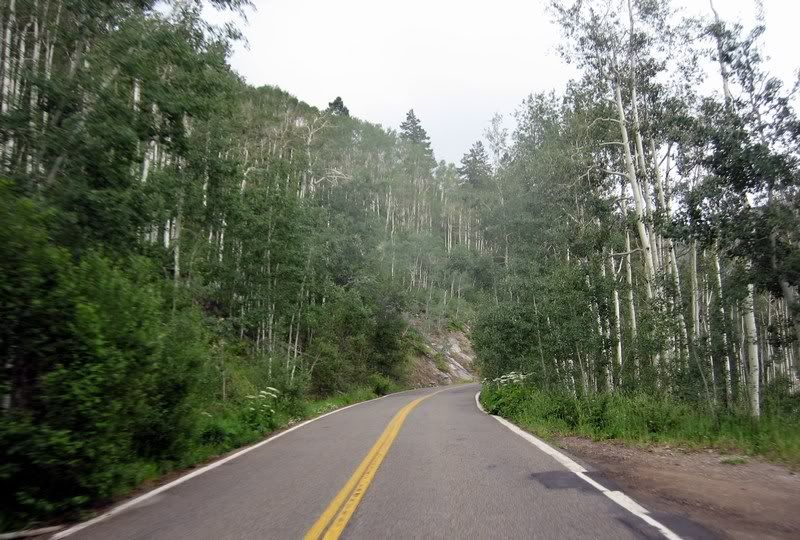 The road was truly beautiful to ride through. Close foliage and good road quality. 22 Independence Pass Uphill, CO-82 [6:24]
Gently riding up CO-82 from Aspen to Independence Pass. Too bad we had to ride through here during a downpour, but it's beautiful nonetheless. It almost resembles the Going-To-The-Sun Road in Glacier National Park / Solo
Musik: Bob Dylan - Tambourine Man
My Rating > Road: 5/5, Scenery: 5/5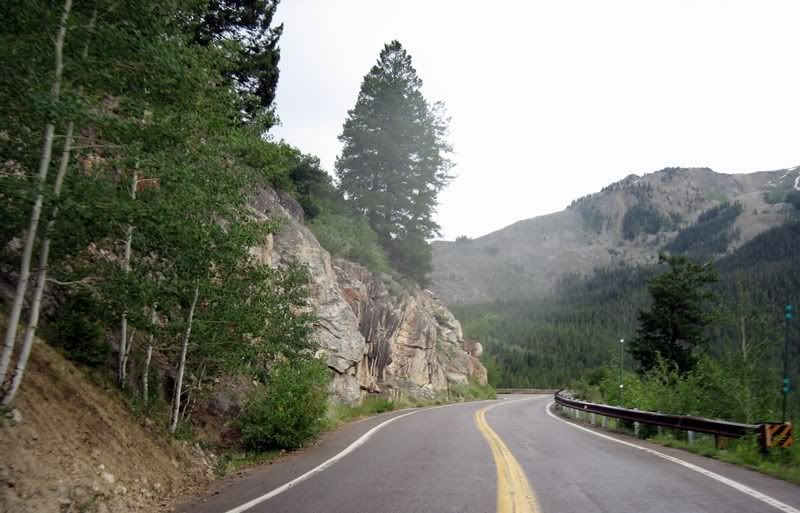 CO-82
The views were also stunning, almost like Glacier National Park. I couldn't stop to take any pictures of the scenery as traffic was constant and serious rain was on the way.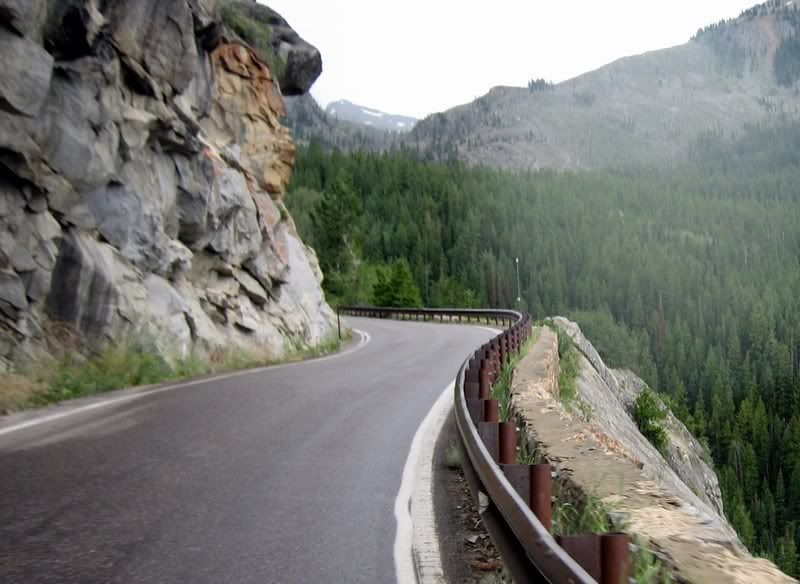 A winding wet mountain road with steep rocky drop-offs.
CO-82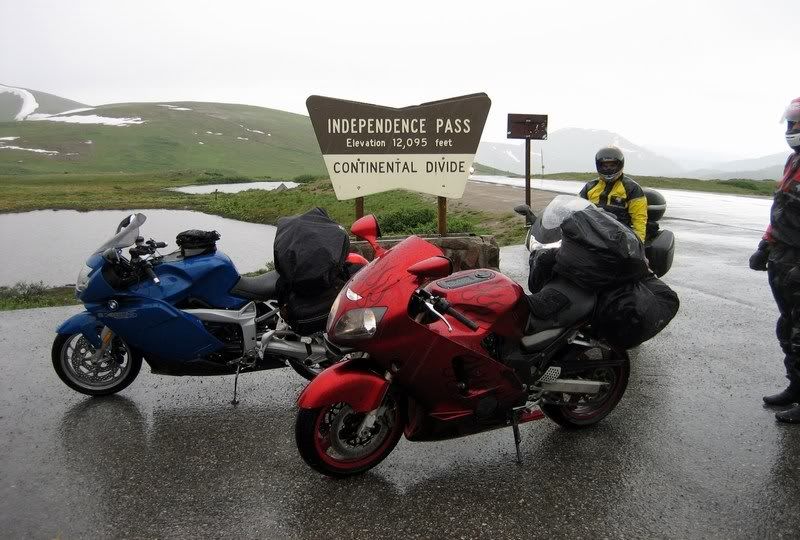 The summit of Independence Pass at 12,095 ft, the second highest paved road in the US. This is well above the tree line and there's only tundra up here. The temperatures were in the mid 30s, plus it was raining. We were cold. (Picture by Aileen)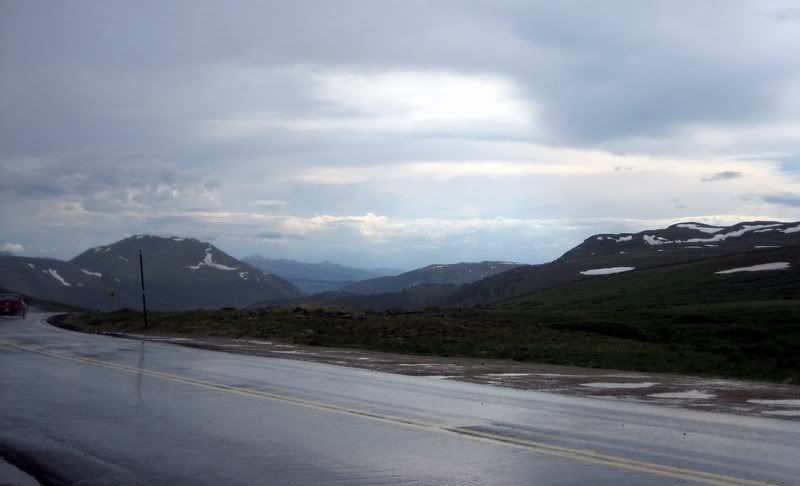 The wet peak of Independence Pass. We were hoping it wouldn't get cold enough to start forming ice. That would be bad through these no-guard rail hairpins. 23 Independence Pass Downhill, CO-82 [7:05]
Gently riding down from Independence Pass (12,095 ft) in the rain with no guard rails. Heading east to Twin Lakes, CO / Solo
Musik: The String Cheese Incident - Take Five
My Rating > Road: 4/5, Scenery: 4/5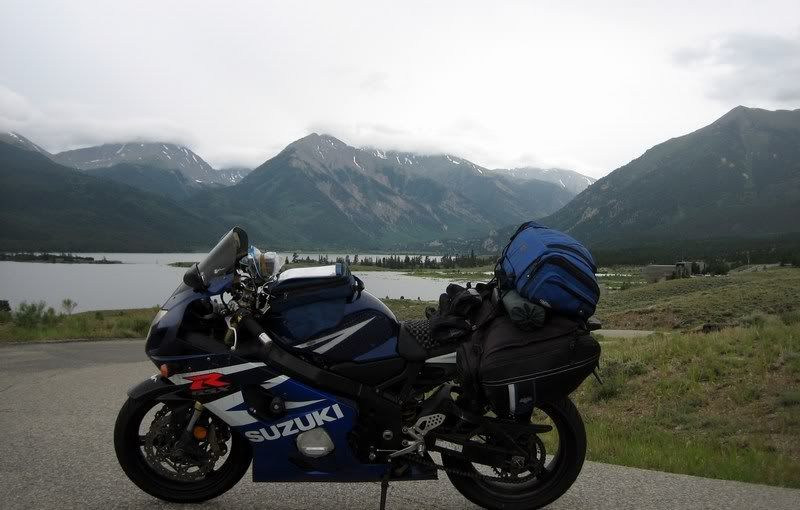 At the bottom of the pass, at Twin Lakes, CO. The mountains create their own weather system.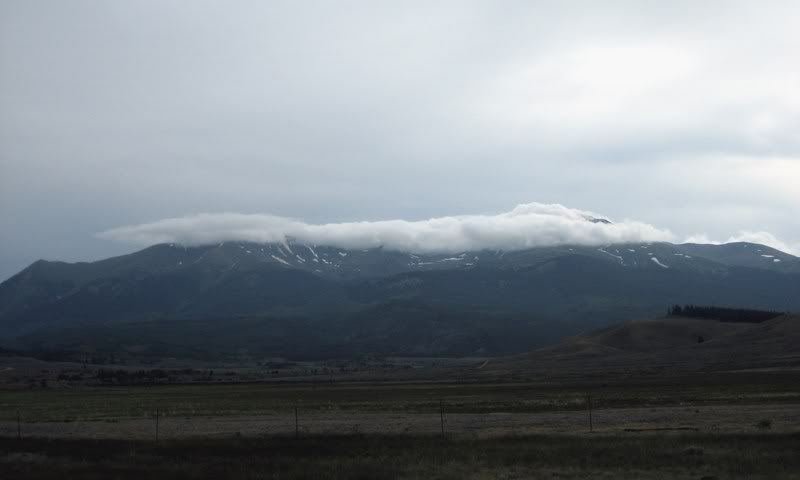 The clouds hanging around at the mountain peaks, where it's nice and cool for them, creating havoc for us riding through there.
Next:
Day 9, Exiting Colorado
Ride Report Index