Day 7
Wednesday, July 4, 2007
Start: Bryce Canyon, UT, 8:30 am
End: Moab, UT, 6:30 pm
Mileage: 489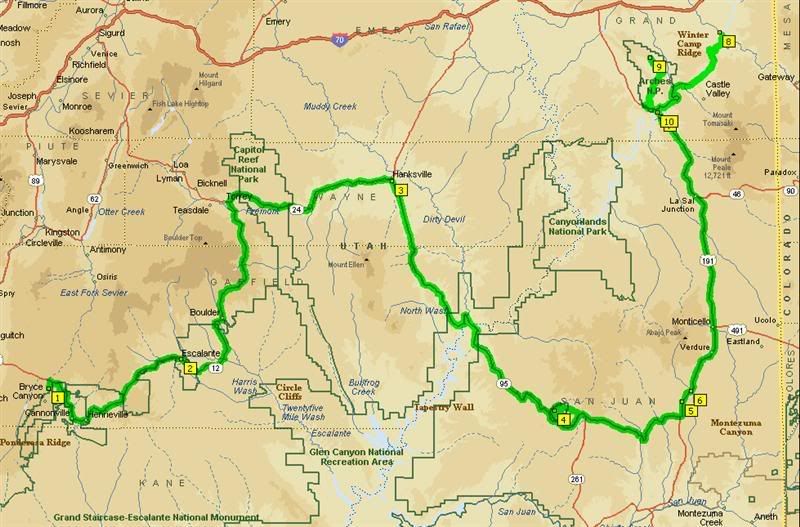 The route for Day 7: Bryce Canyon, UT to Moab, UT, Capitol Reef National Park.
Along with the other famous roads in the sport-touring community of Lolo Pass in Idaho, Beartooth Pass in Montana are the southern Utah roads of UT-12, 24 and 95, which run from Bryce Canyon through Capitol Reef National Park to Arches National Park near Moab. Besides having endless twisties, they're also very remote and set in some amazing landscape.
Mine and Andy's campsite at Ruby's Inn Campground, just outside the entrance to Bryce. Yeah, the other 3 whimped out and got a hotel room. City slickers. I enjoyed gazing at the stars before falling asleep…
Someone mentioned earlier that the whole of southern Utah should be a National Park as just driving along you come across some awesome sites.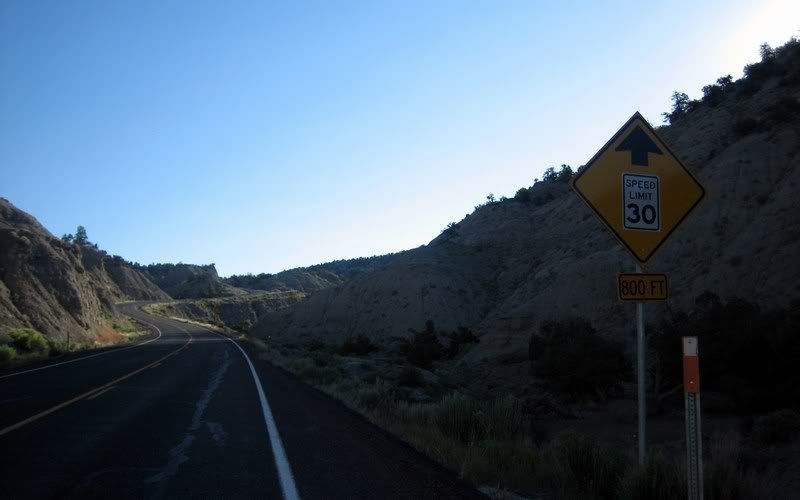 On UT-12 heading to Escalante. One thing that UT and CO do that is different from other areas is instead of just suggesting a lower speed limit through twisties, they just lower the whole speed limit. So, getting tickets in twisties could hurt more, but there's less enforcement out there anyways.
Real cowboys on a ranch.
After breakfast in Escalante, we enjoyed UT-12 into Capitol Reef National Park, which resembles Zion with massive sandstone cliffs. Someone pointed out earlier that this whole southern part of Utah should just be one huge national park as the awesome scenery doesn't stop once the park boundaries end. The terrain is also quite alien and resembles the surfaces of Mars and the Moon; not surprising that NASA conducts research out here for their various missions.
Stopping for breakfast at the Golden Loop Café in Escalante.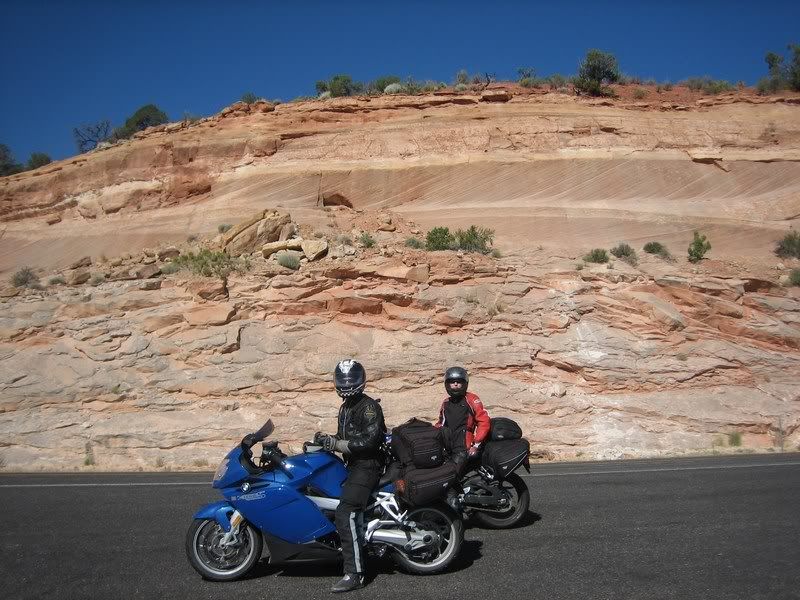 Andy and Aileen, framed by some nice cut rocks.
Steven and I looking out at the expanse below us on UT-12. (Picture by Andy)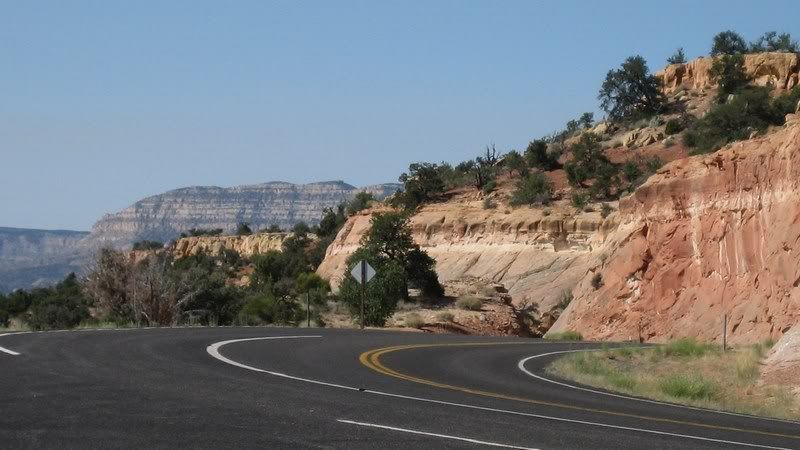 Lots of curves and pretty rock formations on this road.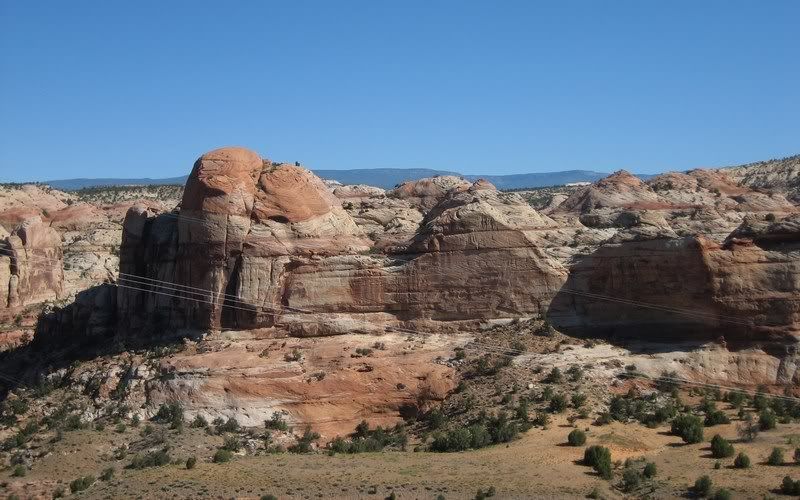 Rounded rocks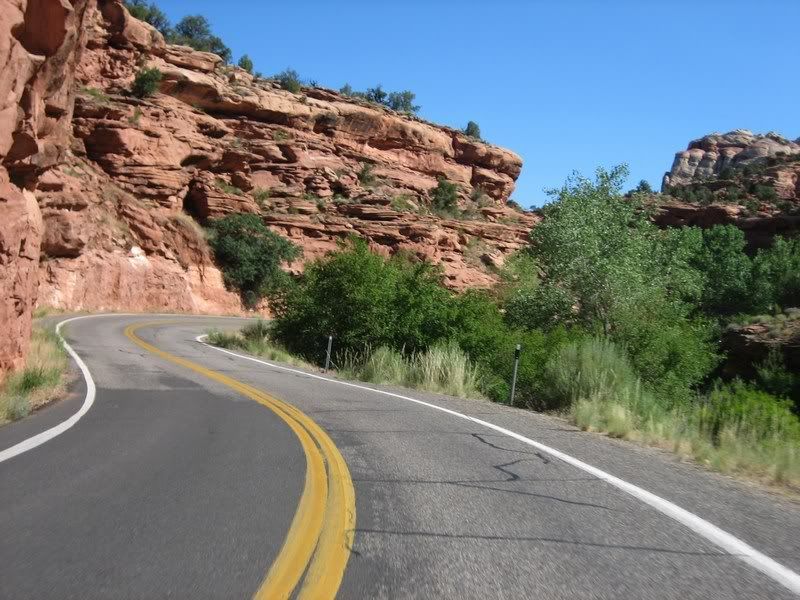 Twisties near Boulder, UT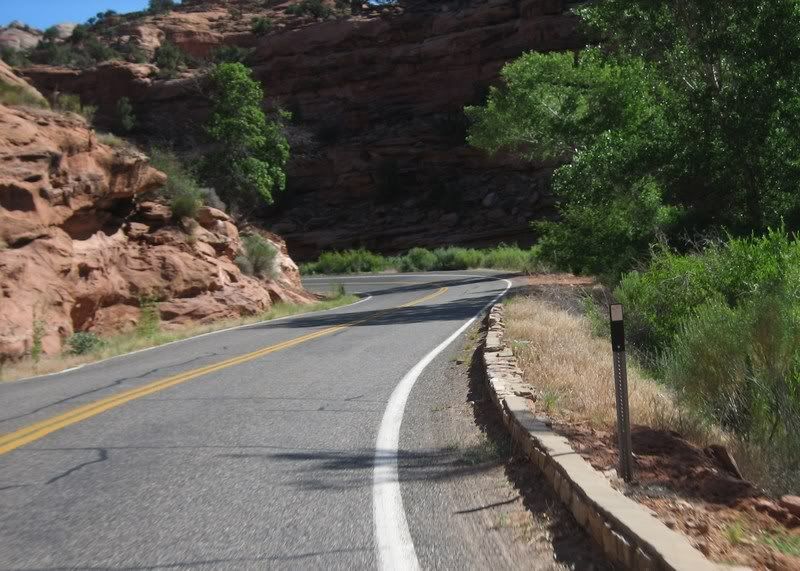 Twisties near Boulder, UT
Looks like the road ends at this rock wall. Quick, turn right.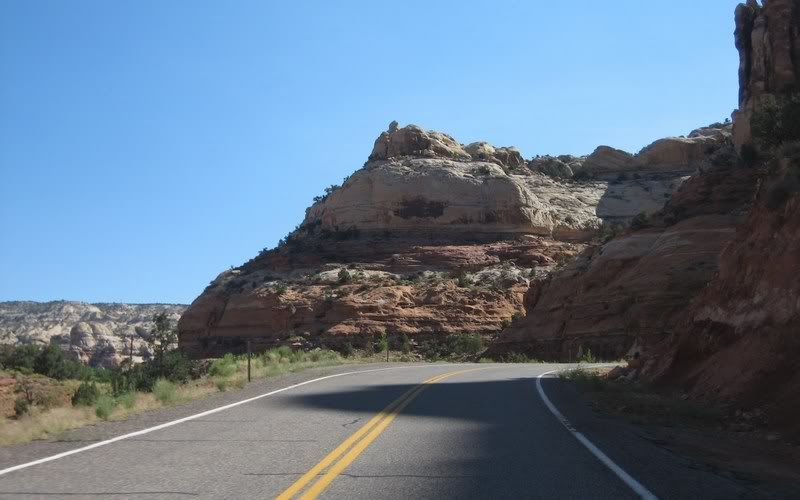 UT-12
UT-12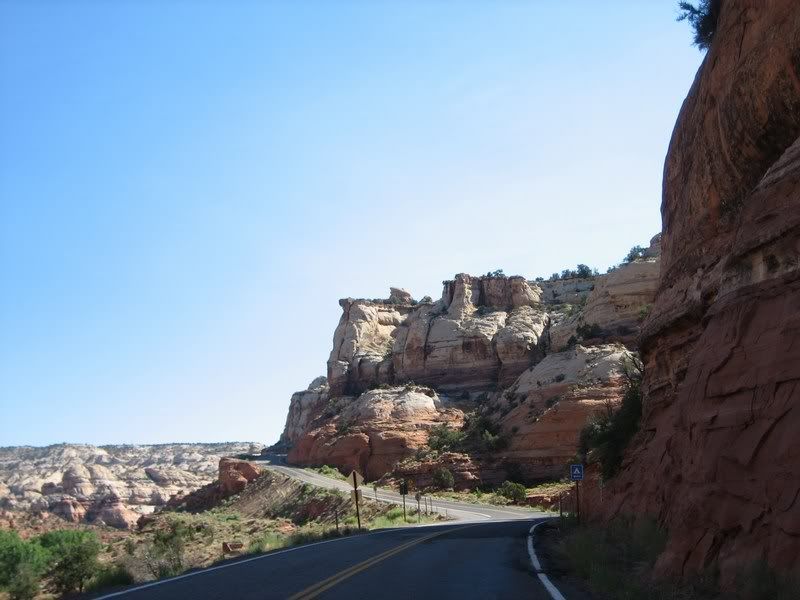 UT-12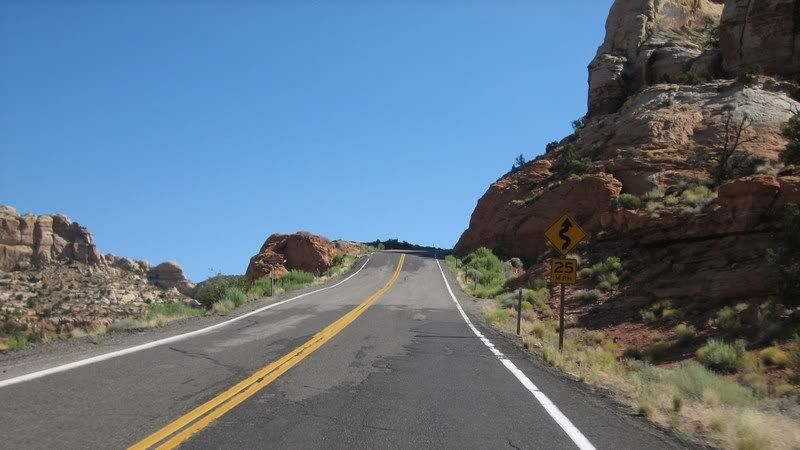 I didn't want to give up riding the twisties for taking pictures of these awesome rocks, so I just took pictures while riding the twisites… You only need your right hand to ride anywayz…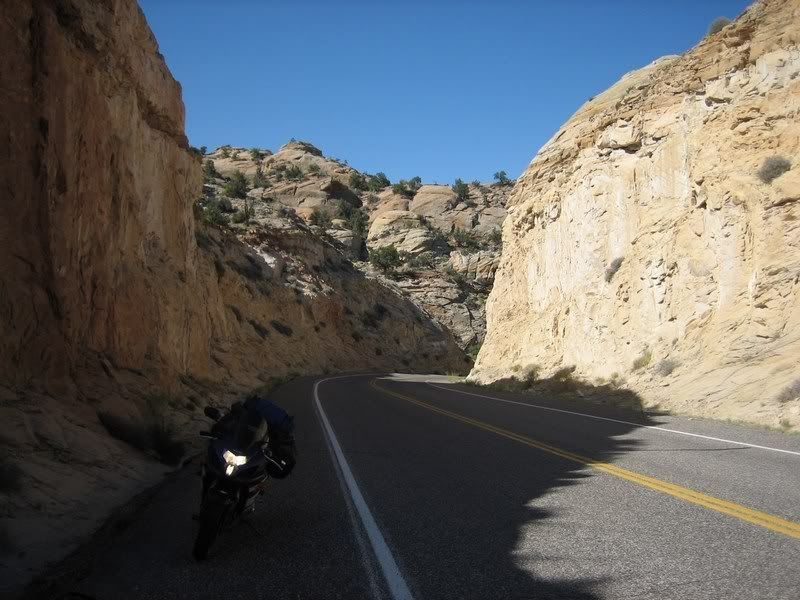 Riding a small pass on UT-12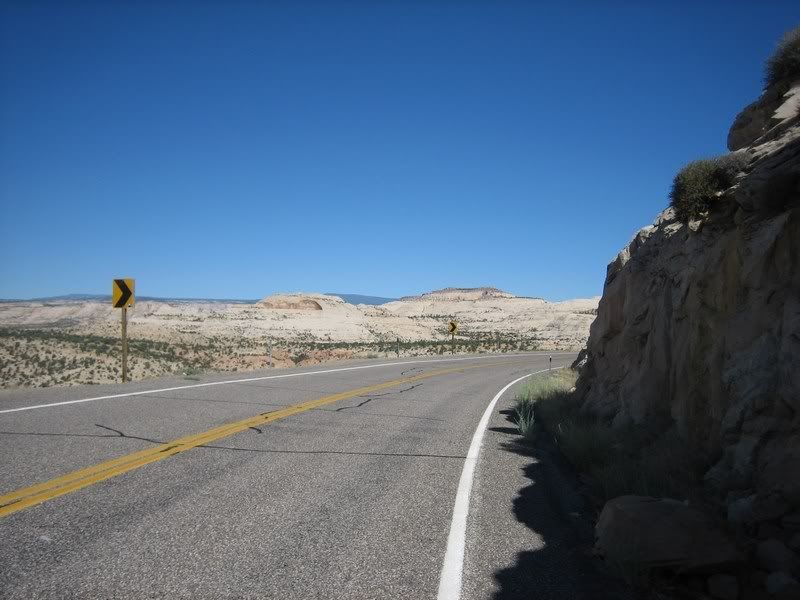 UT-12
Steven on UT-12
Steven on UT-12
Notice how the scenery changed within just 10 minutes.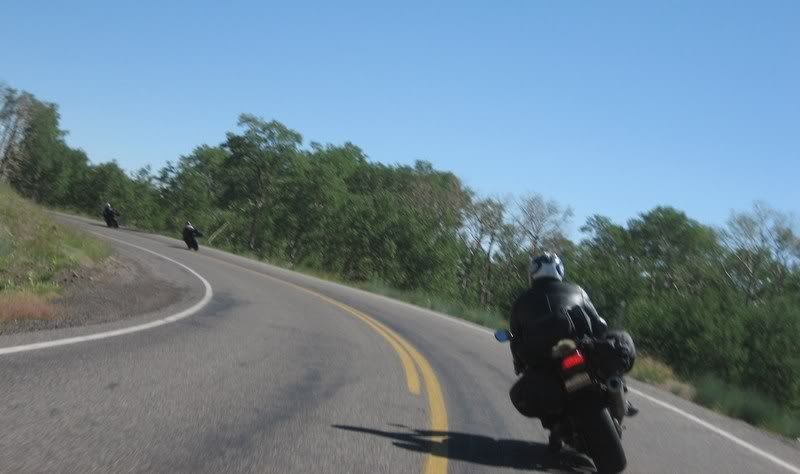 Andy, Aileen and Steven on UT-12.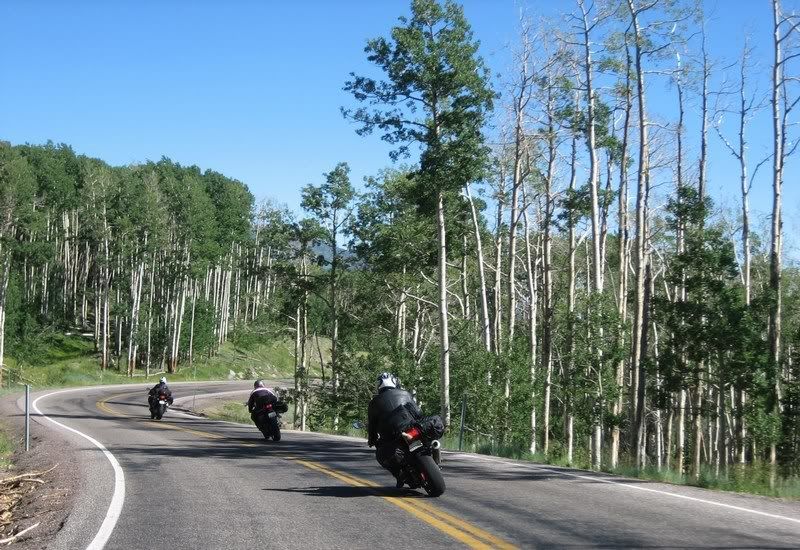 Andy, Aileen and Steven on UT-12.
Aileen and Steven on UT-12.
Overtaking one of the few vehicles we came across.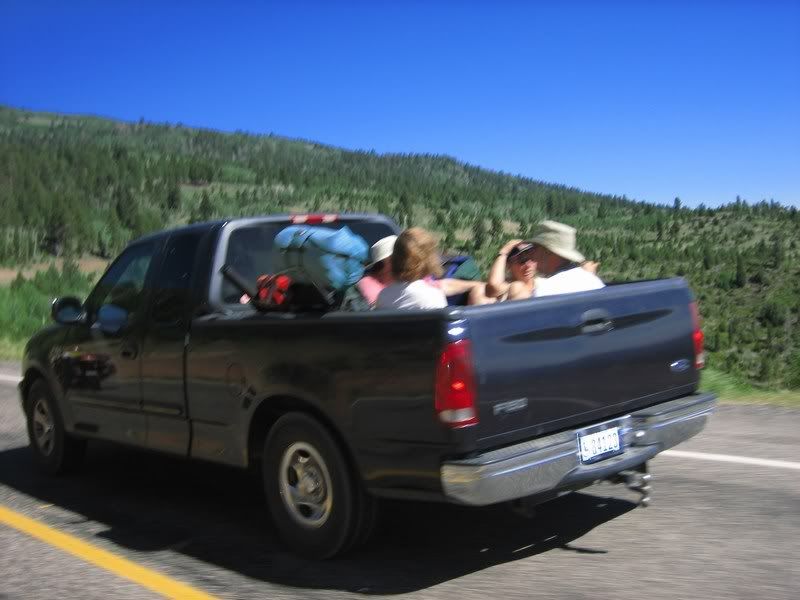 Taking a picture while overtaking. I should write a safe riders manual or something...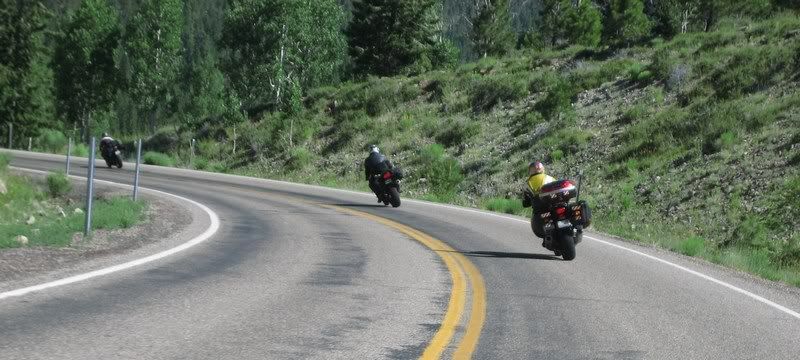 Aileen, Steven and Rick on UT-12.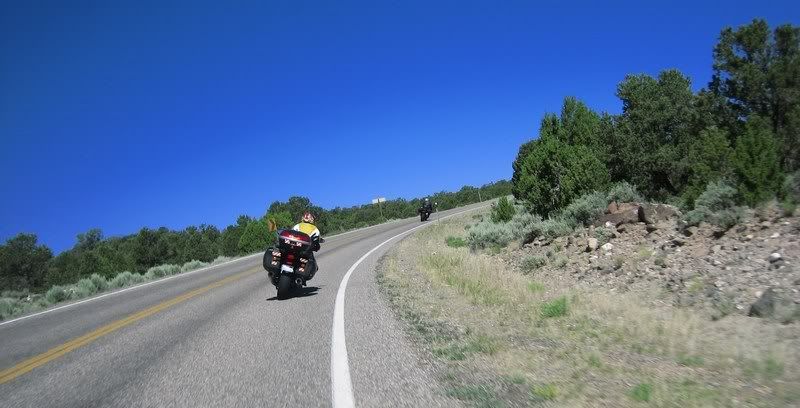 This picture hasn't been photoshopped. The sky is just that clear out here. No big cities within a 200 mile radius.
Heading down into Capitol Reef National Park on UT-24.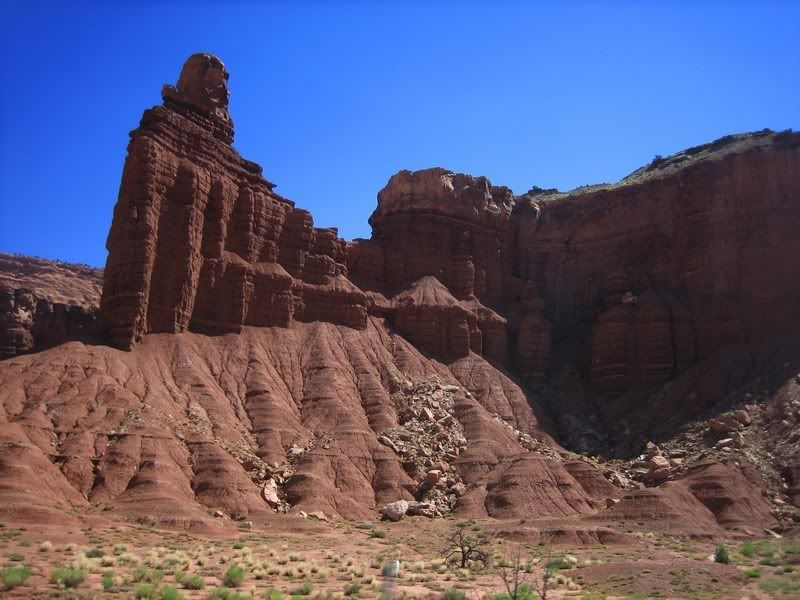 Capitol Reef National Park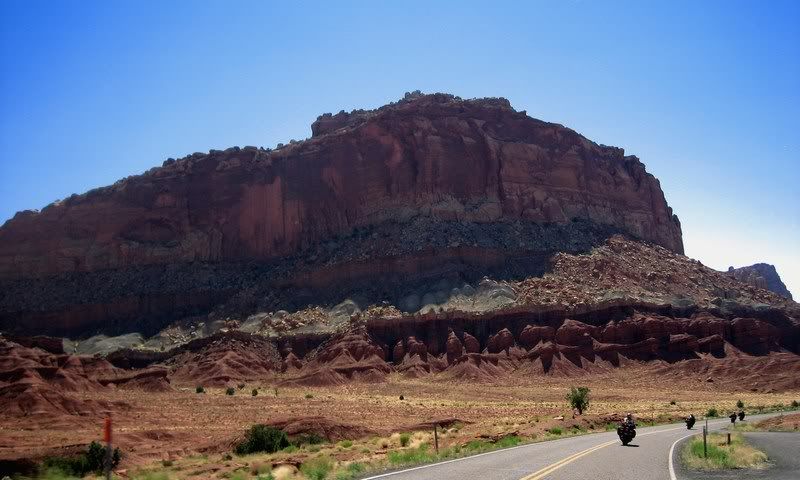 Puts things in perspective. The massiveness of these rocks was most outstanding.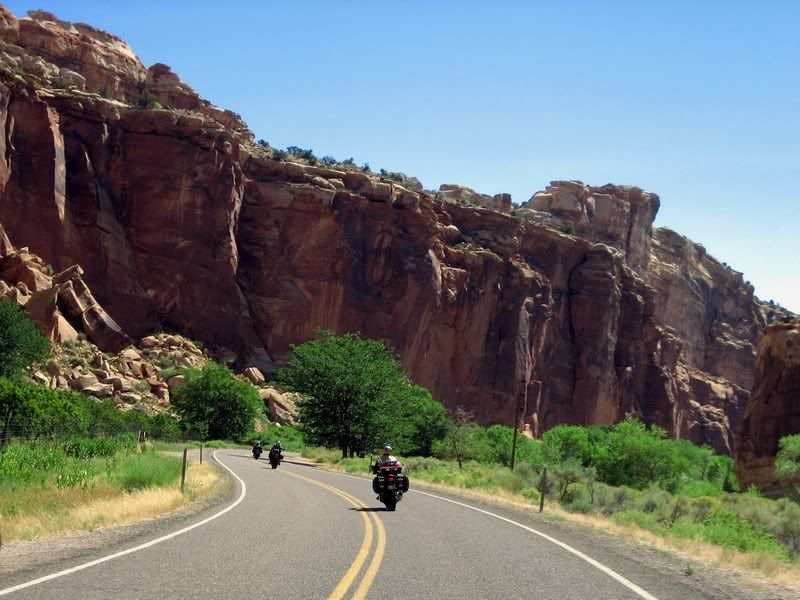 The road through the park runs very close to some sheer cliffs.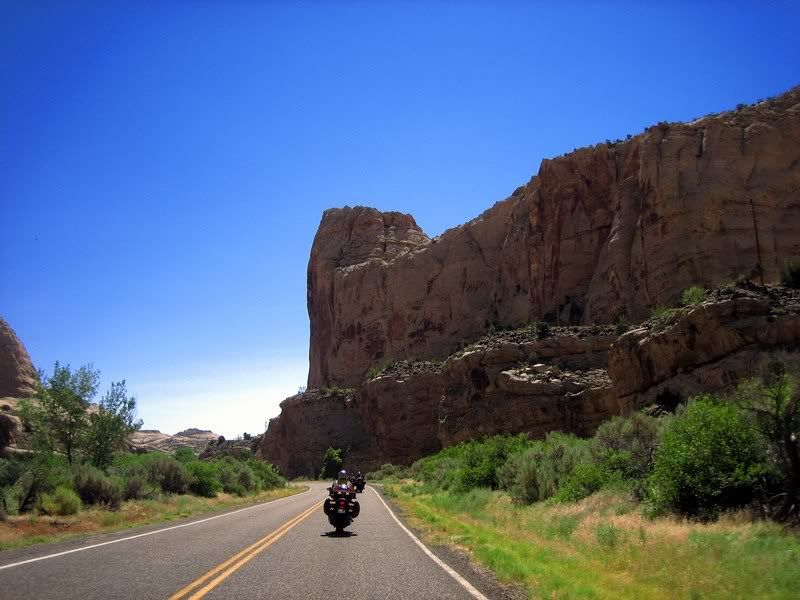 Capitol Reef National Park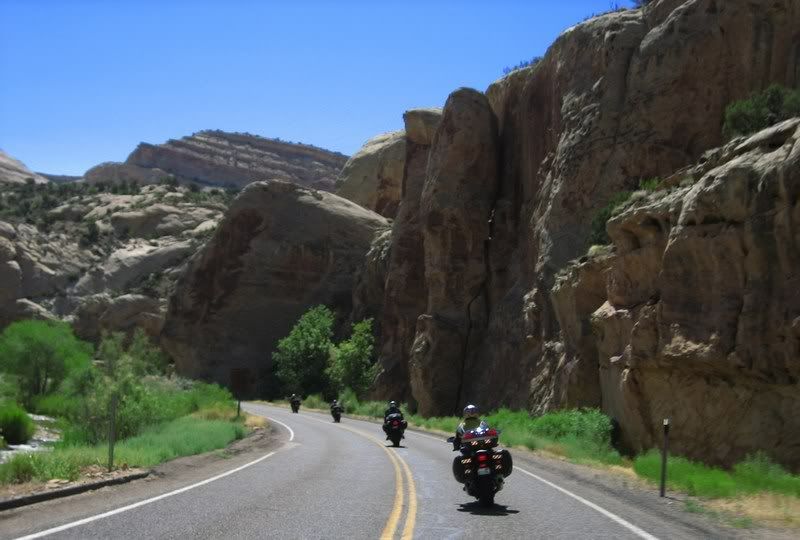 Capitol Reef National Park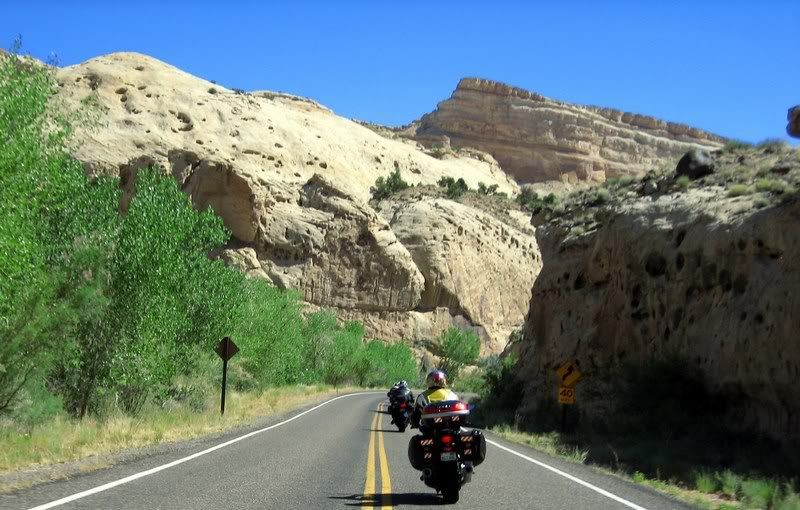 Capitol Reef National Park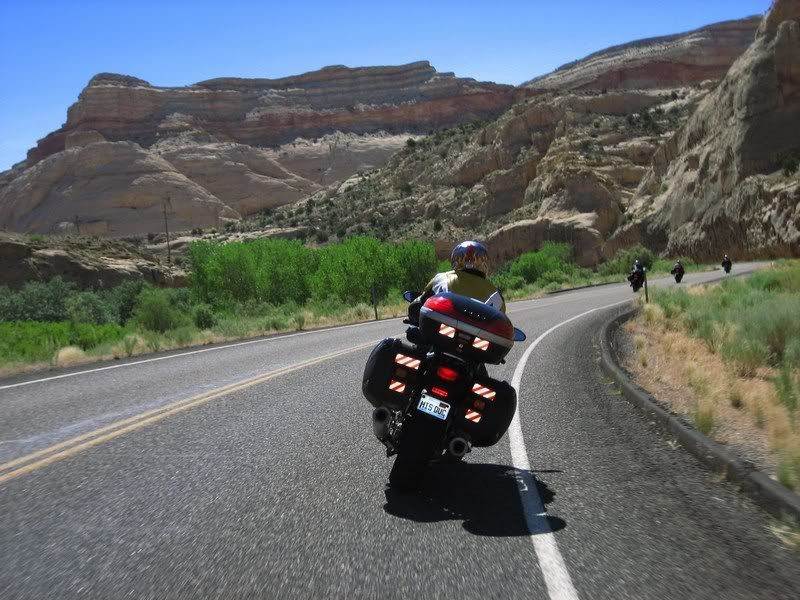 Capitol Reef National Park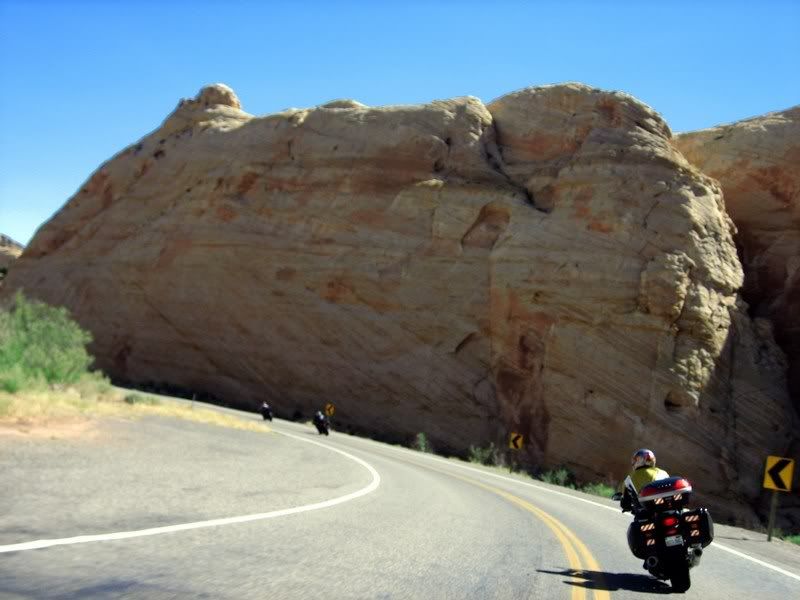 Check out the slash lines in the rock…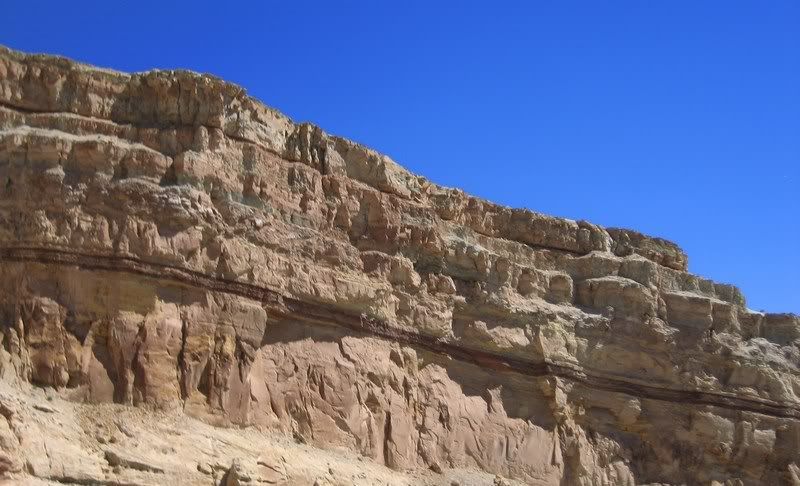 Hmmm, I'm no geologist, but looks like something major happened a couple million years ago to create this dark sediment layer… maybe a huge volcano erupted and ash got deposited (thanks History Channel).
Capitol Reef National Park
Capitol Reef National Park 15 Capitol Reef National Park, UT-24 & UT-95 [5:12]
Riding through the awesome Capitol Reef National Park on UT-24 and UT-95. The sandstone cliffs felt more imposing than those at Zion. The scenery also looks like we're riding on a Martian landscape / Andy, Steven
Musik: Red Hot Chili Peppers - Snow ((Hey Oh))
My Rating > Road: 4/5, Scenery: 4/5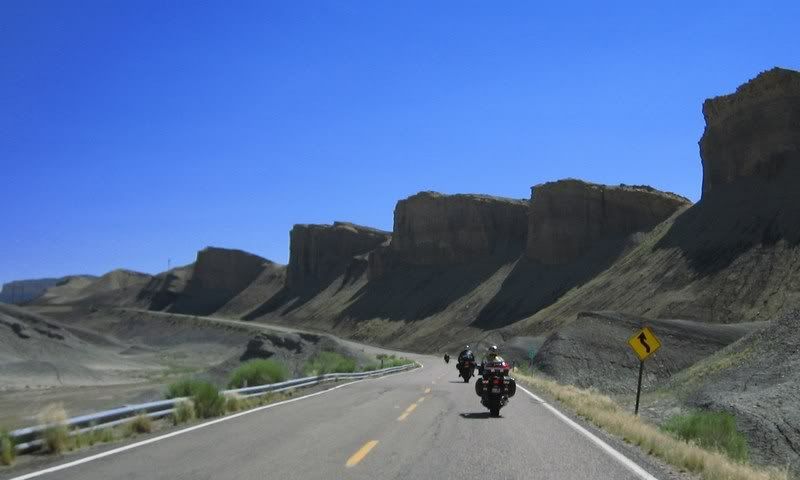 Interesting how these big rock formations are almost evenly spaced out, almost man-made. Some of this landscape looked like we were on the moon, besides the one little road of civilization.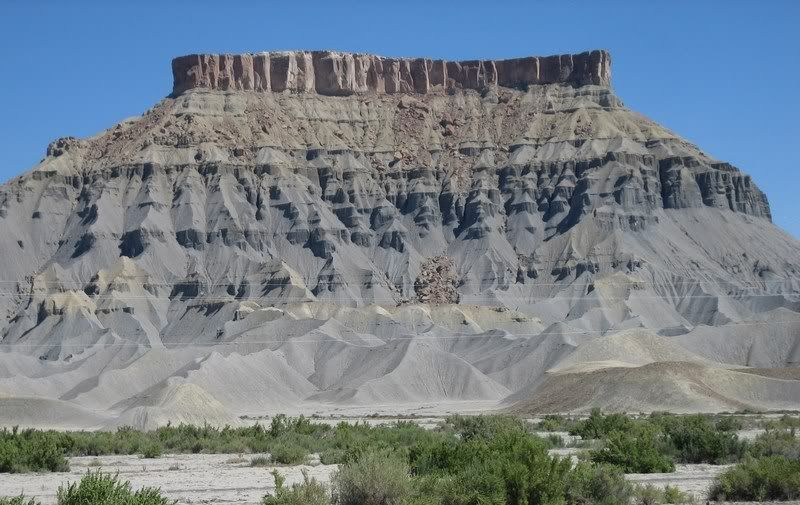 That's quite a sight.
From Hanksville, heading south on UT-95, there are no towns for 125 miles till Blanding. Running out of gas was a little concern for Steven's, Aileen's and my bike, which we didn't want to experience in this desolate place with oppressive heat. To increase fuel mileage, we turned down our cruising speed and just enjoyed the sights. Being July 4th, we also didn't want to encounter any extra enforcement that was out for DUIs on this day of celebration.
This was seriously the road to nowhere… heading south on UT-95 after gassing up in Hanksville. The road is dead straight for about 15 miles, was putting me to sleep.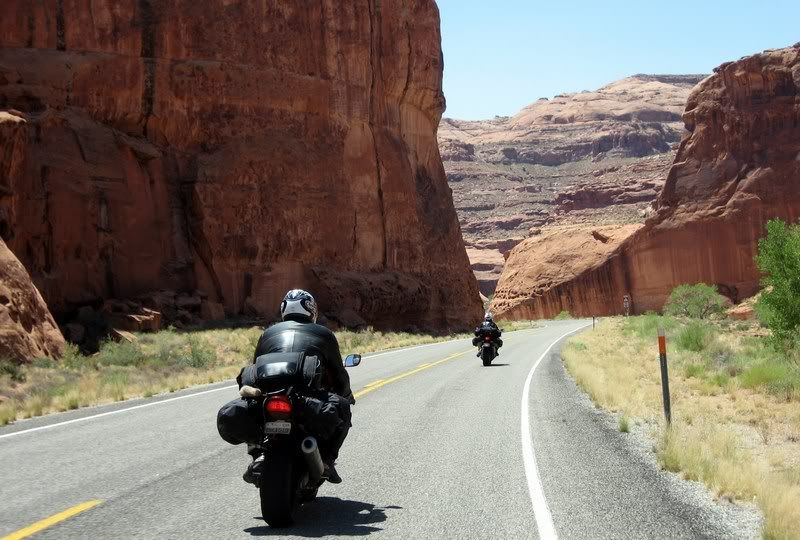 Thankfully, there were some nice sweepers waiting for us as the road crosses the northern end of the Glen Canyon National Recreation Area.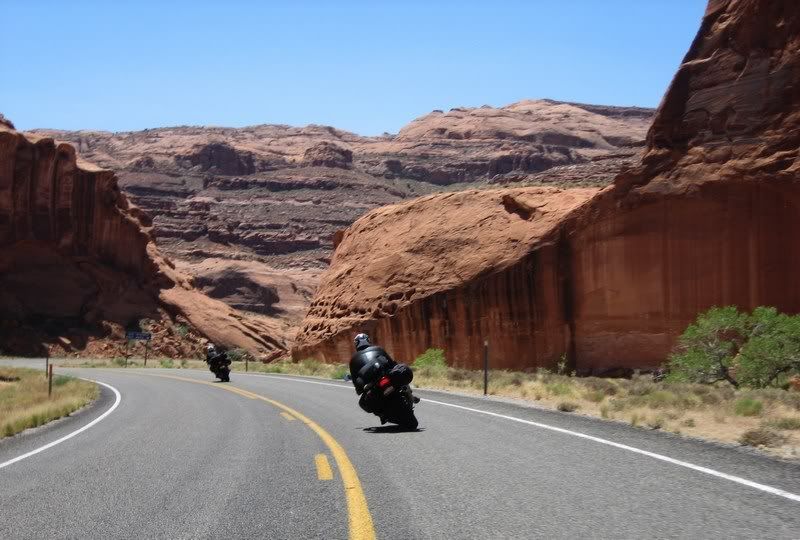 Red canyons on UT-95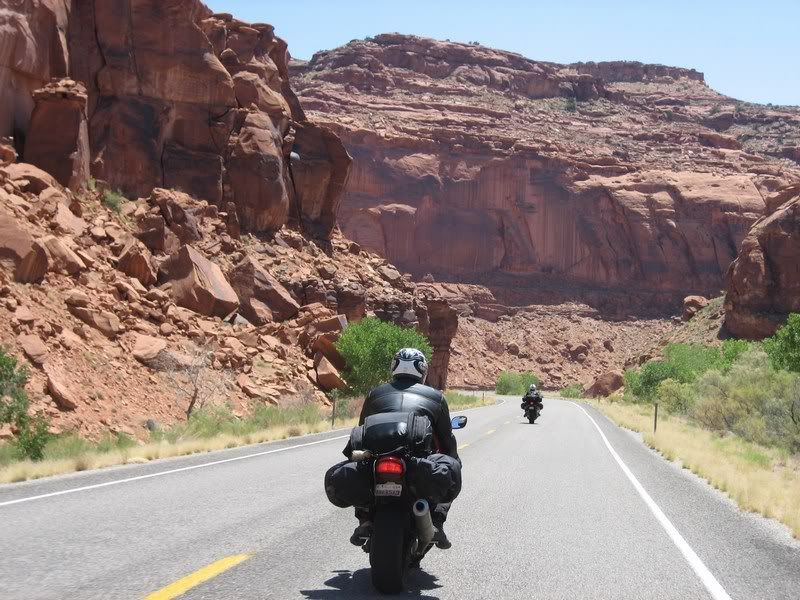 Now, it felt like we riding on Mars, with so much red rock. And I think Nasa does testing out here for Mars missions.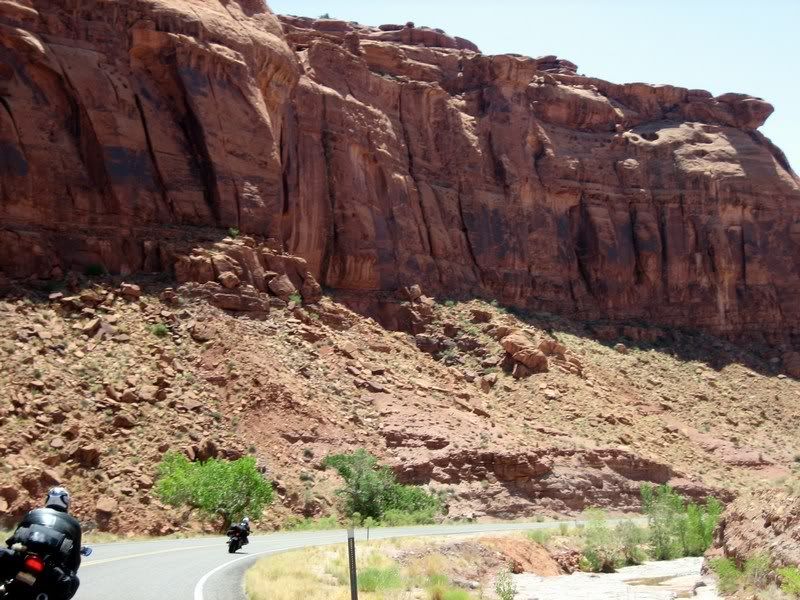 Steven and Andy on UT-95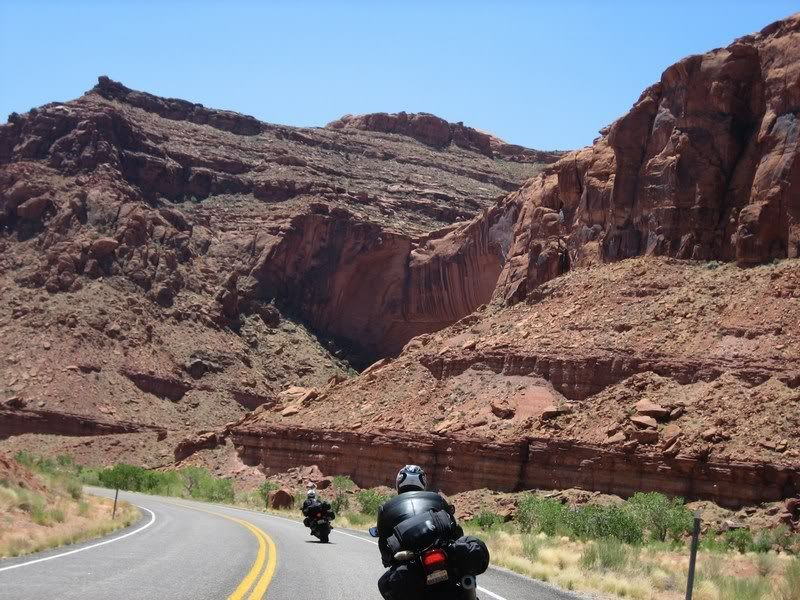 Steven and Andy on UT-95
UT-95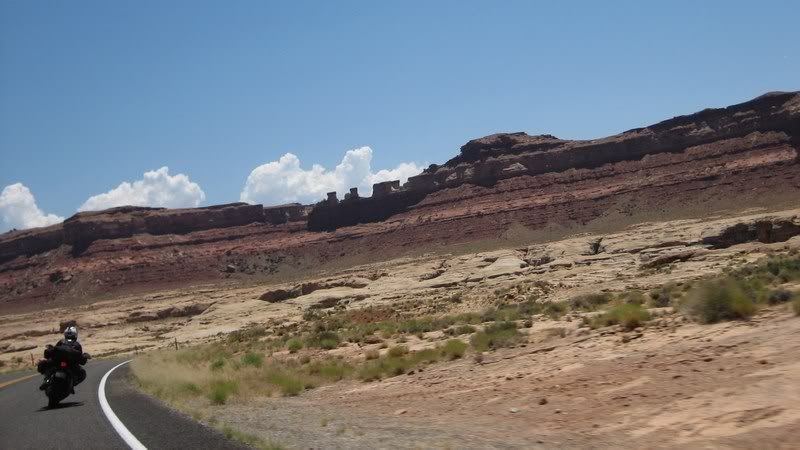 UT-95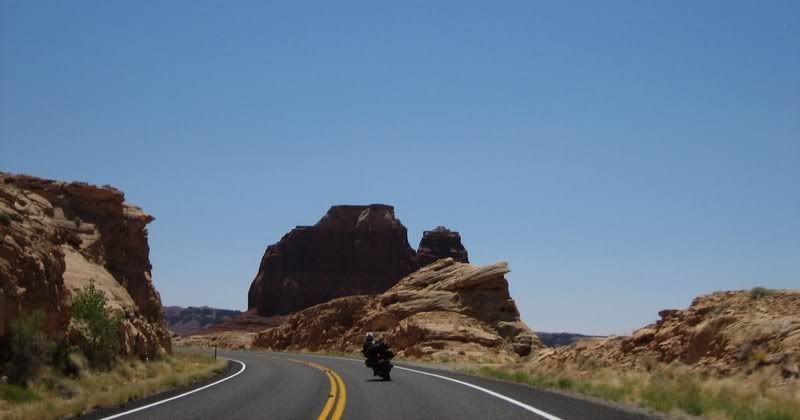 UT-95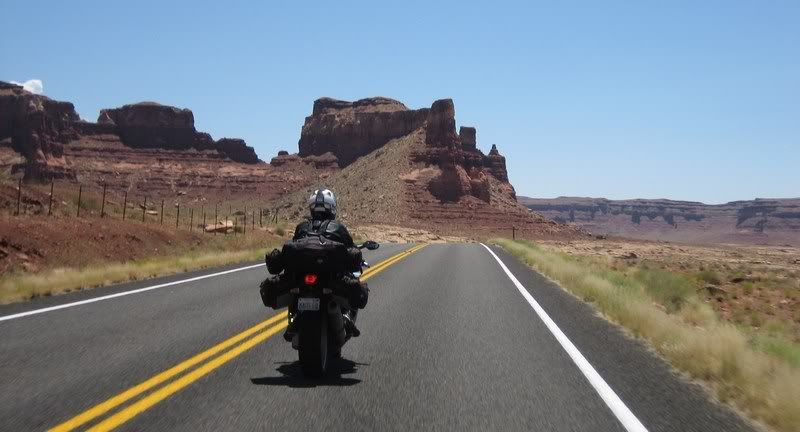 UT-95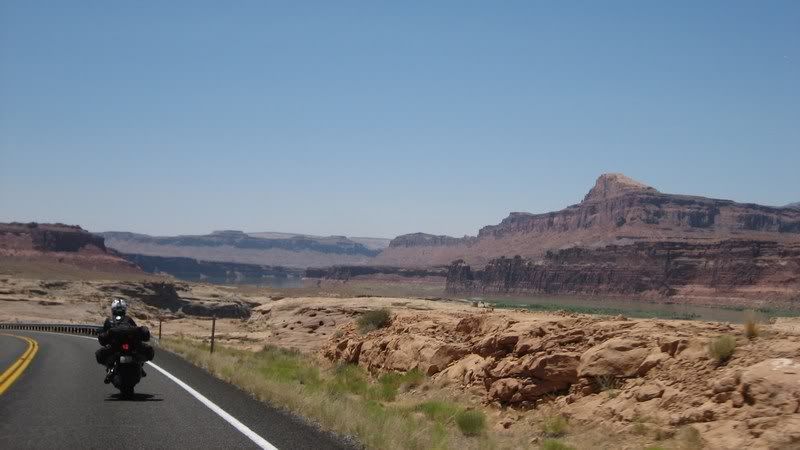 Glimpses of Lake Powell from UT-95
UT-95
Crossing the Colorado River.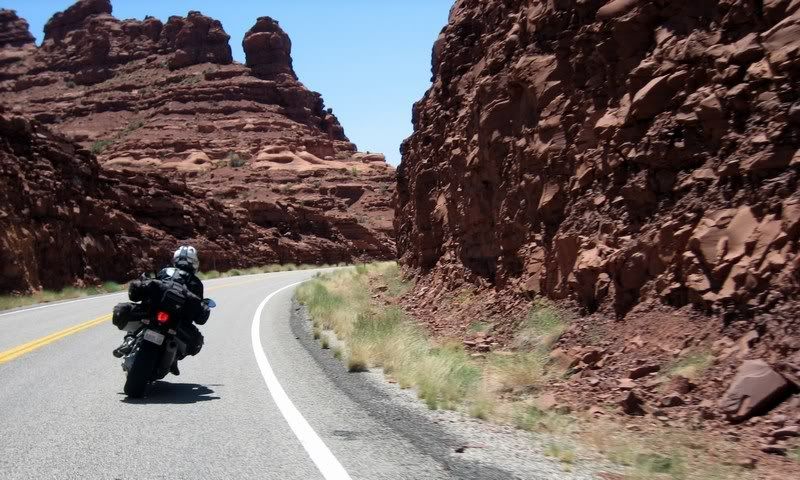 UT-95
UT-95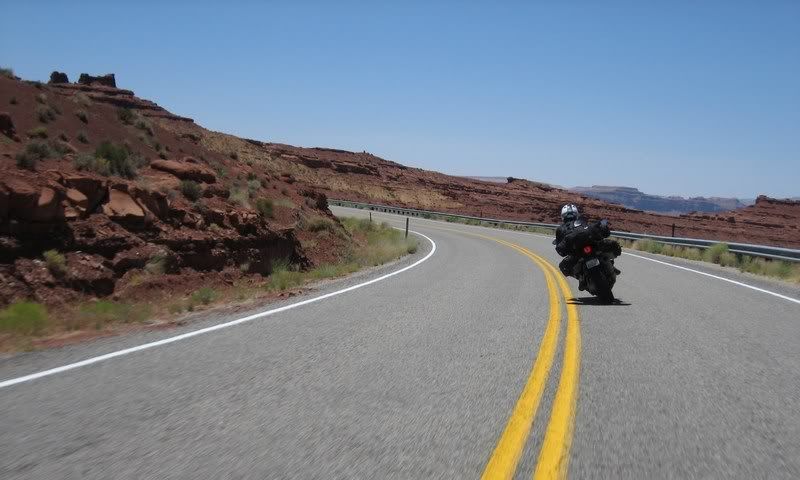 UT-95
There was almost no one on this road besides us, but we kept the speeds in check as it's about 125 miles between gas stations on this road and we didn't want to get stuck in this heat, above 100 F.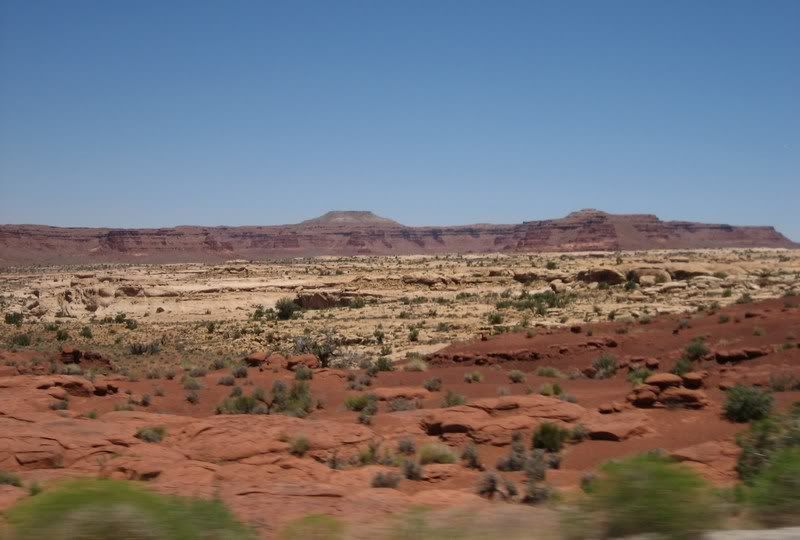 Varying sediment layers
UT-95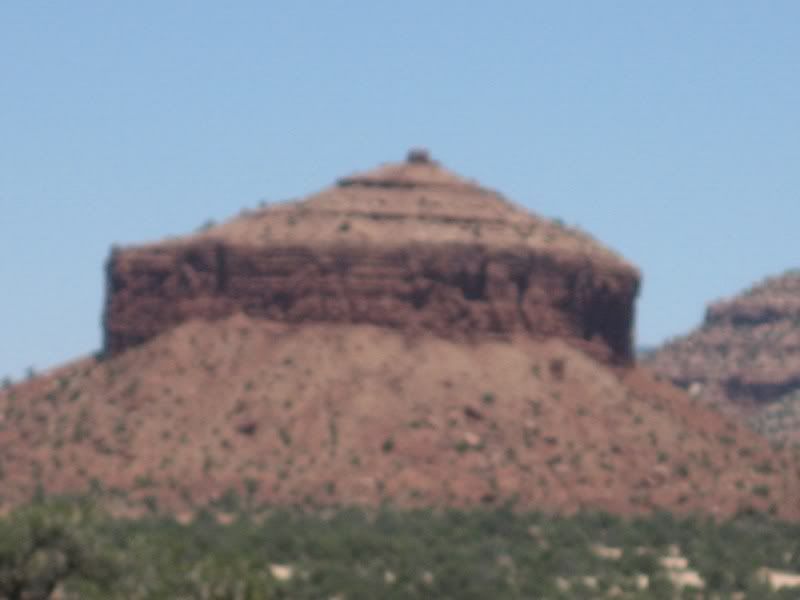 Cheese Box Butte, a mesa (couple hundred feet across), which has eroded it's peak down to this little nub.
A bunch of British bicyclists riding coast-to-coast. They started on the west coast a month back. We thought of giving them a tow up this huge hill, but alas, no rope… (Picture by Andy)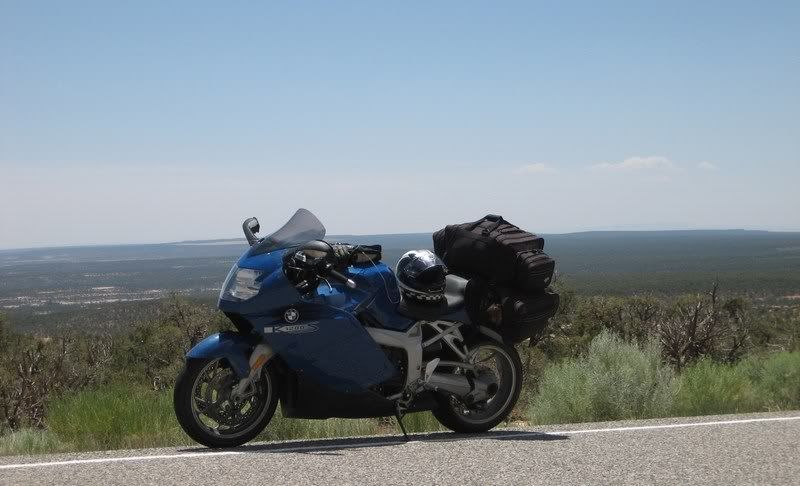 Eris (Andy's BMW K1200S) with the expanse of southern Utah behind her. (Picture by Andy)
With the fuel concerns in mind, I still didn't want to pass on visiting the Natural Bridges National Monument at the southern end of UT-95. The park rangers commented that they wouldn't try and venture between Hanksville and here on a bike on a day like this for the fear of breaking down. Meh, all in a day's work for sport-tourers. We took a ride on the loop around the park that brought us close to three natural bridge rock formations, which were pretty cool.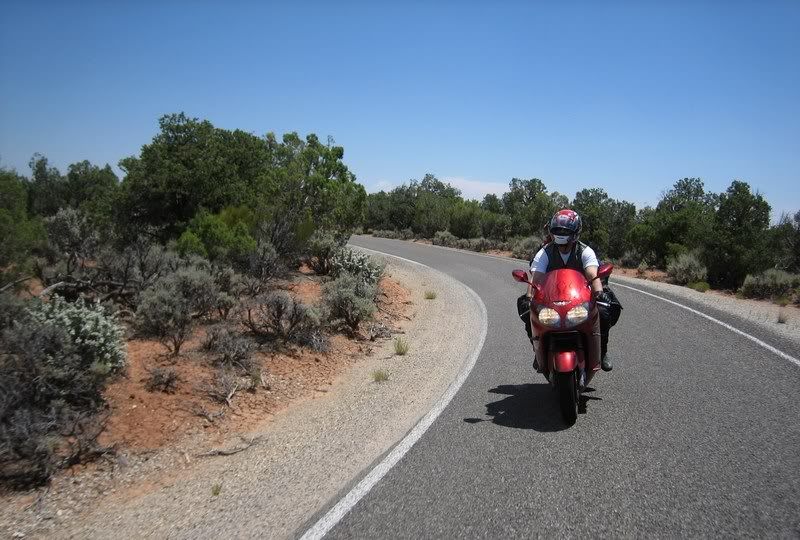 Steven, riding through the Natural Bridges National Monument on the Bridge View Drive.
Riding two-up with Rick so that I could take pictures freely as we quickly rode through the park. It was extremely hot and we were very low on gas.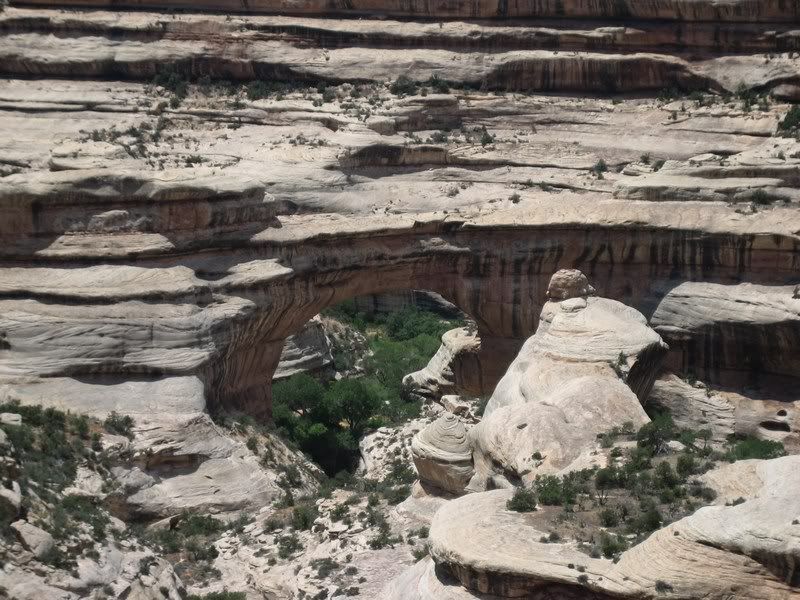 The Sipapu Natural Bridge. A natural bridge is different from an arch in that water carved the hole through a wall of rock, while an arch is formed by wind erosion.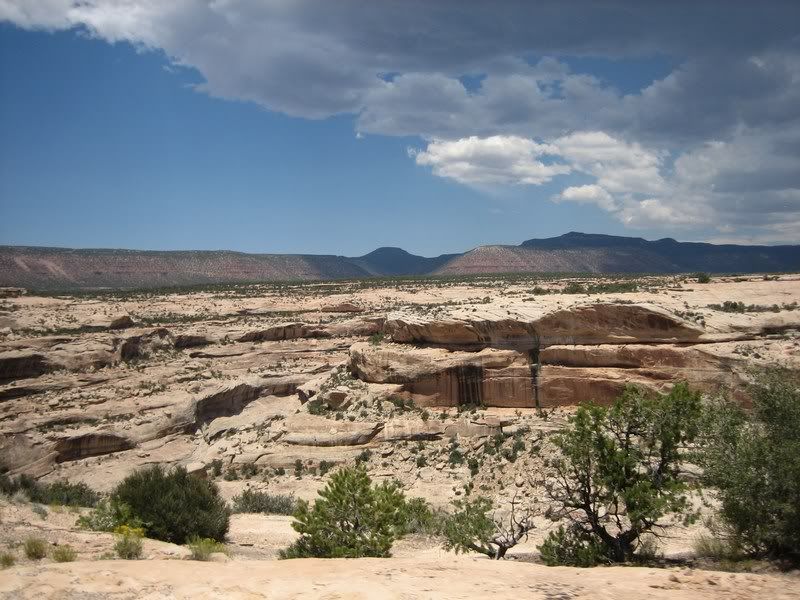 The Natural Bridge National Monument allows visitors to see 3 natural bridges from the road. Note the storm clouds off to the right.
The Kachina Bridge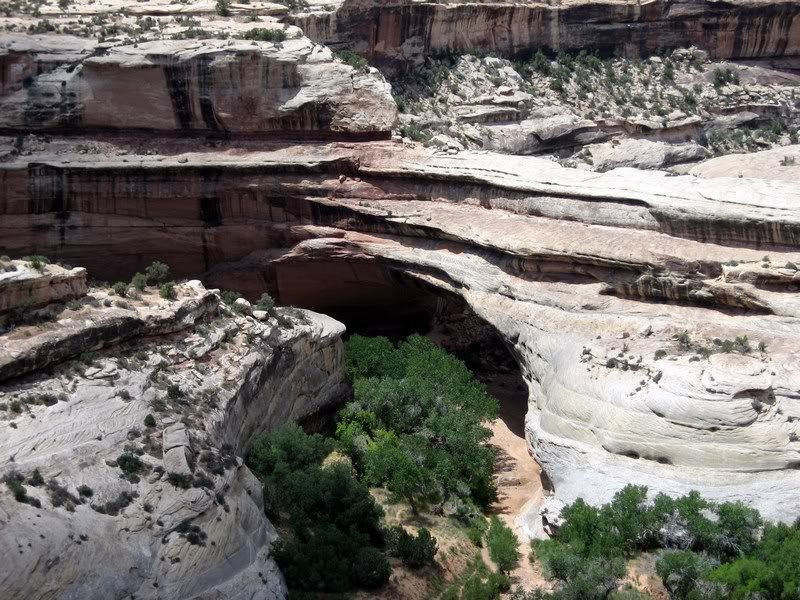 The Kachina Bridge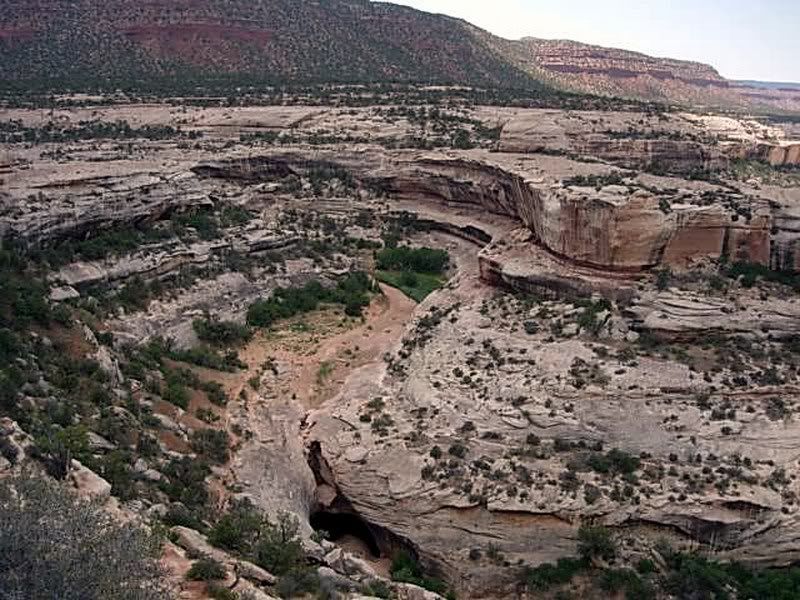 Canyon carved by the river that formed the bridges.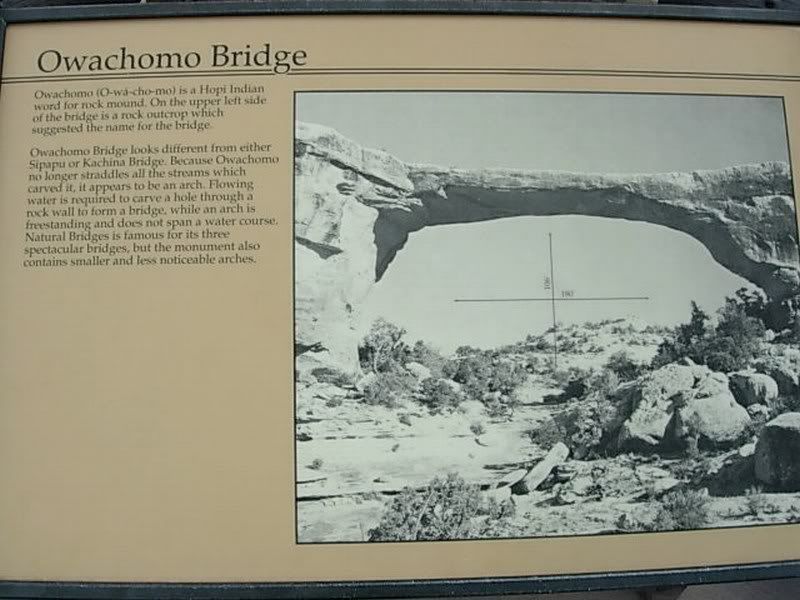 The Owachomo Bridge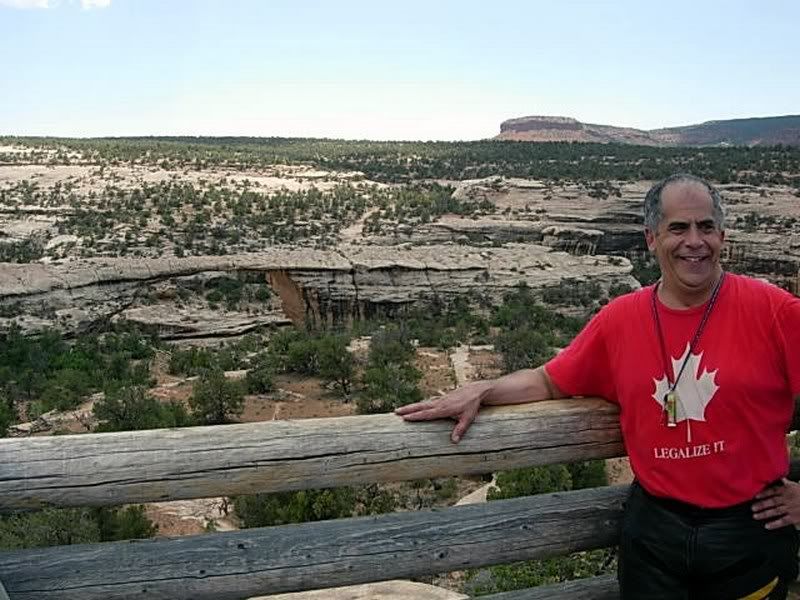 Rick at The Owachomo Bridge, which is only 9 feet thick at its center.
Running almost on fumes, we found an old Sinclair gas station at the intersection of UT-95 and US-191 but decided to push a bit further into Blanding since they didn't have premium grade gas. After a nice lunch at a local Mexican fast food chain, we pushed ahead to Moab to beat a storm that was following us. Riding up US-191 wasn't that exciting, that too with not much interesting scenery.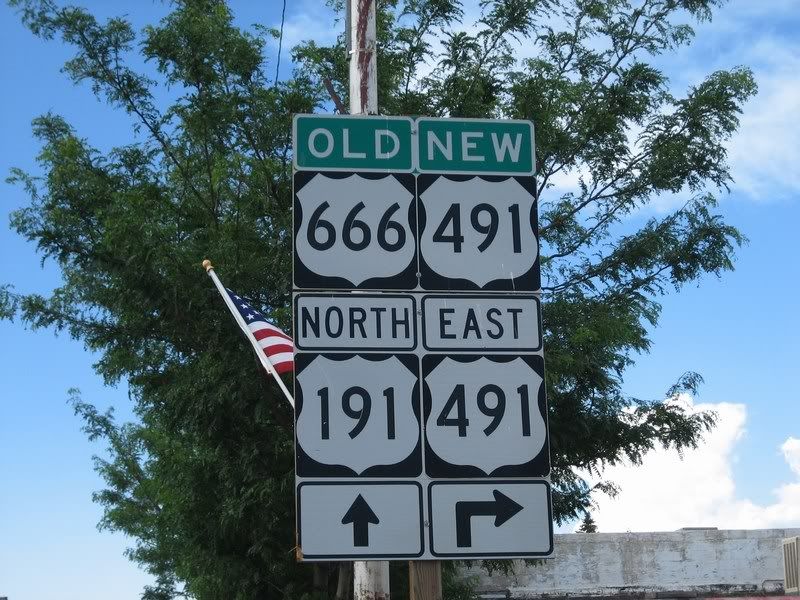 The Devil's Highway, US-666 got renumbered to US-491 in 2003. Before the change, these road signs were one of the most stolen signs.
An odd lonesome rock formation on US-191, heading north to Moab.
A natural arch by the roadside. (Picture by Rick)
Once again, after a dip in the pool at our hotel and unloading our luggage, Rick, Steven and I set off for an evening ride into Arches National Park. We had originally planned to camp in Moab, but the temperature at 8 pm was still in the high 90s and it would've been an uncomfortably hot night. I really liked the setup of this tour with bonus rides at the end of the day, giving everyone options to ride further or not. It was only 360 miles from this morning to Moab with another 100 miles in the bonus ride around Arches.
Prior to the trip, I was advised to ride up UT-128, which borders Arches National Park and runs along the Colorado River through a steep red cliff canyon. The landscape was amazing and again seemed out of this world. But I think we spent too much time here as the sun was setting fast as we entered Arches. My goal was to see the rock formation of Delicate Arch and Balanced Rock. There's a quick 10 minute hike from a parking lot to the vantage point of Delicate Arch. We got there just in time to click a few pictures in the last minutes of daylight. It was worth it and again, maybe I'll come back again to properly hike around the park and get closer to some of the other features of the park.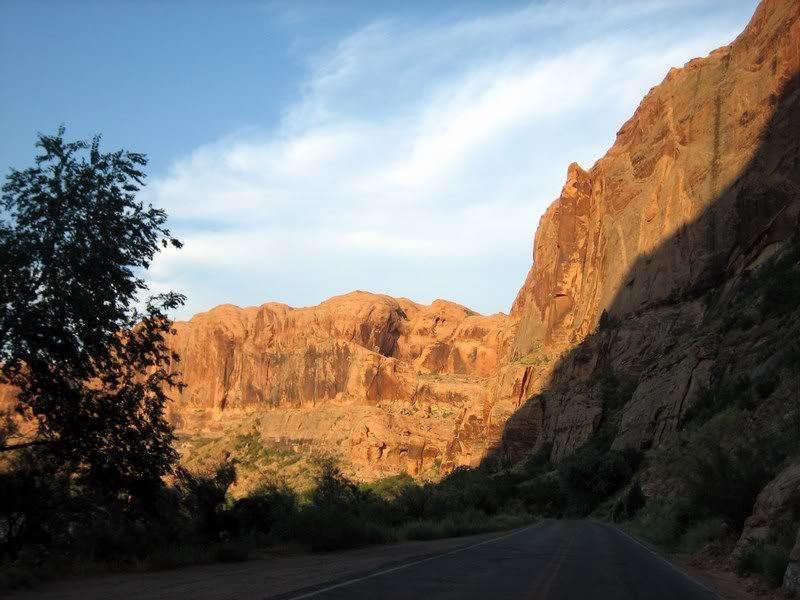 Riding the Dinosaur Diamond Prehistoric Highway, UT-128, which runs along the Colorado River with Arches National Park next door.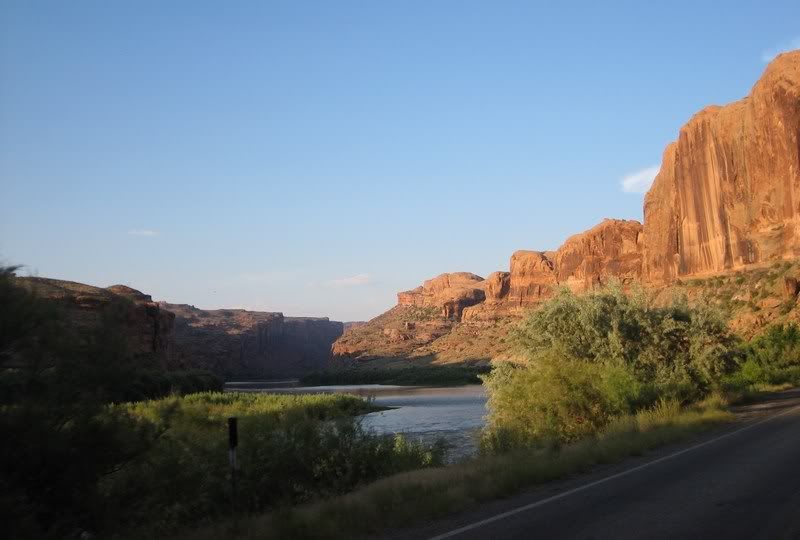 Riding through sunset created some beautiful sights.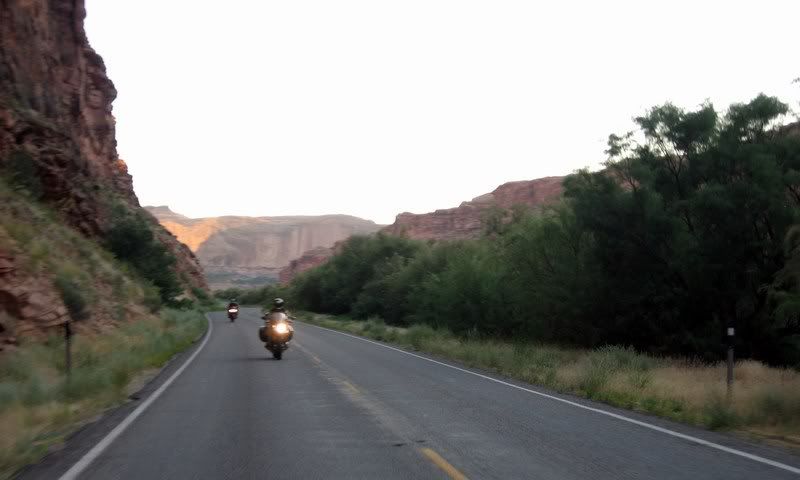 Looking back at Rick and Steven.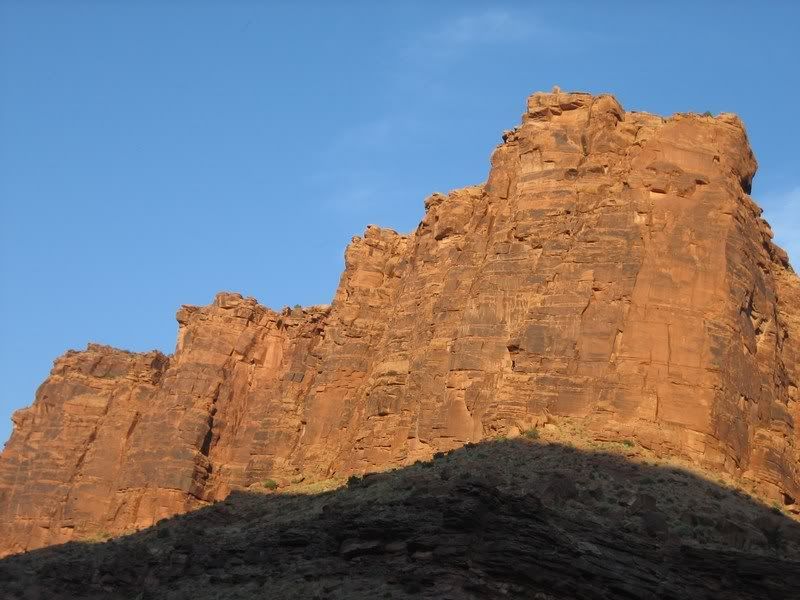 UT-128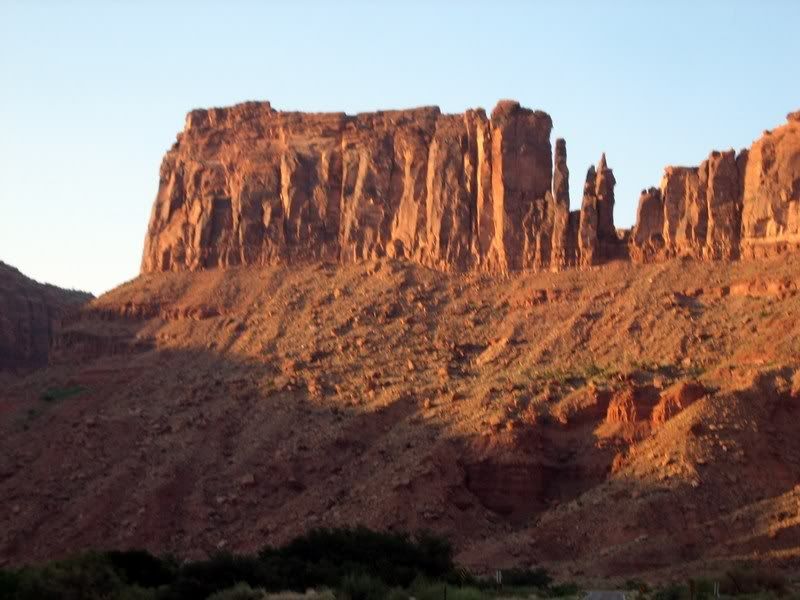 UT-128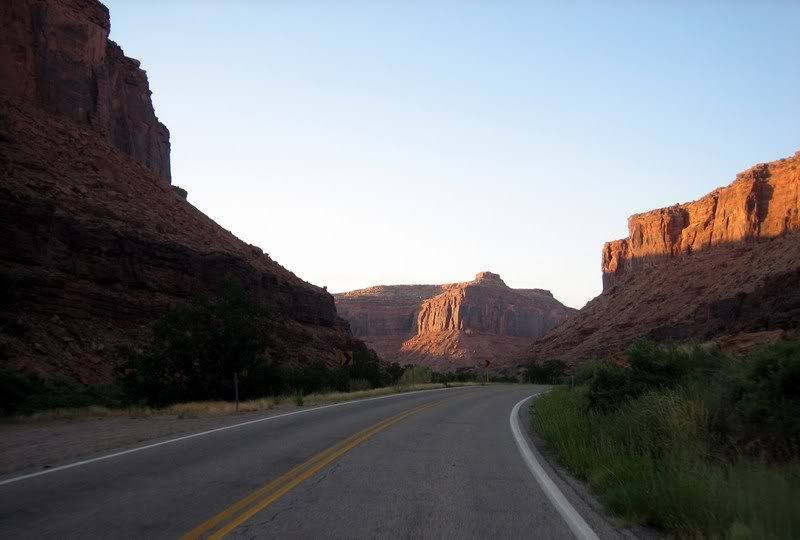 UT-128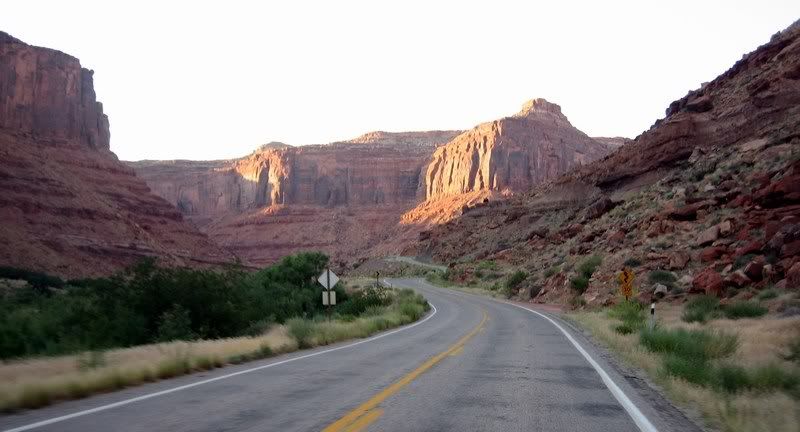 UT-128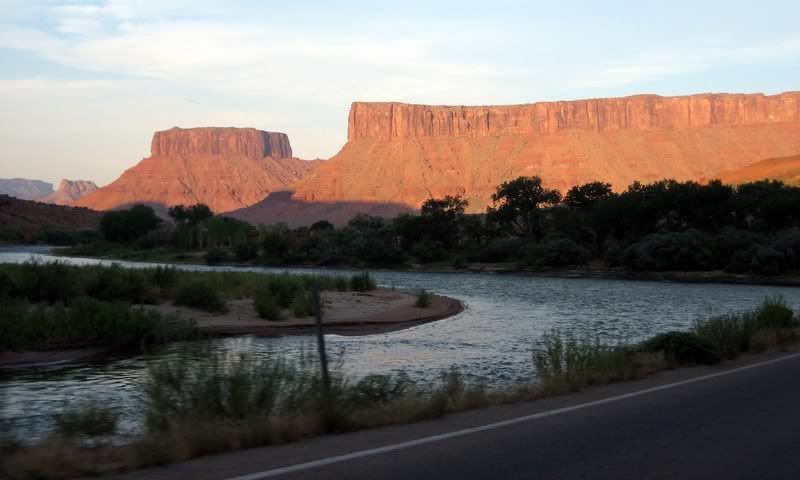 UT-128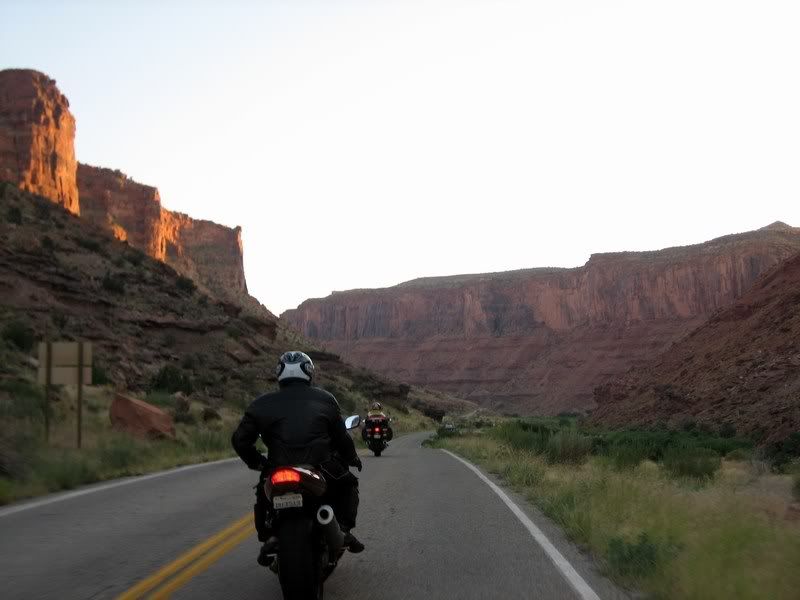 UT-128
The sun setting fast in these canyons.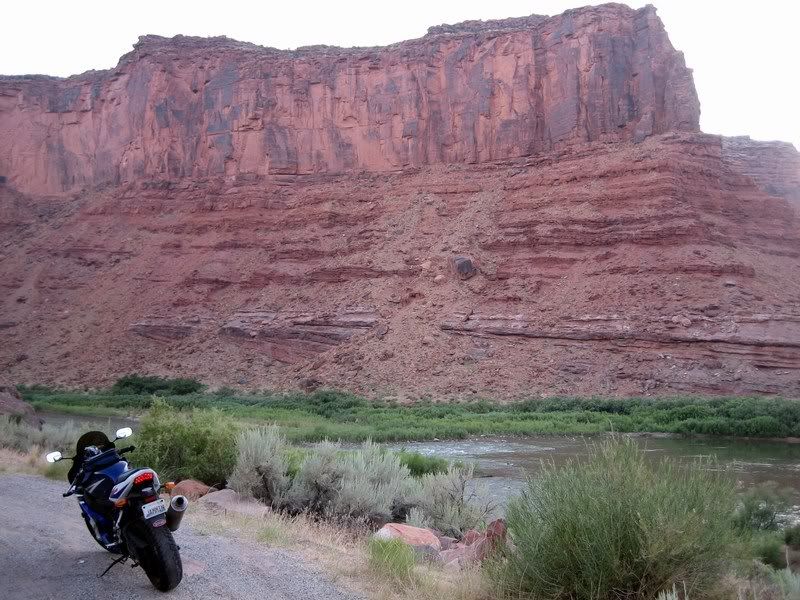 UT-128
UT-128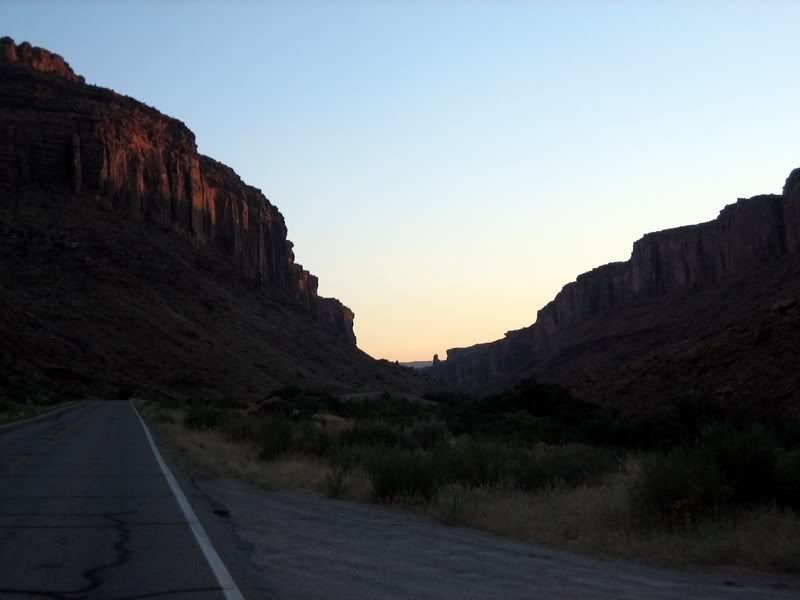 UT-128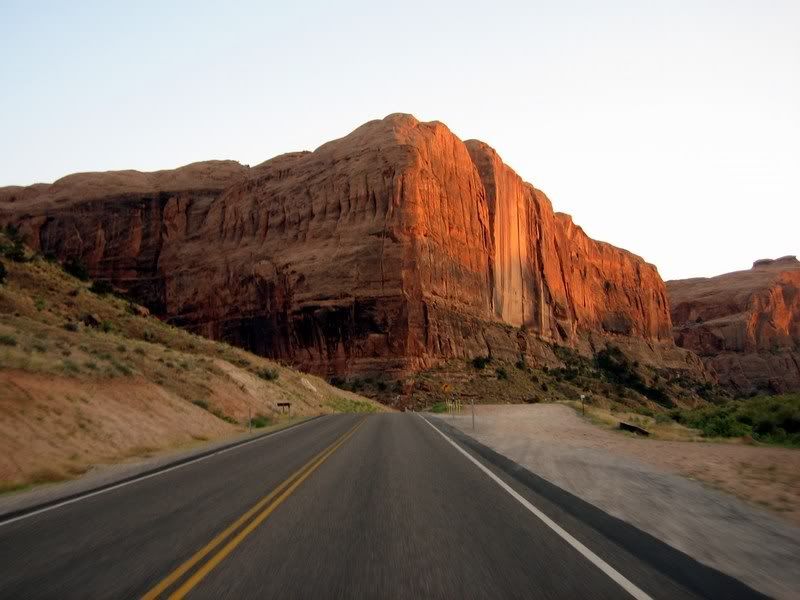 Notice how straight the walls of this rock's cliffs are…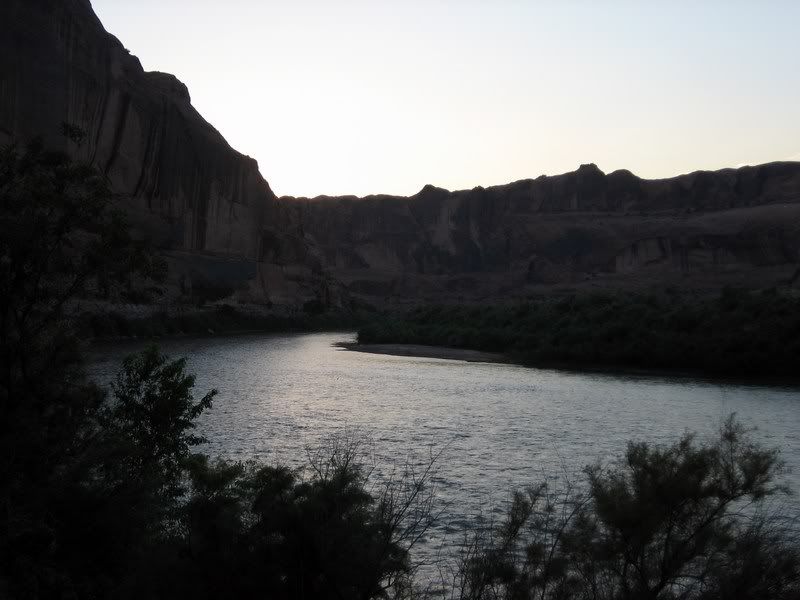 UT-128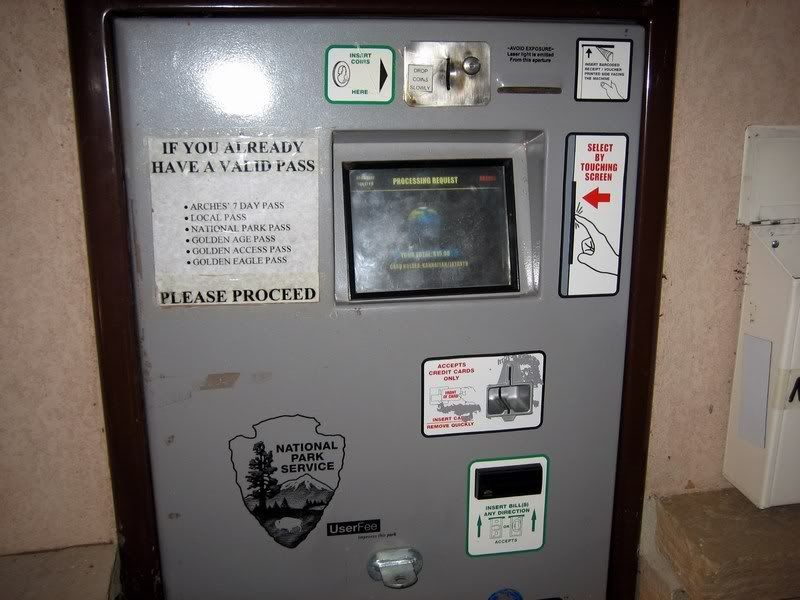 Using an automated ticket system to enter Arches National Park, cost was only $5 per bike. 16 Arches National Park and UT-128 [3:17]
Riding through the Red Cliff Canyons on UT-128 and then hitting Arches National Park just at sunset. We hiked to see Delicate Arch in the last moments of dusk / Steven, Rick
Musik: The Fugees - No Woman, No Cry
My Rating > Road: 3/5, Scenery: 5/5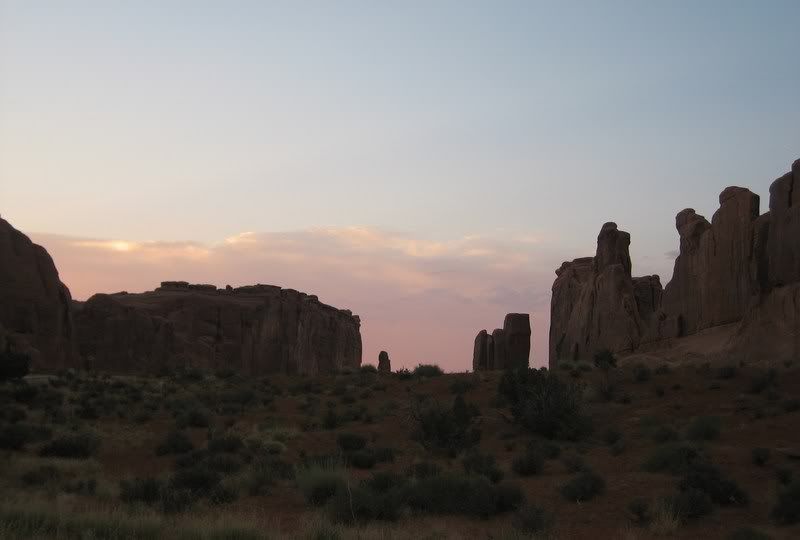 Arches National Park is known for its numerous natural sandstone arches and other unique rock formations.
Arches National Park
Looks like Wile. E. Coyote's home… beep, beep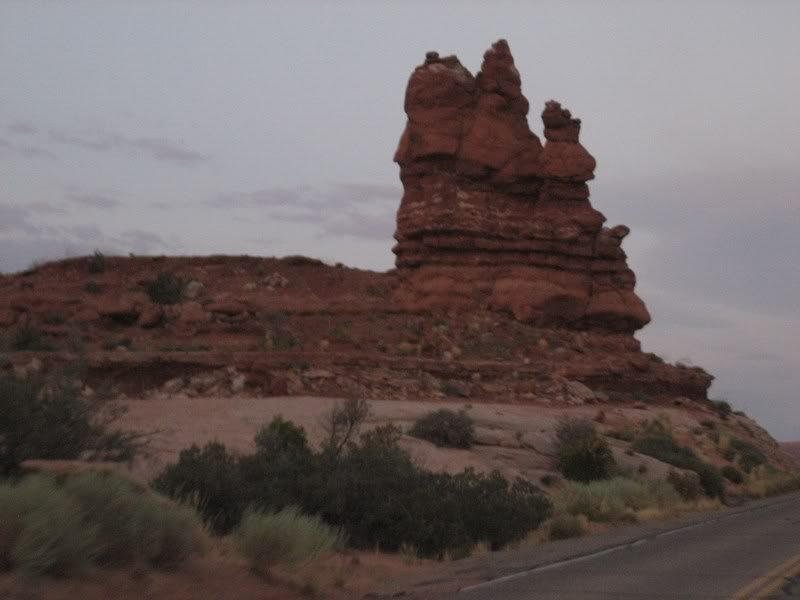 Arches National Park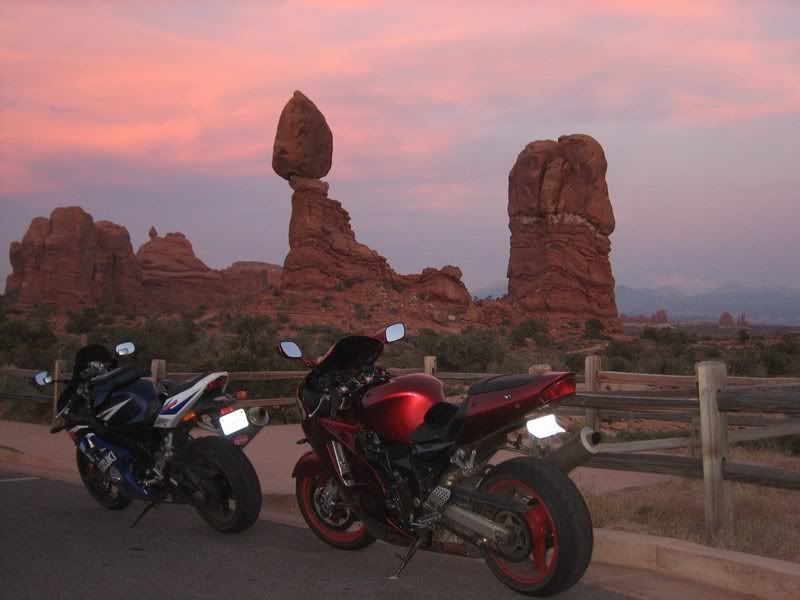 Balanced Rock. Awesome picture.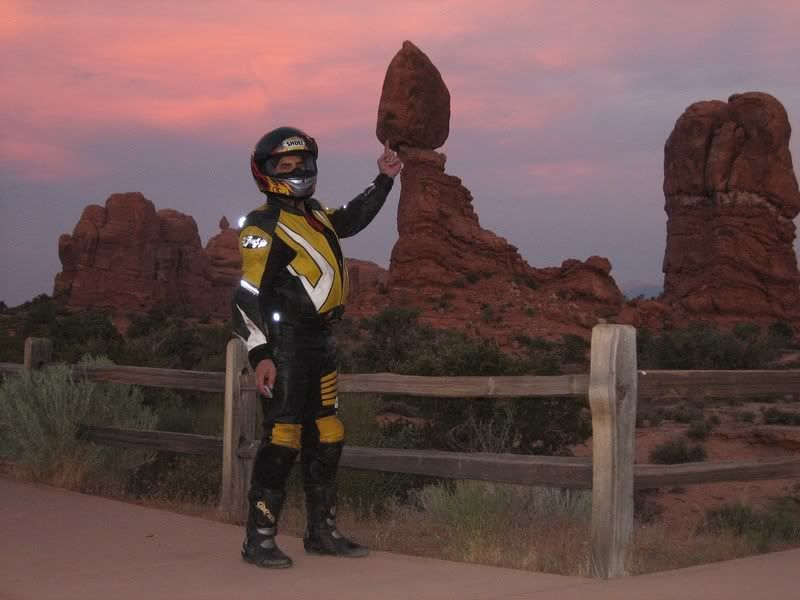 Rick, giving some support to Balanced Rock.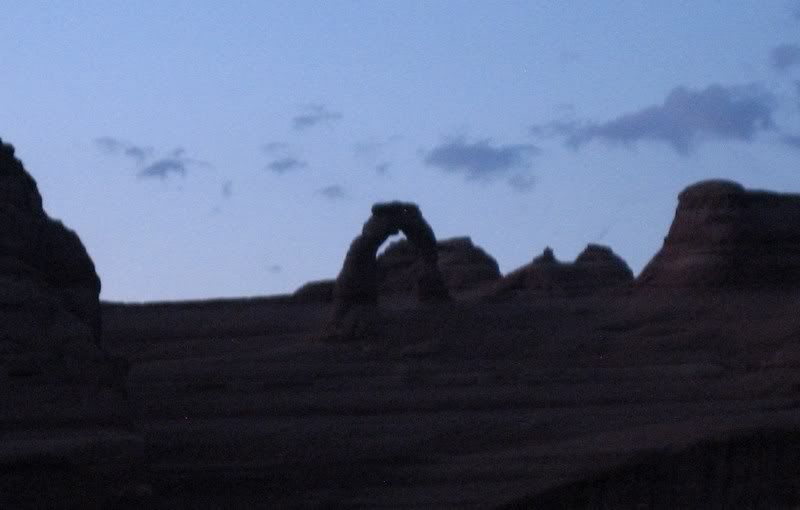 Delicate Arch. We got here too late as the sun had already set, but the 10 minute hike up was still worth it. A longer hike takes you much closer to the arch.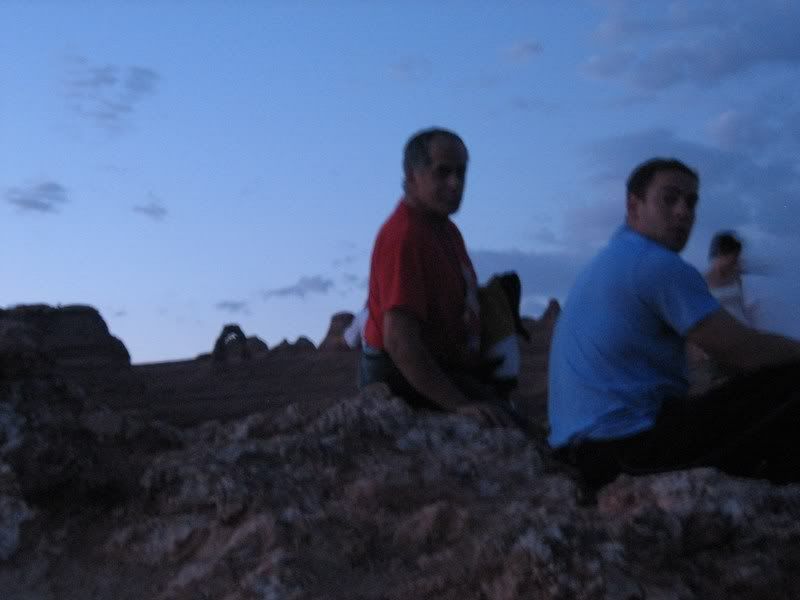 Rick and Steven with Delicate Arch in the background.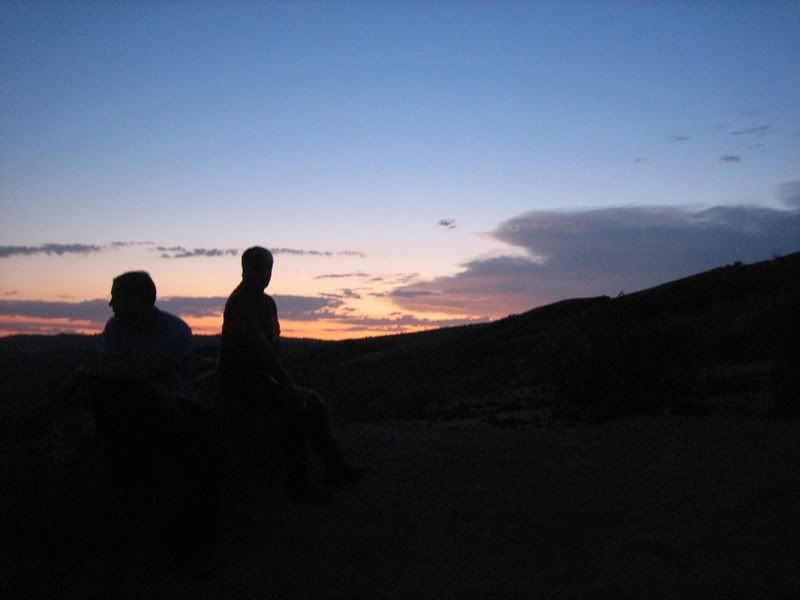 Soaking in the awesome sunset. It's about 9:15 pm local time.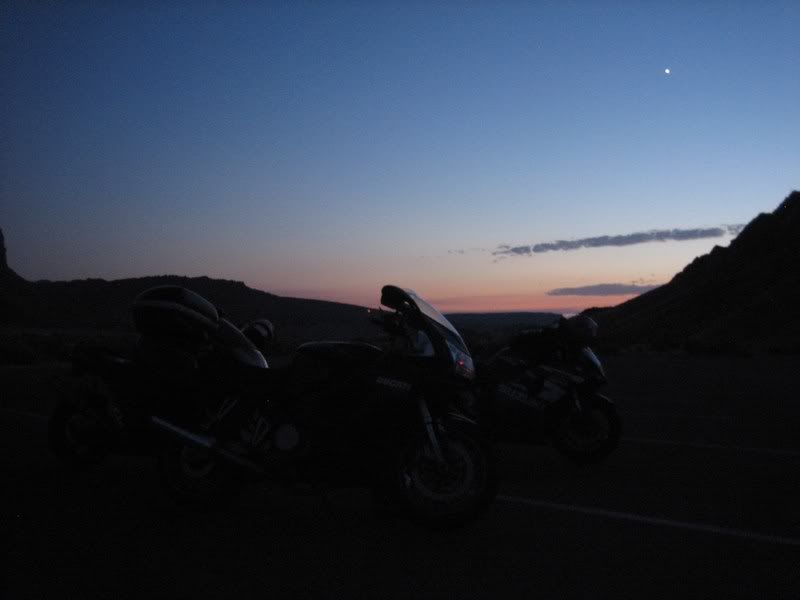 The bikes with the setting sun.
Next:
Day 8, Independence Pass to Leadville, CO
Ride Report Index